Every well-crafted stone grave marker tells an important story. The simplest headstones certainly command our respectful attention, but there are some monuments that are undeniably awe-inspiring. These works of art in stone can skillfully communicate the character, passions, and even the sense of humor of the person who is memorialized.
Working with your local Rock of Ages authorized retailer you can create something that will stand as a permanent testament to a life and also help keep that person's story alive in the minds and hearts of those who see their monument.
Here are some excellent examples of how a stone artisan, working with memorial-quality granite, can bring your design to life and deliver a headstone to be proud of.
1. Capturing the love of the sea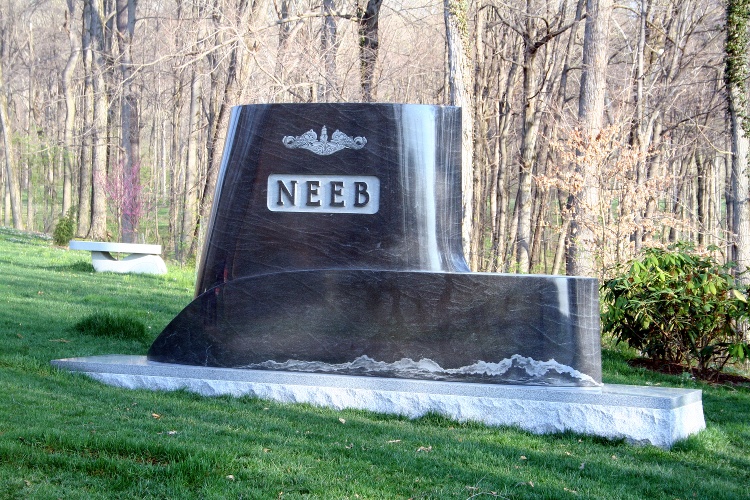 Submarine headstone, BLACK MIST™ granite
This submarine headstone in Spring Grove Cemetery is a fantastic example of how the unique characteristics of natural stone can elevate a design. Here the natural wave like veins of BLACK Mist granite, quarried in Pennsylvania, echo the swells and crests of the waves etched by the stone artisan.
2. A serenade to a family legacy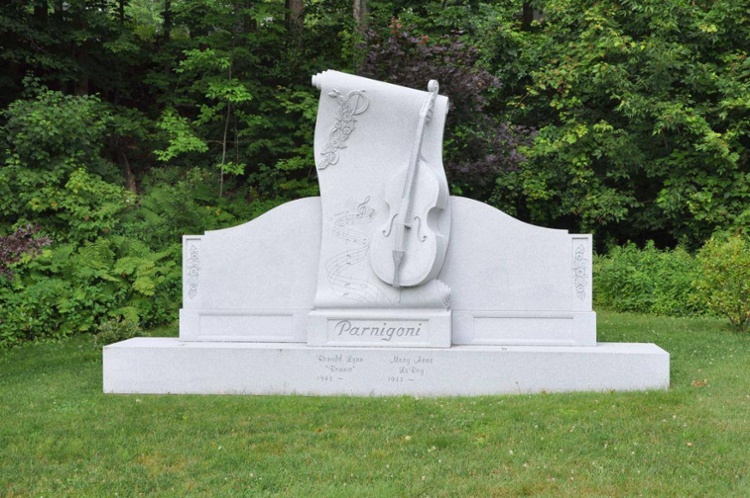 Cello cemetery memorial, BLUE GRAY™ granite
In this example, a master stone carver transformed a Blue Gray granite block into a 3D representation of a cello, playing music in memory of those buried here at Hope Cemetery. As this stone ages, the names and art will remain sharp, clear and easy to read thanks to the care and skill of the carver.
3. Inspired to wonder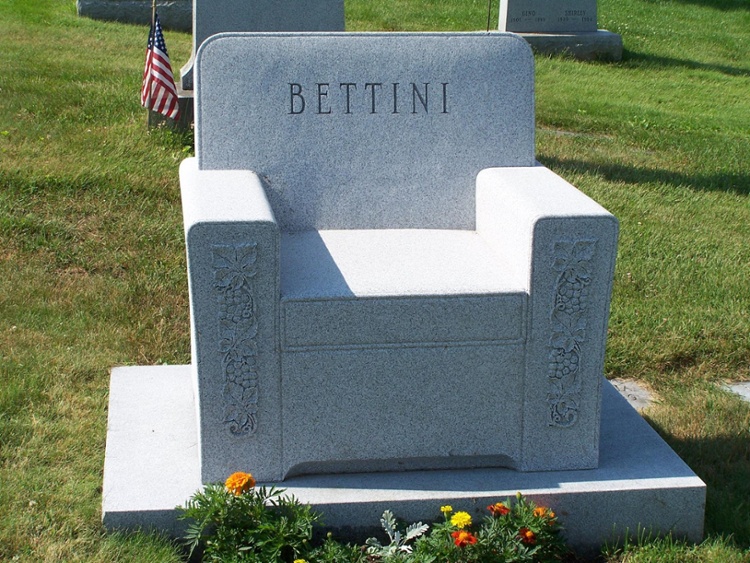 Easy chair headstone, Blue Gray granite
Are we being invited to sit a while and remember the Bettini buried here, or is this a masterful representation of something beloved by Bettini -- a favorite chair? The person who created this design knows. One thing is certain, the person who chose this had a special reason to remember their loved one this way, and everyone who sees it will remember it, too.
4. Don't Set Limits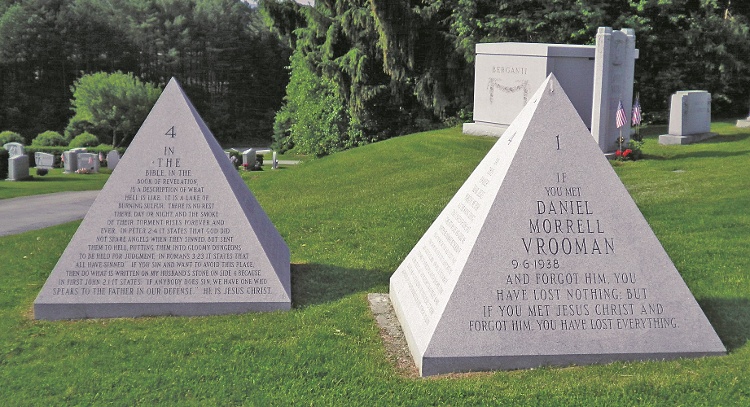 Pyramid headstones, Blue Gray granite
Want a memorial with a dramatic, unusual shape or design? Don't hesitate to share your most out-of-the-box ideas with your Rock of Ages authorized retailer. They are trained professionals, qualified to help translate what you want into what's possible through time-honored traditions of stone work and the latest tools.
5. A monument to faith and family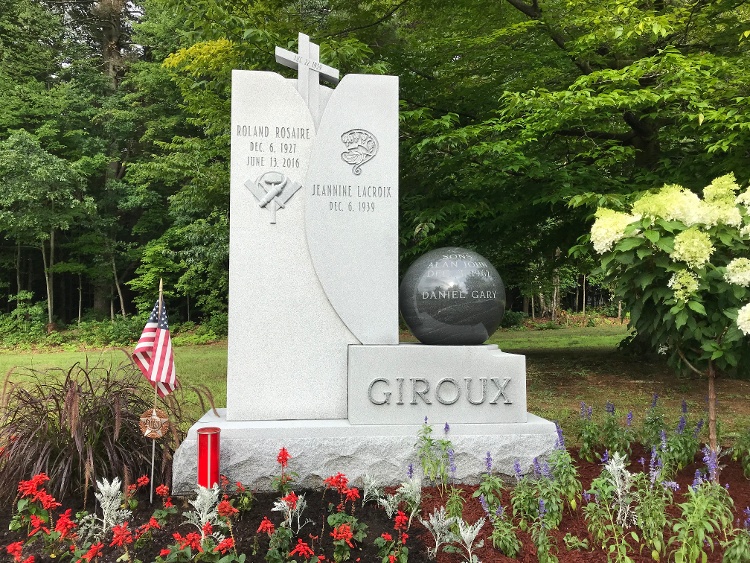 Family memorial, Blue Gray granite, Black Mist granite
You too can create a one-of-kind family memorial. Begin by choosing a classic, monument-quality granite like Blue Gray from our quarries in Barre, VT, shown here in this highly symbolic design by Loiselle Memorials. The upright tablet displays a hammer, chisel, pneumatic tool and square used by the father, a sculptor, and a bleeding heart flower to represent the mother. The sons' names are inscribed on a sphere of Black Mist granite, perhaps representing how the parents' whole world existed in their children.
6. Hope of heaven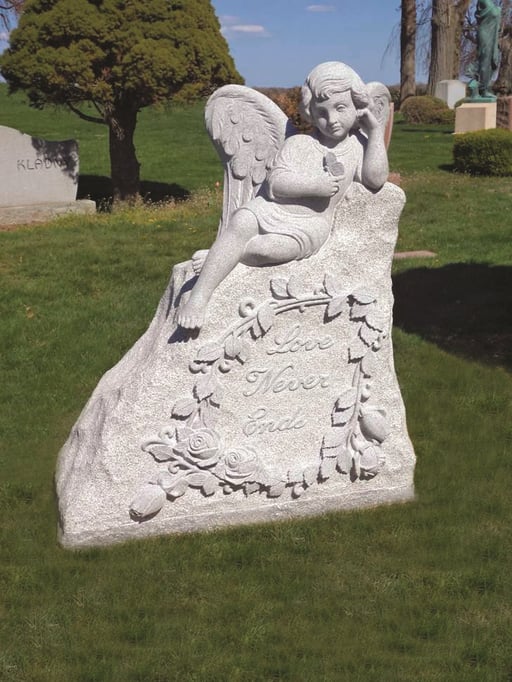 Reclining angel headstone, Blue Gray granite by Polchinski Memorials.
There's nothing somber about this memorial. Hope, peace and love are embodied in the reclining angel's posture and expression. This headstone inspires mourners to remember the enduring love they share with the deceased.
7. Mix and Match Makes Perfect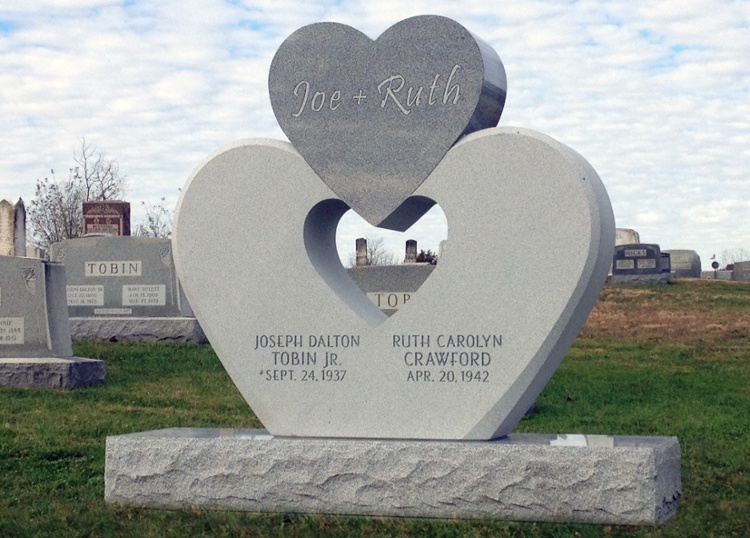 Companion heart headstone, Blue Gray granite, Tiffany and polished finishes
This heart headstone for a couple, designed by Keith Monument, is a great example of the contrast that can be achieved by utilizing different finishes. Carved from a single piece of Blue Gray granite, this monument includes a small heart that was polished to achieve the dark gray color. The large, open heart is rendered in a Tiffany finish, also known as steeled.
8. Honoring the love of the game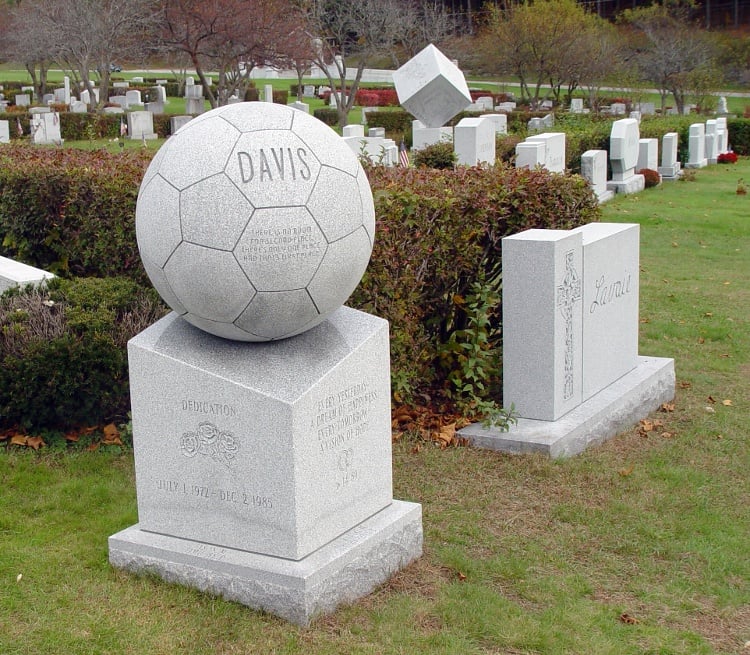 Soccer ball headstone, Blue Gray granite
The perfectly rendered soccer ball on this headstone in Hope Cemetery, is a demonstration of how great skill in working with granite can capture a life's passion in a piece of memorial art.
9. For those who loved life on the road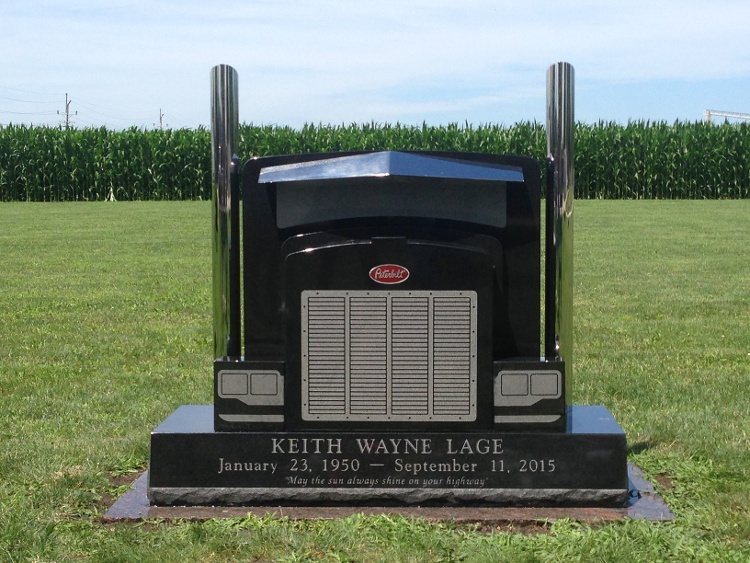 Tractor trailer headstone, STARLIGHT BLACK™ granite
When the highway was your road through life there is no more fitting memorial than your ride. This Peterbilt truck was crafted from Starlight Black granite by Pontiac Granite.
10. A headstone with a signature look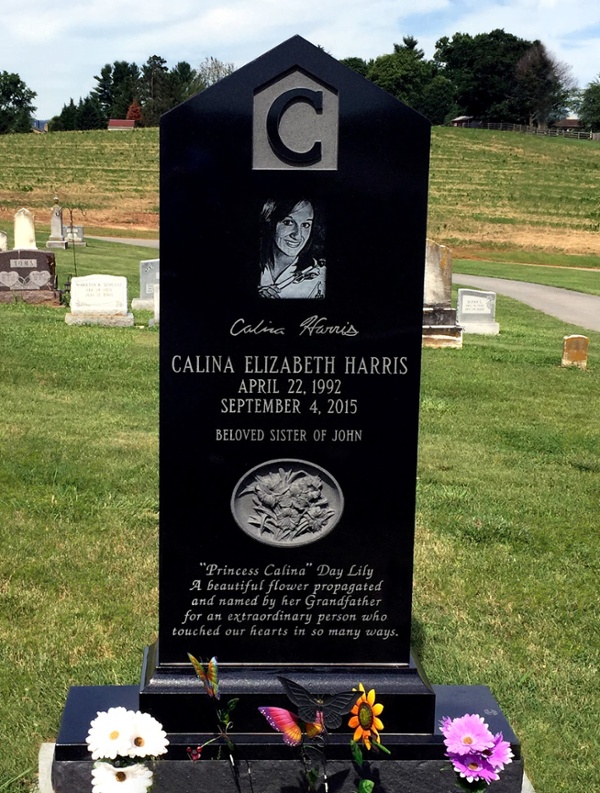 Portrait headstone, Starlight Black granite
What's more personal than a loved one's face and her handwriting? The family who commissioned this stunning, special memorial will never regret the time they spent together designing this piece of art. Working with their local monument dealer Lough Memorials, they've created a deeply special statement about this woman's life and legacy.
As part of your design process, don't forget that cemeteries may have strict guidelines about the size, shape and type of grave marker allowed. Your Rock of Ages authorized retailer is a good resource to confirm the range of your design options depending on your cemetery.
The headstone you choose may not be as elaborate as these designs but it can still be just as personal. Rock of Ages authorized retailers can work with you and your budget to create a headstone as unique as the life you're honoring.
You can get started on your design today with our Granite Headstone Style Guide. Download it here.