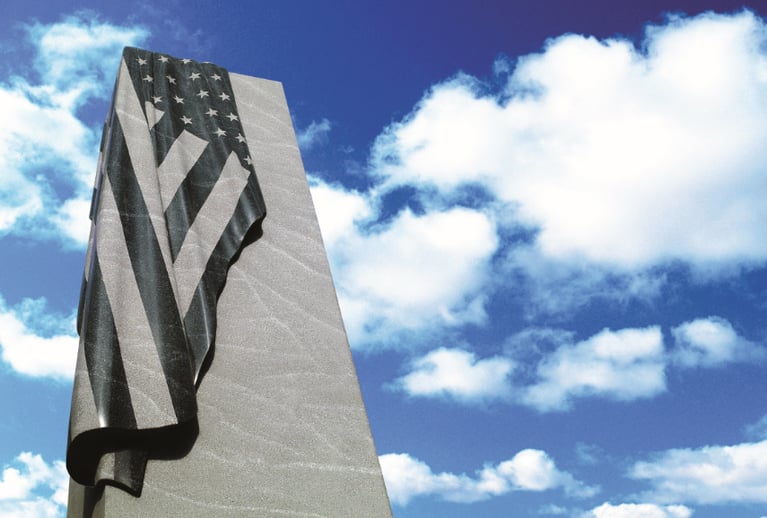 Civic memorial design is a weighty endeavor. It requires the vision to choose not only a design that is a testimony to the legacy it's honoring, but the forethought to select the right stone that will complement its details and stand the test of time.
While some who are tasked with overseeing the development and execution of a civic memorial know just what they want, many need guidance, according to Terri Ford, sales representative for Rock of Ages in Barre, VT.
"Just like when someone comes in to choose a monument or headstone, we'll sit down with them and pick their brains and get a better idea of what they want," said Ford, who has over 30 years experience in the industry. "We can give them a few designs and show different colors and accents."
If furnished with a photo of the chosen site, Rock of Ages designers can even go one step further and provide a full color rendering of what the memorial will look like upon completion, said Ford.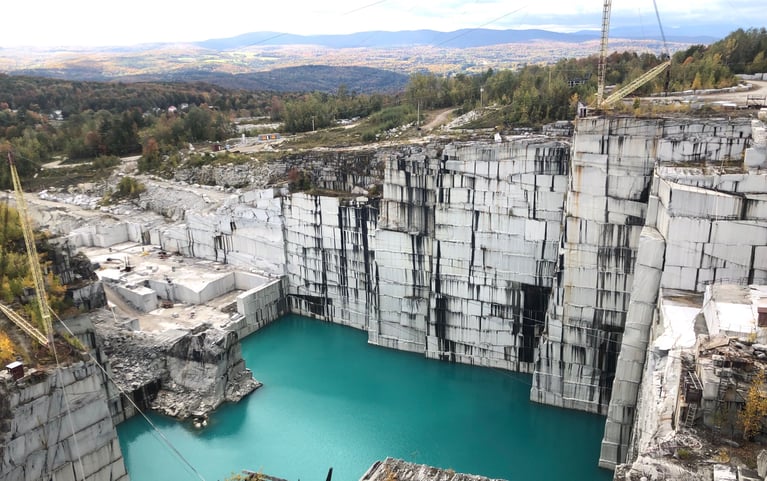 The Rock of Ages quarry in Graniteville, Vermont supplies memorial quality granite for civic memorials across the US and Canada.
Choosing the right stone for your design
When it comes to civic memorials, most are crafted with either a black or gray granite. "That seems to be the more traditional look," Ford said.
But it's not just the preferred color of the memorial that determines the type of stone a designer selects. The level of detail and lettering incorporated into the design needs to be considered as well.
For a memorial that calls for more design detail and lettering, a black granite is preferred because the etching doesn't have to go very deep to be easily legible to a viewer. In comparison, the gray granites require that letters be carved more deeply into the rock to create a shadow effect for easier reading, but that comes with limitations. For example, said Ford, if too small of a letter is cut into a gray stone, like the lower case "a," you run the risk of having the center pop out.
The Rock of Ages team of designers and artisans are experts at pairing the right stone and the right technique to each unique project. They can help guide a memorial designer as he or she looks to achieve their specific vision.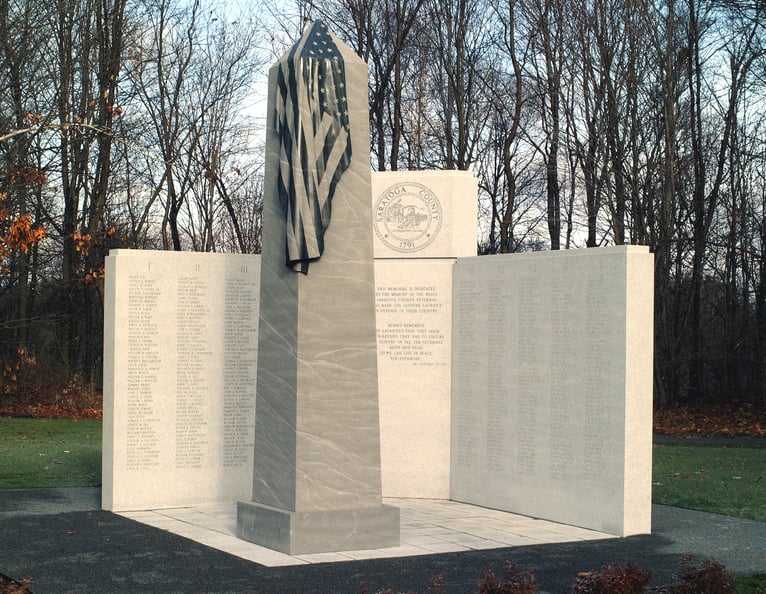 The delicately carved American flag on the Saratoga County Veterans Memorial in Schuylerville, New York, shows the high level of contrast that can be achieved when the right stone is paired with the right technique. Here Rock of Ages artisans hand carved BLACK MIST® granite to produce a stunning draping effect.
"The desired letter size often dictates the granite color," he explained, citing the Vietnam War Memorial in Washington, DC as a perfect example. Thanks to the high contrast black granite, the craftsmen were able to clearly etch the over 58,000 names of servicemen and women who gave their lives in service in the Vietnam Conflict.
"We try to guide them toward what we think would be the best stone for the overall feel and durability of the project," said Ford.
Natural stone that will stand the test of time
Once the overall design has been determined, it's time to select the type of stone that will be used to construct the civic memorial, because no two are alike. For instance, while both WHITE CHEROKEE® marble and BETHEL WHITE™ granite are in essence light-colored natural stones, they differ based on inherent qualities.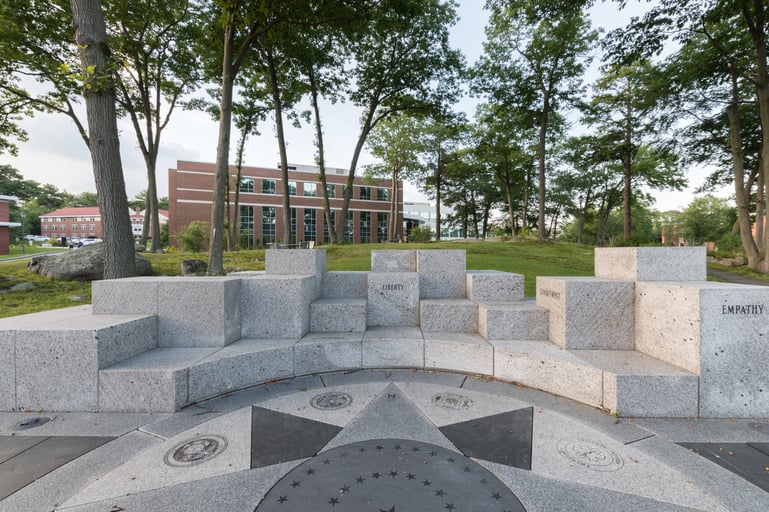 The main focal point of this sculpture park at Endicott College is a compass rose that features the insignias of military branches and first responders. Bethel White granite blocks of varying heights surround it and carry the words that capture the traits of those who serve: integrity, respect, resolve, courage and vigilance.
Civic monuments that recognize Americans' service in war, struggle or achievement, are deeply personal and patriotic. Designers envision their monuments with both mathematical precision and design details rich with symbolism. The natural stone they use to achieve that vision can support that symbolism, with both its origin and its heritage.
Rock of Ages offers several memorial quality stones quarried in the US for a truly American monument.
Bethel White granite, quarried in Vermont, displays a flawless, even grain and purity of color with subtle black dots. White Cherokee marble comes from an extensive quarry in Tate, Georgia that has been operated for more than a century and is used in large scale architectural projects like the Lincoln Memorial.
Black Mist granite, quarried in Pennsylvania, has a marble-like appearance in its subtle white vein pattern, with the durability of a granite.
BLUE GRAY™ granite is the ultimate long-lasting choice in any finish. Its unique properties make it especially durable and moisture-resistant. It's excellent for carving and achieving contrast.
"We only pick the finest natural stones to make our civic memorials," said Ford. "We know which granites will stand the test of time."
Made with Blue Gray and Black Mist granites, the 5th Marines Vietnam Memorial at Camp Pendleton, was constructed at the Rock of Ages production facility and transported to California for installation.
Why Rock of Ages?
According to Ford, the biggest factor to consider when designing a civic memorial is where you source your stone. Rock of Ages SEALMARK ™ stones are the only ones guaranteed with a perpetual warranty. If there is a defect in the stone or workmanship, the perpetual warranty will protect you. If the stone proves defective over time, Rock of Ages will take care of it.
Rock of Ages' craftsmen create everything in-house, said Ford, and then transport memorials made from the Vermont manufacturing facility to the site. "It's a full service, turnkey operation."
"We really back everything that we make," said Ford. "We stand behind everything we fabricate, both the workmanship and the stone."
Contact us to learn more about our civic memorial creative process.