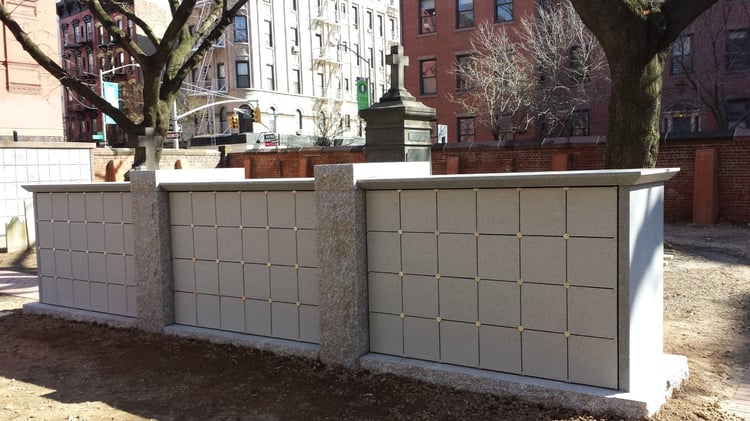 During a renovation project of the historic Basilica of Saint Patrick's Old Cathedral in Lower Manhattan, a columbaria was added, and the stone chosen for the project was as iconic as the 200-year-old Gothic Revival basilica.
The cathedral, in New York City's NoLita section, was the largest in the United States when it was completed in 1815 and remains home of the city's only active Catholic cemetery. When the church revised its guidelines on cremation in 2016, the cathedral approached Supreme Memorials — a trusted partner for memorial engravings for the New York Archdiocese with three New York City locations — to create columbaria options to accommodate changing tastes.
Currently, if Roman Catholics wish to be cremated, the church supports that decision provided ashes are kept in a "sacred place" and not scattered or kept in urns at home. A columbarium offers niches for the interment of cremated remains and a refuge for the faithful departed and comforting sanctuary for the bereaved.
The columbaria at Saint Patrick's Old Cathedral are hand built by stone artisans and impeccably reflect the classic designs of the basilica either as free-standing units in the historic cemetery or beneath the cathedral in its sacred catacombs. Your loved ones will be reverently placed inside a secure niche and memorialized with a granite stone faceplate on which their name will be meticulously engraved.
The basilica opened its catacombs to add columbaria to a sacred space that is the final resting place for some of New York's most famous (and notorious) figures. Along a 120-foot-long crypt corridor are marked, sealed vaults on either side containing remains of famous 19th and early 20th century figures, including Archbishop John J. Hughes, known as Dagger John, "Honest John" Kelly, Boss William Tweed's successor at Tammany Hall and members of the Delmonico family of restaurant fame, credited with introducing eggs Benedict and baked Alaska to the continent.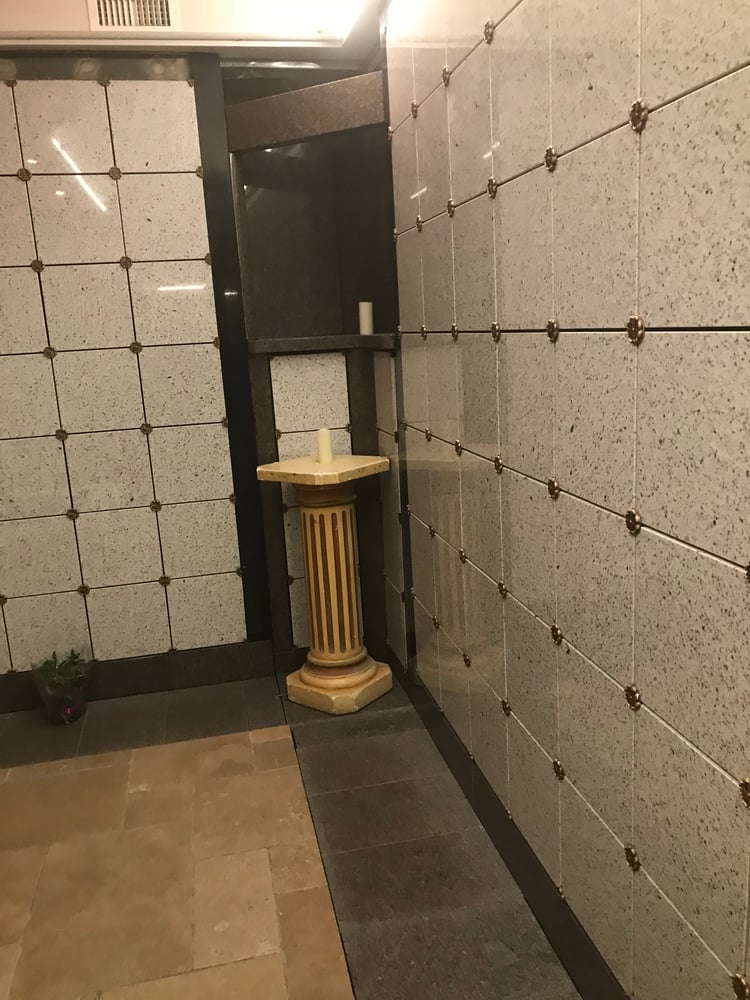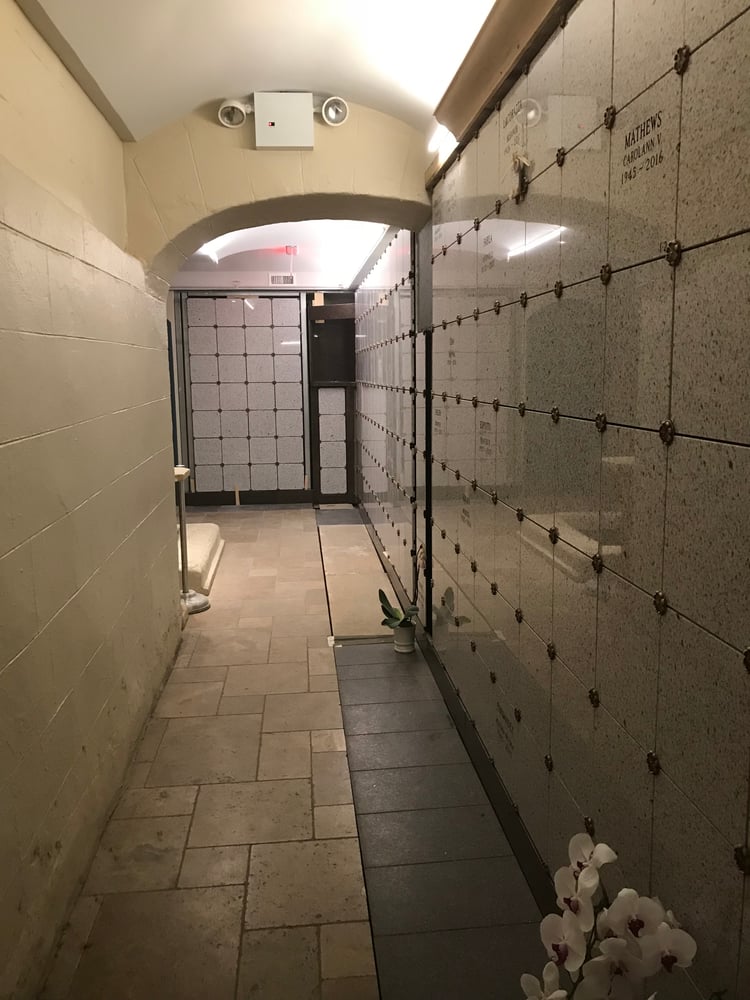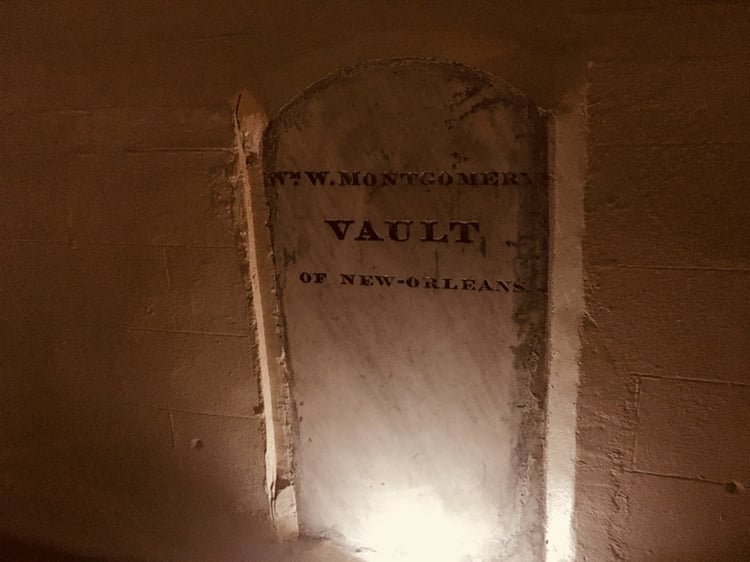 Rock of Ages in conjunction with Supreme Memorials designed columbaria containing 2,000 niches, which used Rock of Ages BETHEL WHITE® granite to match the old marble vault coverings accented by Rock of Ages Burgundy granite. "That's just the first and second phase," explained Joe Cassara, who owns the memorial center. "There's also room to expand and add more niches."
According to Cassara, Supreme Memorials was initially brought in by the basilica for a restoration project. "They asked if we could clean a columbarium before we started engraving, and we noticed the material was made out of Chinese granite, and it wasn't dirt but rust," he said. "We could clean it, but it would always come back."
Around the same time, the basilica was planning to build a second columbarium and Supreme, a family owned and operated memorial center, introduced church officials to Rock of Ages BLUE GRAY® granite from Vermont. "There's no iron ore that could cause rust staining and comes with a warranty," Cassara said. "The Arch Diocese was very happy with that."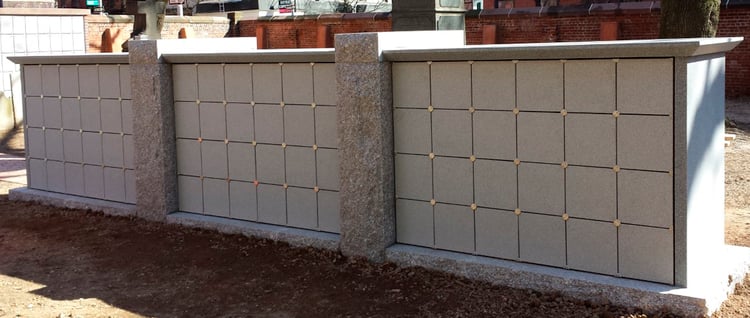 The newly-constructed columbaria located in the cemetery's south section includes 220 niches, which have a view of the Ancient Hibernian Wall that was build around the basilica in about 1832 as protection against anti-Catholic nativists and still stands today. The columbaria is built with Rock of Ages Blue Gray granite and Deer Isle granite to match the cemetery's historic look. Cassara said there are plans to build five more columbaria in the future.
The columbaria at the Basilica of Saint Patrick's Old Cathedral is the ideal location for the interment of cremated remains and a premier place of eternal rest in Manhattan's only Catholic cemetery.
Contact our Columbaria Design Team to learn more about crafting a Rock of Ages Columbaria.