Rock of Ages has deep roots — in the community, in quality, and in reputation. Much of that reputation stems not only from exemplary natural stone quarried in Vermont, but also from outstanding craftsmanship, courtesy of skilled artisans. In a time where so much is automated and produced on a mass scale, Rock of Ages has maintained their commitment to detail, with handcrafted pieces designed and executed by some of the world's most talented stone carvers. The difference is obvious when looking at a handcrafted monument versus one that has been mass produced, and the feelings they evoke in a customer are tangible.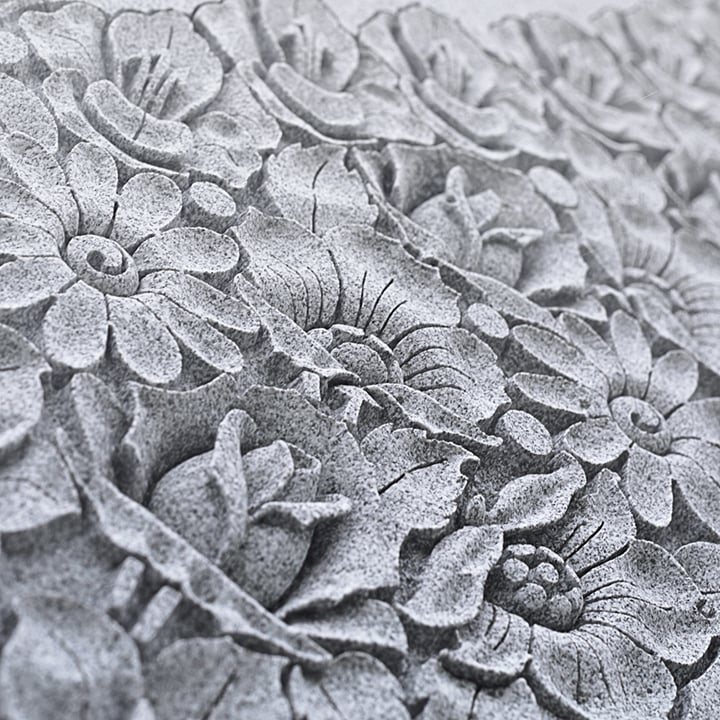 Intricate carving details in BLUE GRAY™ granite
Anthony Minozzi, owner and sales person for Travis Monuments in Nyack, NY, knows the weight that the Rock of Ages name carries, and the importance of artistry in the memorialization business. Anthony's family arrived from Naples, Italy 4 generations ago, where they began carving stones for home address numbers. When they immigrated to the U.S, they continued what they knew — and the rest is history. As someone who's been in the industry his entire life, Anthony has seen the impact a well thought out memorial can have on a family during an incredibly difficult time.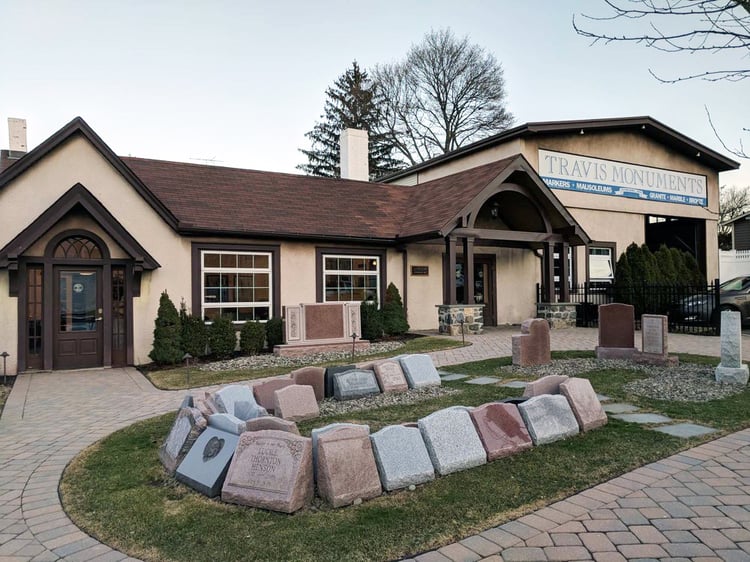 "It is so rewarding to help families design and bring their vision to life; we're blessed," says Anthony. "We have an incredible team who help our customers get from A to Z. They're in pain and you give them the tools to make their dream come true. You're a conduit to their vision, and you get to help guide them to memorialize their loved one. It's a privilege"
Over the years, trends in many industries have come and gone, but Anthony says, for the most part, their customers stick to traditional headstones and designs, though memorials have gotten smaller in physical size as space in cemeteries has dwindled. What were once massive works of art have been downsized out of necessity, but the same intricate detail is applied to every memorial. This hasn't stopped Rock of Ages dealers from adjusting to the change.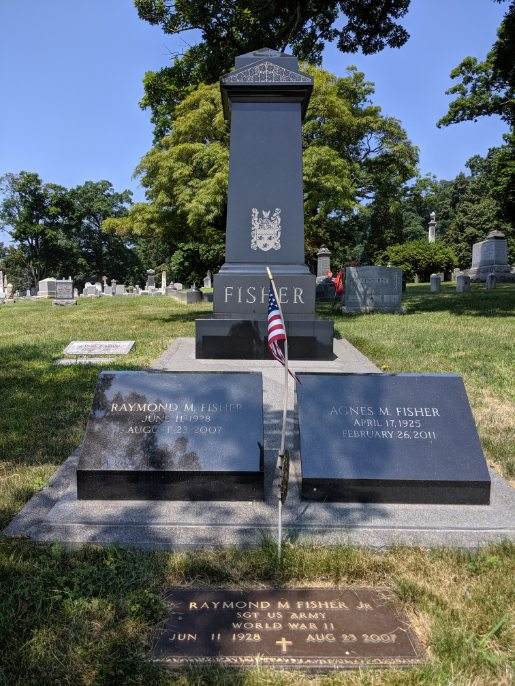 STARLIGHT BLACK granite memorial
We need to be at the forefront of change and be innovative with design without limiting out clients," says Anthony. "But we've got it covered. Just tell us your vision and we'll figure it out. As far as trends go, most people still like timeless, and classic; monuments will withstand the test of time. Of course, between cultures there are changes and nuances, but we can accommodate those too".
The influence that religion and culture have on a finished monument are substantial. Across cultures, artisans must adapt to the specific needs and wants of families from varying backgrounds, which is part of their unique skill set. Cultural traditions and religion go hand in hand when it comes to creating custom monuments. For example, those in the Eastern Orthodox faith may request large, ornate headstones, with large cut through crosses and large slabs of granite known as grave covers so people don't walk across the graves. Artistic expression is celebrated, and families celebrate their loved ones on holidays such as Easter, with picnics surrounding an elaborate gravesite.
Alternatively, customers from the Jewish faith often opt for traditional gray granite, less of an artistic expression and more of a sacred testament to their loved one. Though not always highly detailed or intricate work, the granite needs to stand on its own, so quality of the material is paramount, even on simpler designs.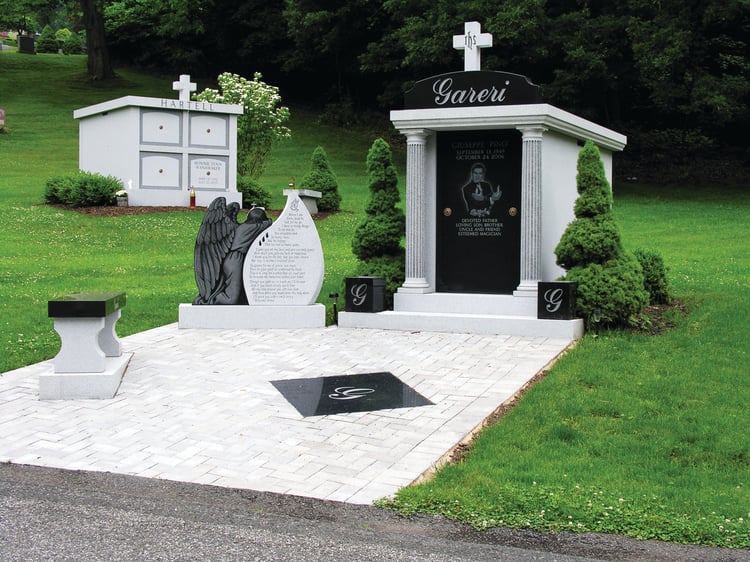 Blue Gray granite and Starlight Black granite cremation memorial
Large free standing figures, often seen in Catholic cemeteries, require stone that carves exceptionally well for the highly detailed work worthy of a likeness.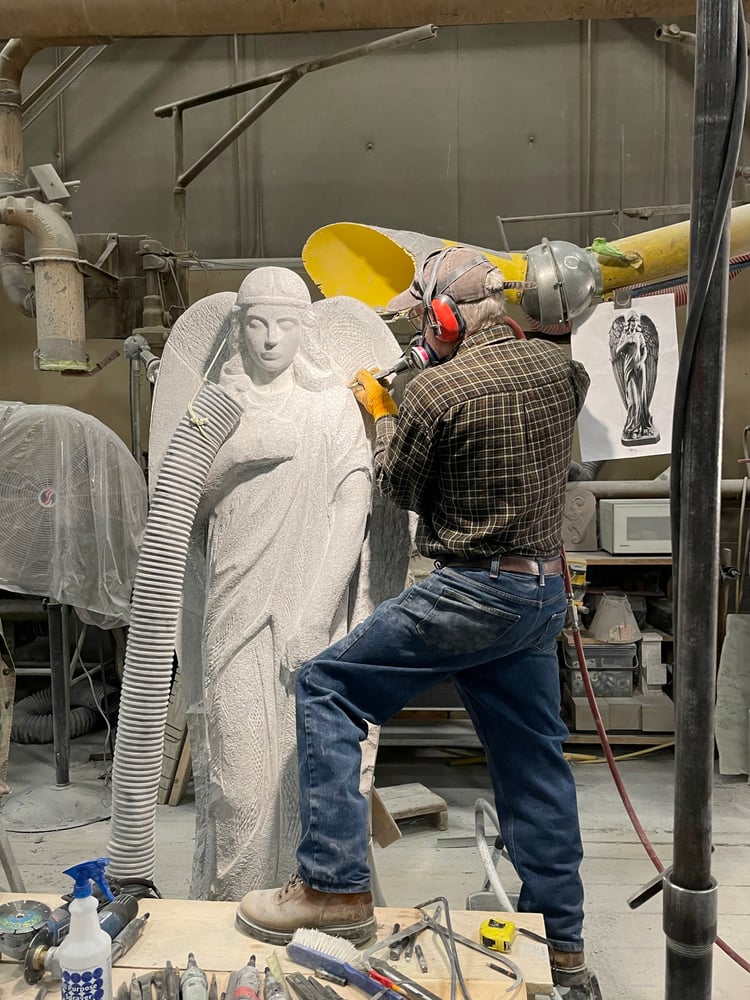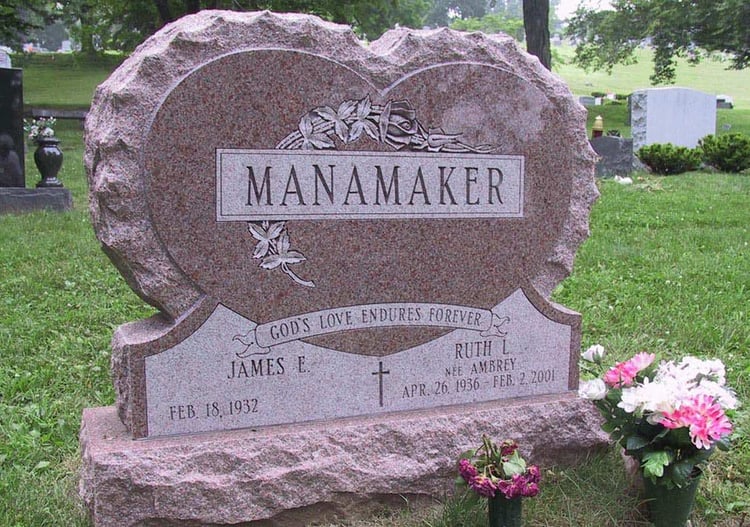 WILD ROSE™ granite Christian companion monument
Rock of Ages granite suits all religions, all backgrounds, and all requests — as it can speak for itself, is highly durable, and an investment that will last a lifetime.
DOWNLOAD THE GRANITE HEADSTONE STYLE GUIDE TO SEE STYLES, STONE OPTIONS AND EXAMPLES OF MEMORIALS
"When families come in, describe what they're looking for and give a budget, we try to match the outcome to their budget with the best blend of workmanship and material that we can to achieve that end result. Material plays a substantial role in the overall execution and performance of the resulting headstone," Anthony told us. "The granite you choose is equally as important as the carver. There is something to suit everyone, with a beautiful, personalized outcome. Rock of Ages performs, time and time again."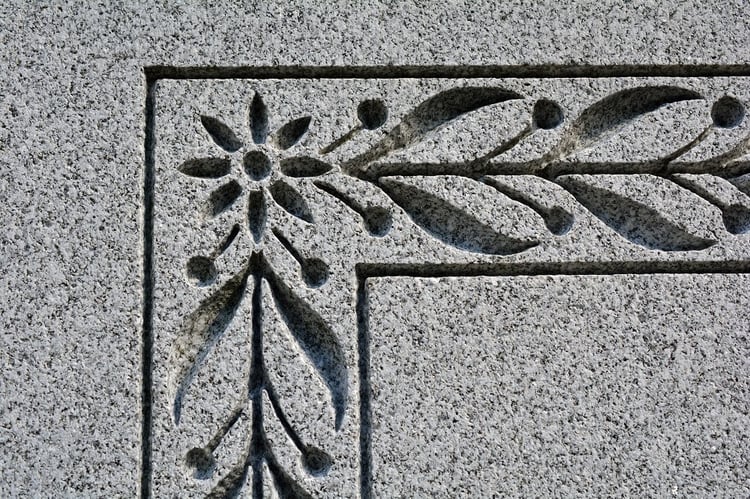 Blue Gray granite is the stone of choice for many because of its consistency. Read more about headstone designs with Blue Gray granite here.
Of course, the granite is but a starting point for the carvers that craft masterpieces from stone. Rock of Ages is an easy choice for many clients, says Anthony, because they know with the name comes quality that they may not get elsewhere. What sets master craftsmanship apart from monuments produced on a mass scale? Time. "The amount of time spent planning, creating visuals, collaborating, and setting expectations — it's a long process. It's worth every minute, but it is long. It's also why we believe we get the positive outcomes we get."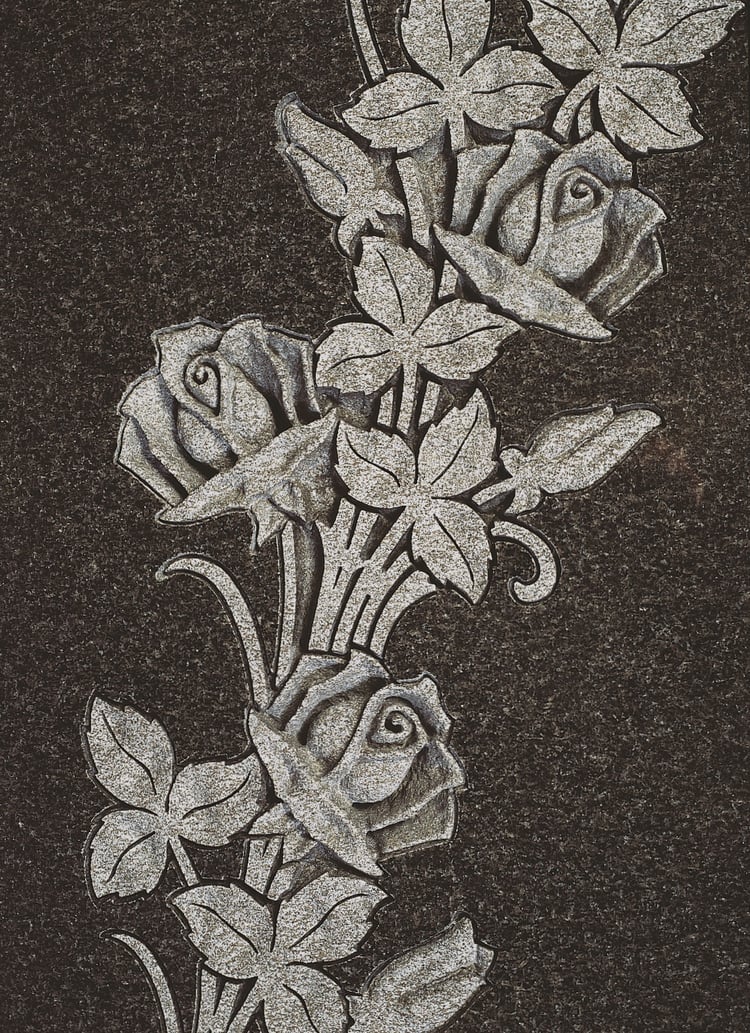 Intricately carved roses in MIDNIGHT BLACK™ granite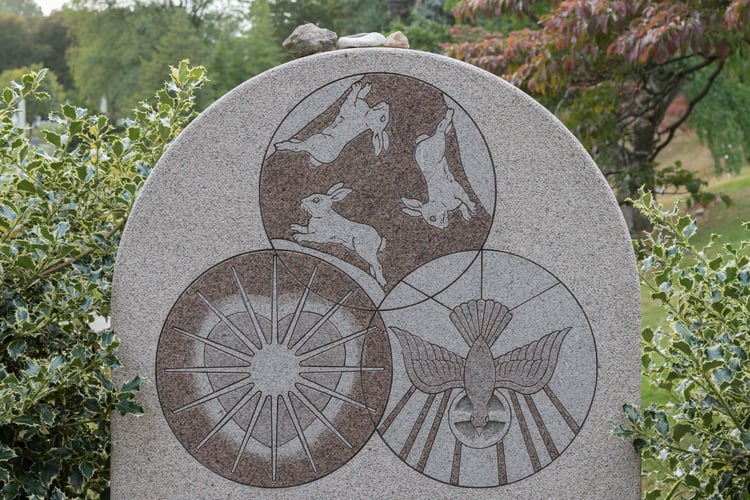 Rabbits, a descending dove, and an intricate heart sit carved into this unique and incredibly detailed custom LAURENTIAN ROSE® granite memorial.
And the time spent planning, pays off. Glowing reviews are commonplace among families that choose Rock of Ages stone, and the craftsmanship that goes hand in hand along with it. Travis Monuments worked with a family who knew what they wanted, and needed it brought to life, so the team used Rock of Ages LAURENTIAN ROSE® granite, a favorite of Anthony's father over the years. "It's so consistent and so reliable — it's one of our favorite stones to use. We know what we can do with it, and deliver. The family had an idea of what they wanted, so we brought it to life and turned their vision into a cohesive design."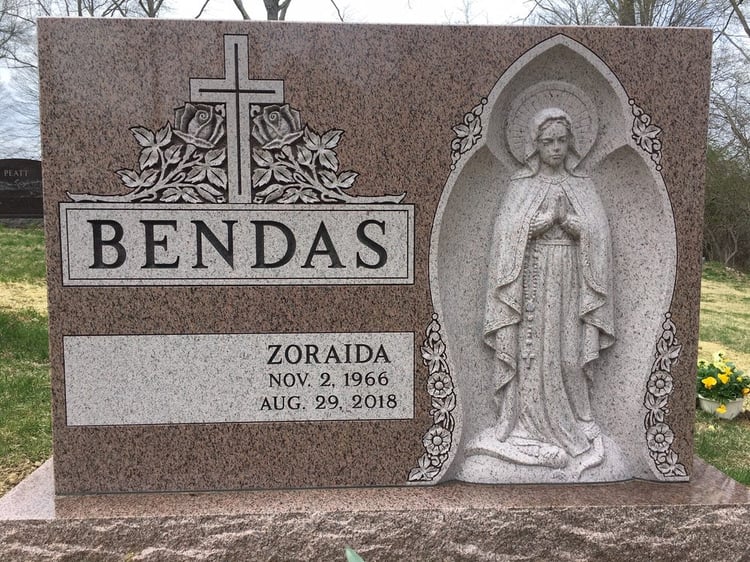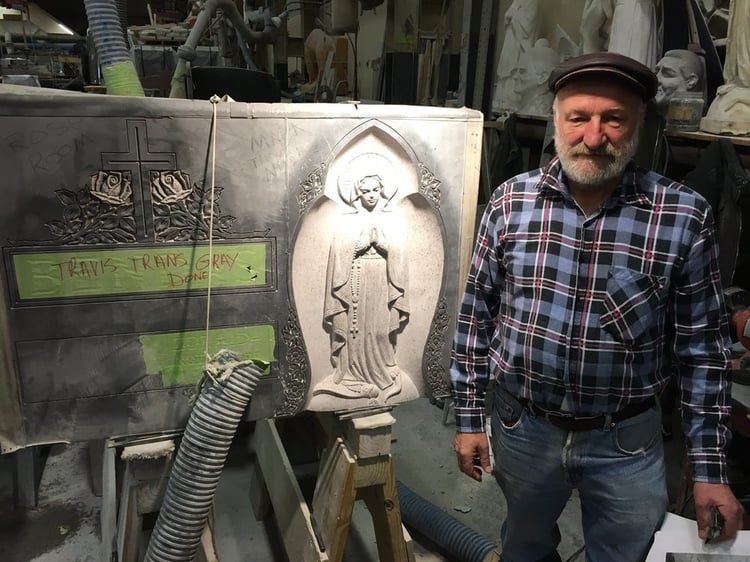 Rock of Ages Master Sculptor Stanley Lutostanski hand carved the headstone
"That's what gives us the inspiration to do what we do. The passion is in seeing the family's wonder when the project is done. When they come in with an idea and they see the finished product, it's almost surreal. You can genuinely make a resounding impact on that family's grieving process. And the way that they memorialize and pay tribute will be profoundly impacted by your contribution. You can make the process easier for a family." - Anthony Minozzi
The attention and care to a client's personal memorial goals are what sets master stone carvers apart.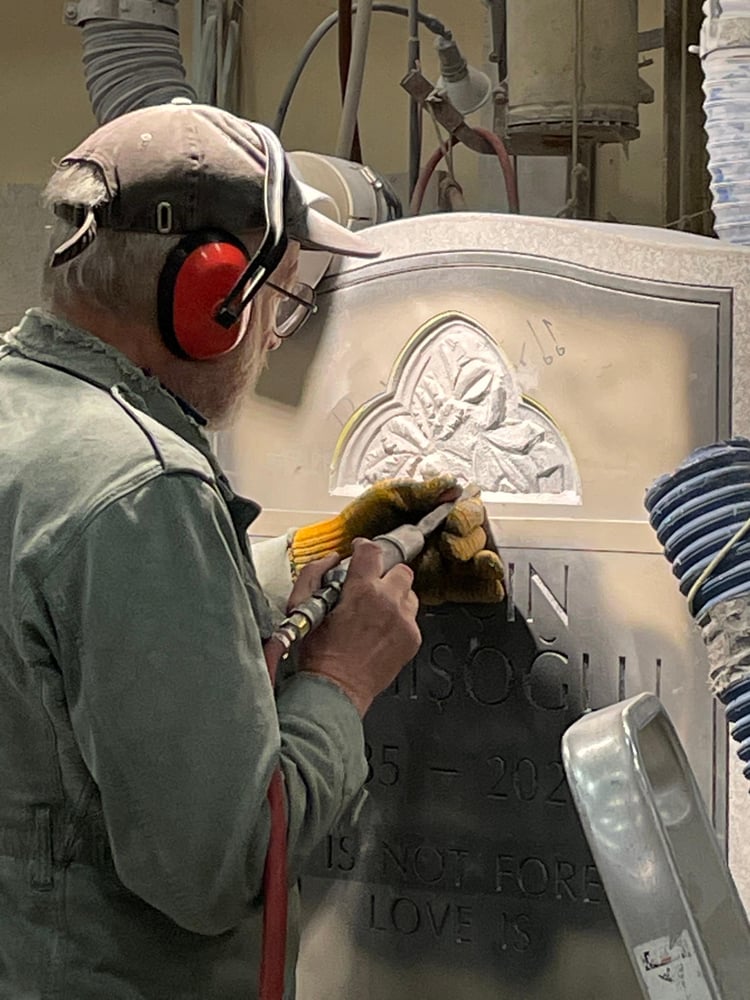 Stanley uses pneumatic tools to hand carve a family memorial.
"High volume work differs vastly from hand craftsmanship. Clients pick a design out of a catalog of pre-set templates, and they are mass produced — there is very little time spent on bringing those designs to life," says Anthony. "It is put on the stone as quickly and efficiently as possible, but that's not for us. A master craftsman is someone who knows how to properly plan for and then execute a design. They know the tools and the materials, they know exactly how they're going to bring a client's design to life. They know the craft inside and out. That's the difference. That's the art."
In this video, Rock of Ages, Master Sculptor Stanley Lutostanski uses pneumatic tools to hand carve a family memorial.
Dedication to excellence sets Rock of Ages apart. World renowned artists, and family oriented vendors, come together to create a truly customized result that your family will cherish and take pride in for years to come.
Find out if the dealer you're working with will deliver you a headstone built to last. Download our Headstone Comparison Shopping Checklist.