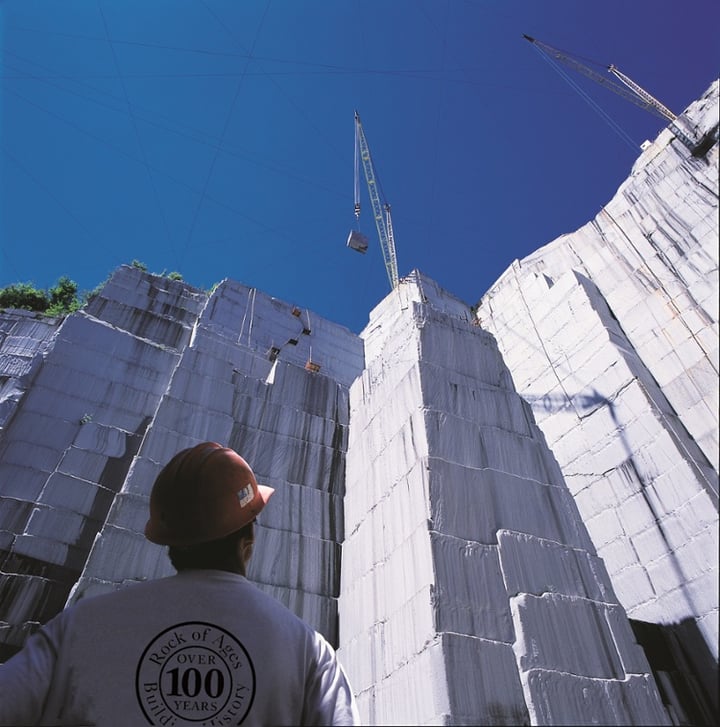 When it comes to designing a cemetery headstone, the sky's the limit. From a traditional upright memorial with classically engraved names and dates, to a more elaborate design with intricate floral carvings, there is something for every taste, budget and personality. But just like any work of art, it all starts with a blank canvas. With a headstone, that foundation is the type of stone you choose for your memorial.
For Joe Cassara, whose family has been erecting family monuments, grave markers, and private mausoleums since 1951, the choice is clear. "The BLUE GRAY ™ granite from Vermont is definitely our stone of choice," he said, adding that it's the headstone material his family chooses when designing a monument for one of their own.
When his grandparents founded Supreme Memorials, a family owned and operated memorial center with three locations in New York City, almost 70 years ago, they developed a relationship with the Rock of Ages and their quarries in Vermont that are still strong today.
"If you go into a cemetery and see a memorial my grandparents designed, it looks exactly the same as when they designed it decades ago," he said. "Nothing is broken down, the headstone isn't holding moisture. The stones are still perfect."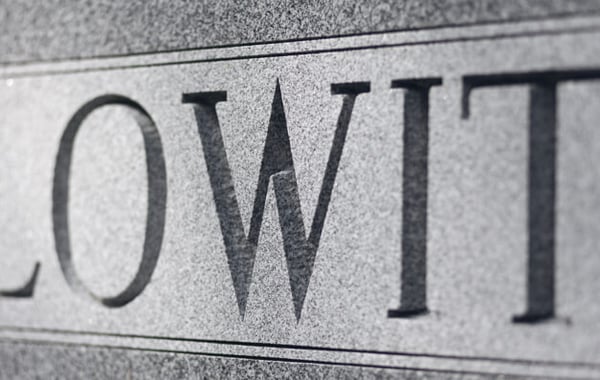 Blue Gray granite gives way to a darker shade the deeper it's carved into, giving the finished product that rich lettering that doesn't need paint to highlight.
What makes Blue Gray granite so special?
What has made Blue Gray granite the stone of choice for the Cassara family is its consistency. Rock of Ages granite blocks are pulled from quarries that yield memorial quality stone that doesn't crack or degrade with time. Blue Gray granite is sought after worldwide for its fine grain, even texture, and superior weather resistance. Cassara noted that a piece of Blue Gray in his Brooklyn showroom quarried in 1965 looks exactly the same as a piece next to it that was pulled out in 2019.
Blue Gray granite monuments are engraved with a SEALMARK ™ guaranteeing that if there is a defect in the stone or workmanship, the perpetual warranty will protect you. If the stone proves defective over time, Rock of Ages will take care of it.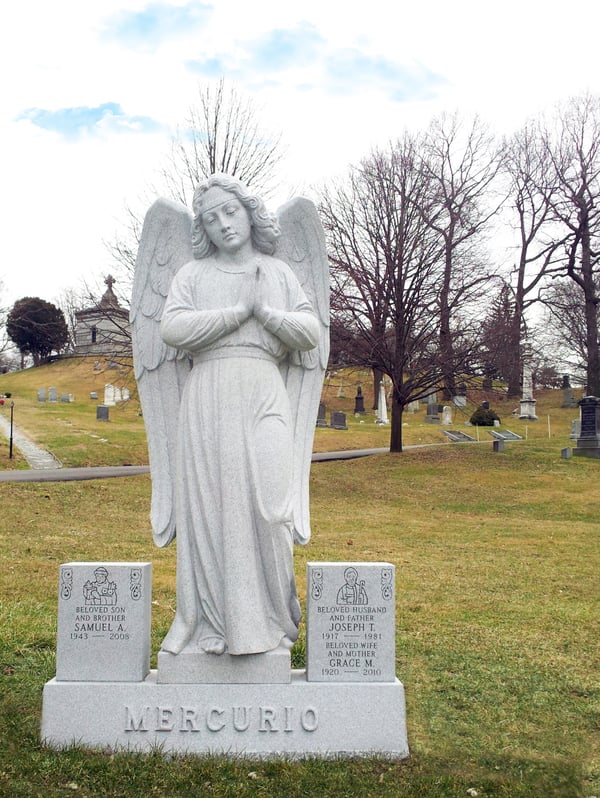 A family estate memorial produced by Supreme Memorials. Notice how well the Blue Gray granite receives delicate carvings like curls of hair and folds of the robe on this angel.
"You know what you're getting," he said of the stone's consistency, especially as a medium for carving and the old-world craftsmanship of hand sculpting.
"Sculpturing or just plain floral carving on an unpolished Blue Gray stone is exquisite," he said, thanks in part to the consistent fine grain. That's especially important for detailed sculptures of figures like angels. "There's not going to be a big black mineral spot in the middle of the stone where the nose is supposed to be."
The Blue Gray granite also has what Cassara called an "unbelievable" contrast for his craftsmen to work with. The stone gives way to a darker shade the deeper it's carved into, giving the finished product that rich lettering that doesn't need paint to highlight.
A long history of producing quality products
Rock of Ages has quarried granite from their Vermont quarries for more than 130 years. At nearly 600 feet deep, the Smith Quarry is the most notable. It's the largest deep-hole, dimension granite quarry in the world.

Cassara encourages clients to visit the quarry in Vermont to see the process firsthand and watch workers quarry the stone from the ground. "They get to meet the American men and women working on the stone," he noted. "And that holds a lot of value."
"It also happens to be a beautiful area," he added. "It's God's country."
Visitors will also see the enormous piles, the size of football fields, of stone that wasn't selected for monuments. It's a testament, Cassara said, to how selective Rock of Ages is in the stones used for their memorials. "You're not just getting any piece of granite. You're getting the best granite."
You can get started designing a Blue Gray granite headstone today. Download the style guide.