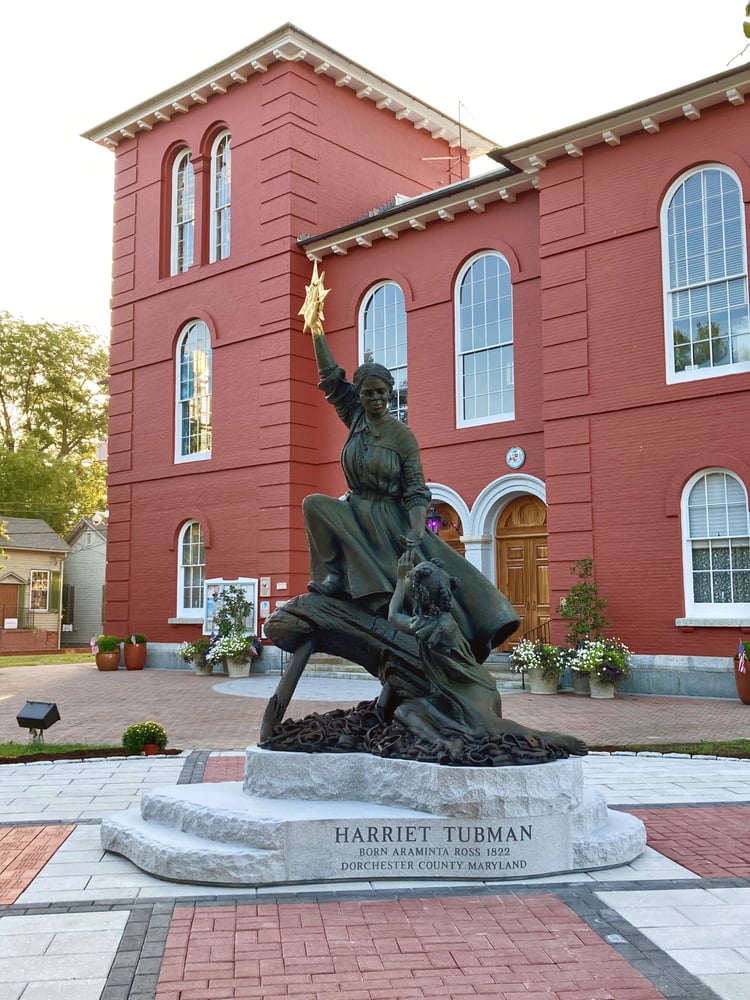 In the mid-1830s, a terrified slave fled his work site and was chased into a dry goods store in Bucktown, Maryland. Cornered in the store's small confines, his overseer ordered Araminta Ross, an adolescent slave who was there on an errand, to restrain him. She wouldn't budge. Irate, the man grabbed a 2-pound metal weight from the store counter and threw it at the runaway. He missed, instead inflicting a vicious blow to Araminta's head that fractured her skull.
The girl would suffer headaches, seizures and other side effects from the injury for the remainder of her 91 years. She also began having vivid dreams and visions after the incident which she interpreted as messages from God. Today, the "Beacon of Hope" memorial just a few miles away at the Dorchester County Courthouse captures one of those visions – of her adult self as the legendary Underground Railroad conductor Harriet Tubman.
"This story is of her first vision," designer Wesley Wofford said, circling the bronze sculpture and explaining the meaning of its features to onlookers at its dedication in 2022. "Her future self is handing a generational key to her. … She is giving her the strength to say, this is the strong woman you need to become, because you're going to need me now, and 200 years from now they're still going to need us. So reach within yourself and become that woman."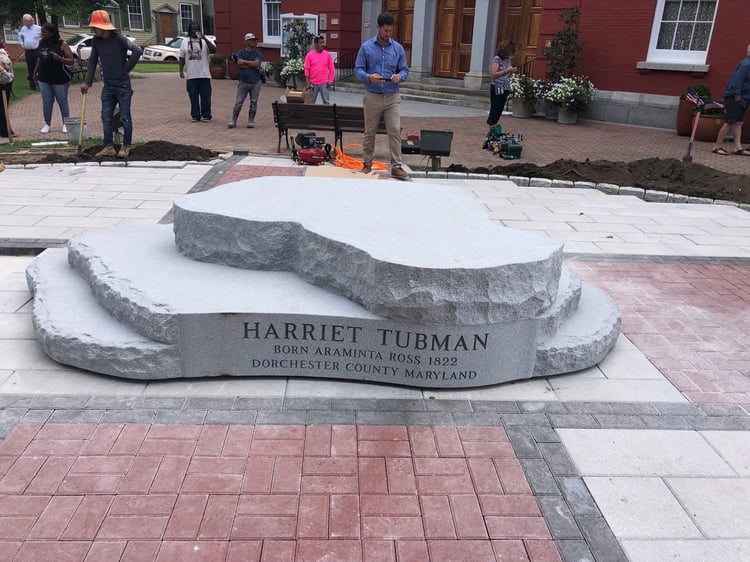 Tubman and her younger self stand upon a 10,000-pound granite base quarried by Rock of Ages. It has three levels that serve as steps, allowing children to ascend and stand face to face with Araminta. An inscription on one side reads "Harriet Tubman, Born Araminta Ross 1822, Dorchester County, Maryland." The reverse side includes a brief summary of her life and connection to the area.
Rock of Ages dealer William V. Sipple & Son Monuments, of Milford, Delaware, worked with Wofford, the nonprofit Alpha Genesis Community Development Corporation, and other community stakeholders to ensure the base portion of the project was successfully installed. Rock of Ages trucked the massive section of stone to a local crane company, which lowered it in a public square in front of the building. Company President Scott Sipple recalled the nerve-wracking work of guiding the statue to its base, a task which required four holes in the bronze to align perfectly with steel pins protruding from the granite. At the moment the statue and base were finally joined, Sipple said a crowd of over 60 mostly African-American onlookers erupted into applause, some raising their arms in elation.
"That was the most rewarding part – seeing the looks on these people's faces when it finally went down," Sipple said. "It was very emotional. I'm tearing up just thinking about it. There were four of our guys from the firm whose responsibility was to get it on the ground and we got it on the ground. We don't usually have an audience. That was a big one."
Among the statue's details are the weight that struck Arminta's head and a pile of shackles – some with open links to represent those who were freed and others closed for those who died as slaves. The golden star attached to her raised hand represents the North Star, which she relied upon for wayfinding during her missions liberating slaves. It was oriented to face true north.
The monument's location has deep relevance, as the courthouse was once the site of slave auctions, and was the site of the first escape that Tubman engineered for her niece Kessiah Bowley. The courthouse and Bucktown General Store where she was injured as a youth are among 45 historical sites incorporated in the Harriet Tubman Underground Railroad Byway system.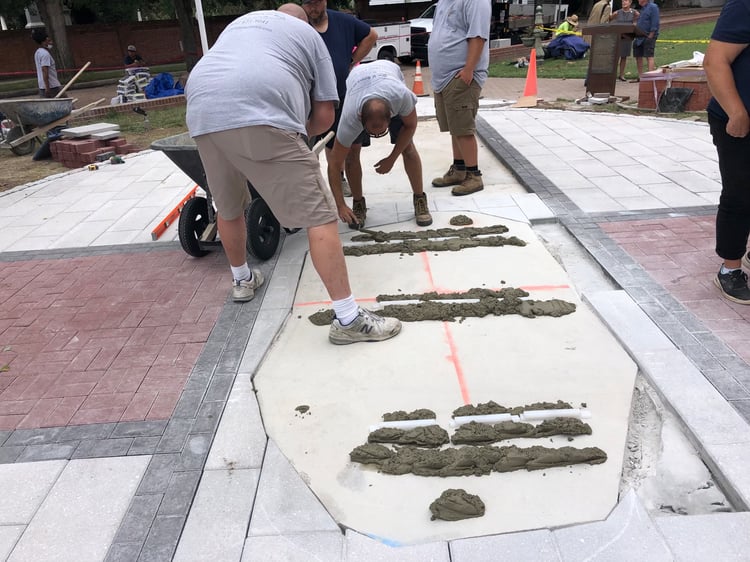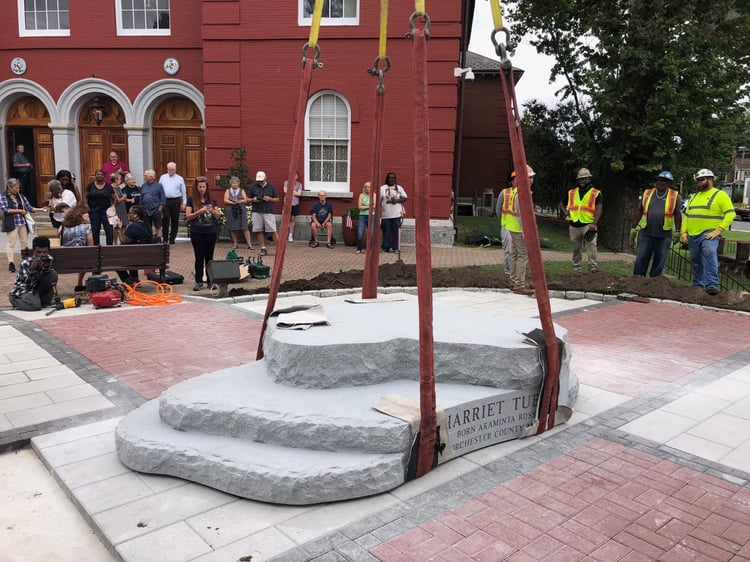 Five Generations in Business
Incredibly, the Sipple family's business in Delmarva dates back to when Tubman was actively freeing slaves there. Scott's great grandfather began as an apprentice stonecutter for a man named Moore in the 1850s. It was renamed Moore & Sipple in 1858, before Sipple bought out his retiring partner and made it a totally family-owned business in 1869.
Scott agreed to work with his father on a trial basis when he graduated college in 1972. He did well, enjoyed the work and permanently entered what is now a five-generation family business.
William V. Sipple & Son frequently collaborates with Rock of Ages to produce memorials for the burial ground at the United States Naval Academy in Annapolis, Maryland. An online gallery on the Sipple website shows headstones for former Arizona Sen. John McCain and Vice Admiral James Stockdale (who ran as Ross Perot's vice-presidential candidate in 1992), among other distinguished veterans.
Scott believes William V. Sipple & Son is one of Rock of Ages' oldest dealers, having represented the Maryland Eastern Shore/Delaware/Northeastern Virginia/Southeast Pennsylvania territory "forever."
"When we started our business, there was no such thing as Rock of Ages. They came along in 1885, about 16 years after we got our start. My dad used to say, 'We took them on when they started," he said with a laugh.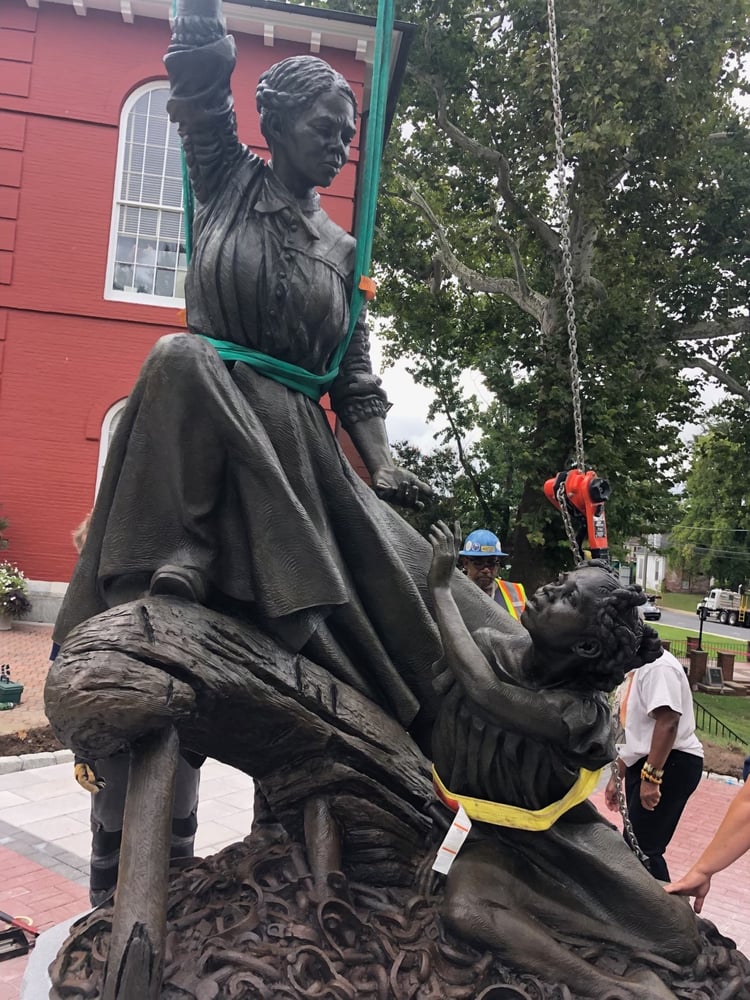 Learn more about becoming an Authorized Rock of Ages dealer.