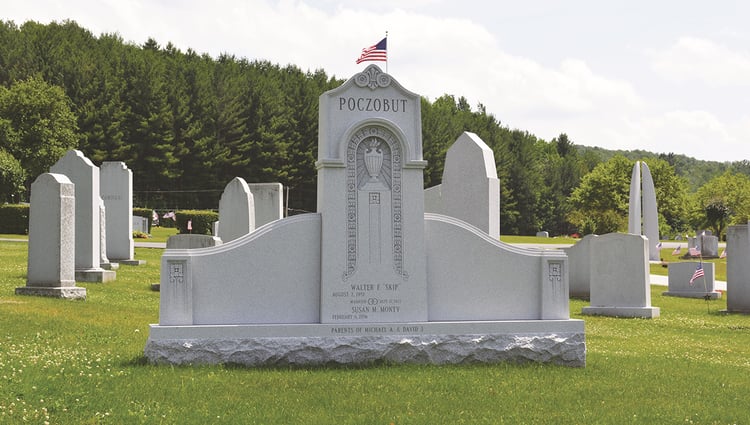 All granite is not created equal, and neither are memorial dealers.
We know that the quality of granite can vary between stones, quarries, and sources, but the same holds true for the people who sell you your headstone. Selecting and designing a headstone or memorial is a decision of enormous magnitude; and you want to make sure you can trust the person guiding you through the process.
Enter Rock of Ages Authorized Dealers. Their expertise in Rock of Ages memorials is key to helping families find the perfect way to honor the memory of a loved one, and they understand that the best-in-the-industry guarantee on craftsmanship and stone quality is the peace that ensures a family's investment will last for generations to come.
Steve Benoit is one of Rock of Ages 100+ exclusive Authorized Dealers located throughout the United States and Canada, and he happens to have a memorial showroom within the Rock of Ages Visitor Center which sits directly next to the prestigious Craftsmen Center, in Graniteville, Vermont.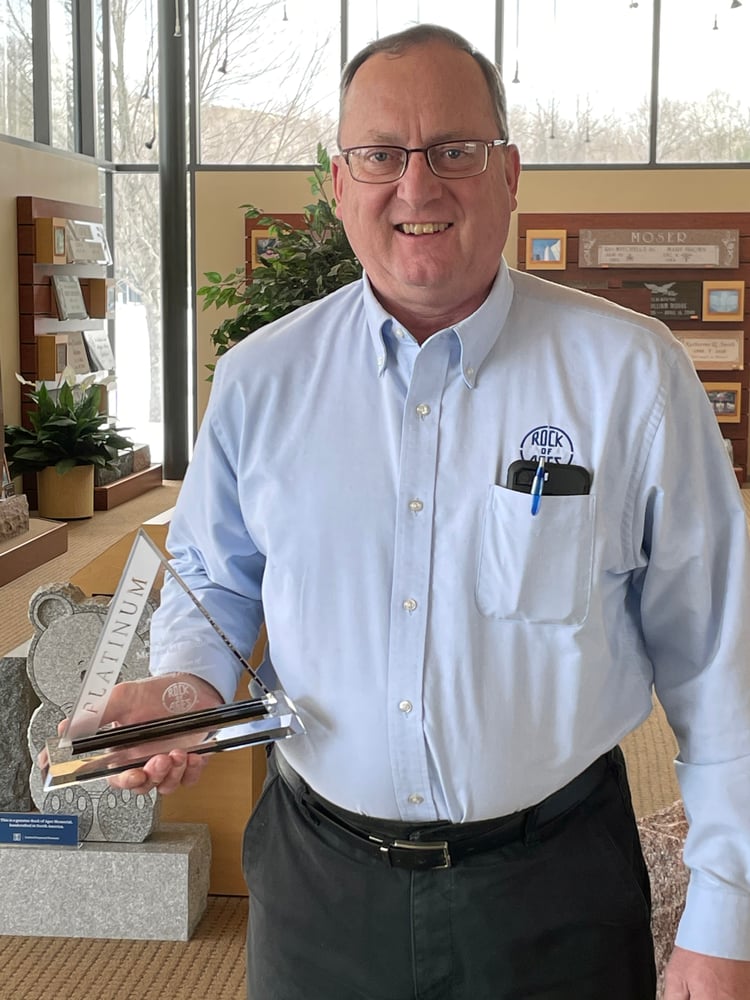 With close to 35 years experience in the granite industry, Steve has not only witnessed, but participated in, the process that will ultimately deliver your stone from quarry to finished product. What began for Steve at age 23 working in the sandblast department, evolved into a career as a master craftsman before landing him a position as a memorial counselor for Rock of Ages, where he has been for the last 16 years. Because of his extensive tenure at Rock of Ages and diverse background within the company, Steve appreciates the level of detail that is intricately woven into each and every memorial that customers envision and that Rock of Ages memorial dealers and artisans eventually bring to life. "I can spot a Rock of Ages headstone in a cemetery, the craftsmanship is second to none. Because I have experience crafting memorials with my own two hands, I am able to communicate with a family exactly how we will translate their concept sketch to a hand carved, one-of-a-kind family tribute. There are no assumptions or surprises, in the end this puts families at ease."
BLUE GRAY™ granite monument
Vetting the reliability of a dealer and the quality of the stone and craftsmanship is tough, which is why Rock of Ages memorial counselors are available to walk you through every step of what can seem like an overwhelming process. "I feel a true sense of pride when I walk through the cemeteries in Vermont, and I see the families that I have served, the tributes that will stand the test of time, and have brought the families I have worked with not only a sense of closure but a sense of peace," says Benoit.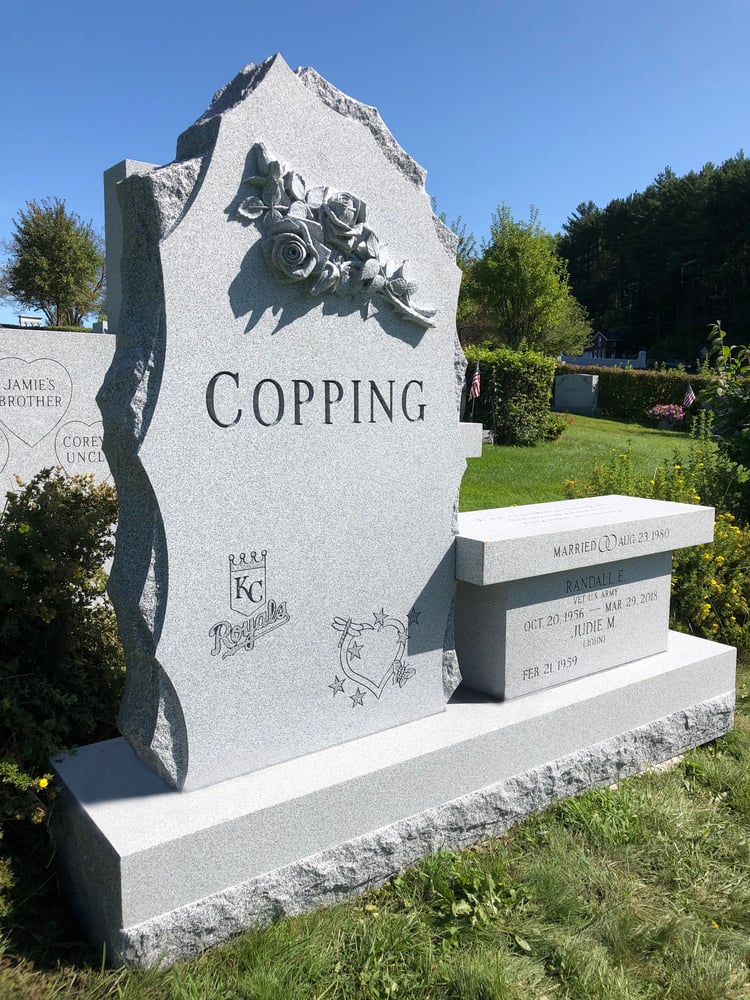 The Copping monument was designed for Randy Copping - 38 year member of the Rock of Ages Industrial Products group. Crafted from Blue Gray granite and completed with the personalized, finishing touch of an emblem in honor of Randy's favorite baseball team.
A good memorial counselor knows that communication with clients is an integral part of the design and purchase process. This personal, comprehensive service is a Rock of Ages advantage that authorized dealers are able to deliver because of their clear understanding of what goes into choosing a headstone, start to finish. From initial contact with a potential client to working with the drafting team, authorized dealers remain hands-on throughout, to ensure that each element is flawlessly executed and moved forward in a timely fashion. "Some clients come to me with a clear idea and firm budget, while others need more guidance in their selection. Either way, I am here to help bring their vision to fruition," says Benoit.
If you're not sure where to begin when choosing a headstone, there are key aspects to consider. Are foundation and installation included? Can the dealer give proof of the stones origin? Working with a memorial counselor alleviates any and all stress as they can walk you through these important questions and provide instant peace of mind when it comes to selecting your headstone.
Headstones and memorials are not a one-size-fits-all purchase. Rock of Ages produces unique monuments made by the world's greatest stone artisans, and authorized dealers are well versed in working with clients through a wide variety of budgets and ideas to deliver the perfect, individualized result to each and every customer.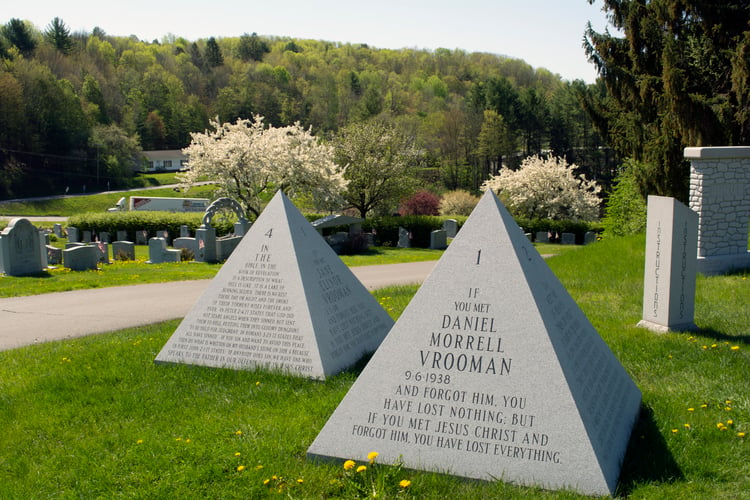 The Twin Pyramids is one of the more modern and unique monuments in Hope Cemetery.
The best and most rewarding part of the job? Seeing a client's vision come to life, and knowing that Rock of Ages' superior staff and stone played a vital role in providing a family with a cherished monument to honor their loved one.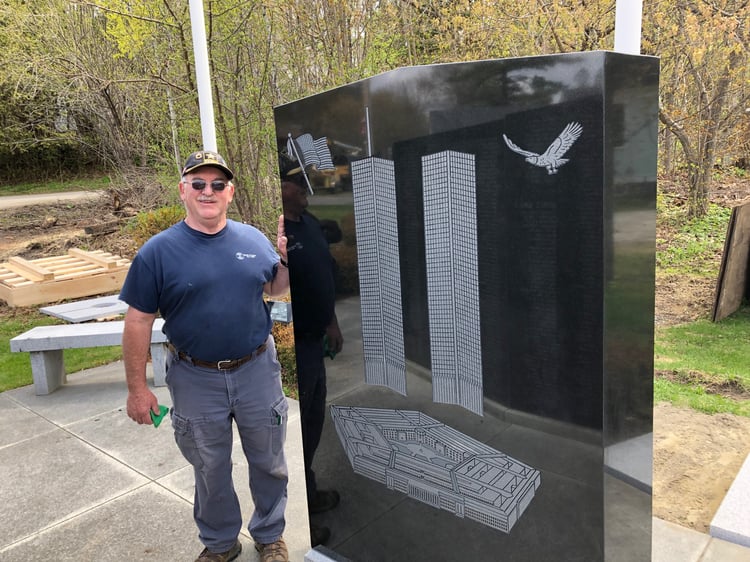 Know the source
Knowing where your stone comes from is absolutely paramount to guaranteeing quality that will last a lifetime, as you literally etch, engrave and sandblast your memories in stone. The quality of the stone you select is affected by several factors, and different quarries yield different stone, with mineral compositions in the stones accounting for variations in durability, color and the ability to offer exceptional contrasts utilizing different finishes. While many granites exist and can be used for memorials, they may not meet the rigorous quality standards of Rock of Ages granite.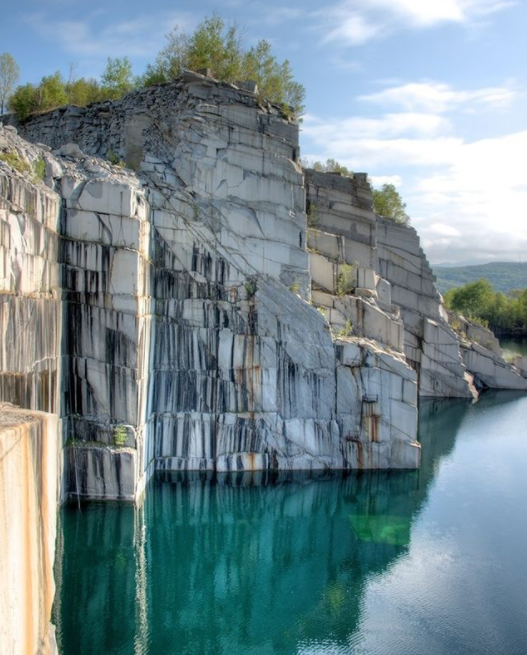 At nearly 600 feet deep, the Smith Quarry, located in Graniteville, Vermont, is the largest operating deep-hole, dimension granite quarry in the world.
What are the most important questions to ask when selecting a stone for your memorial?
Are foundation and installation included?

Does the dealer guarantee that the headstone meets cemetery regulations?

Is the fabrication process done domestically?

Does the dealer offer a perpetual warranty for the stone and craftsmanship? Ask for it in writing.

Can the dealer give proof of the stone's origin? Only Rock of Ages BLUE GRAY™ granite carries the SEALMARKTM of authenticity from our Vermont quarries. Families have trusted our North American sourced stones for more than 100 years, because we guarantee they will last. When you shop for a headstone, make sure what you invest in has the Rock of Ages seal.

Does the final price include all design and lettering details? Make sure everything is spelled out in writing.

Will designs be shape carved? There are monument shops that shallow carve flat designs and then add paint to enhance it but when the paint fades (and it always fades), you'll be left with a shallow, hard to see carving.

Is this headstone the same thickness and size as the others you've seen?

Can the dealer show you examples of headstones they created 10, 20, or even 30 years ago? How do they look today?

Will the dealer show you a scaled drawing prior to production?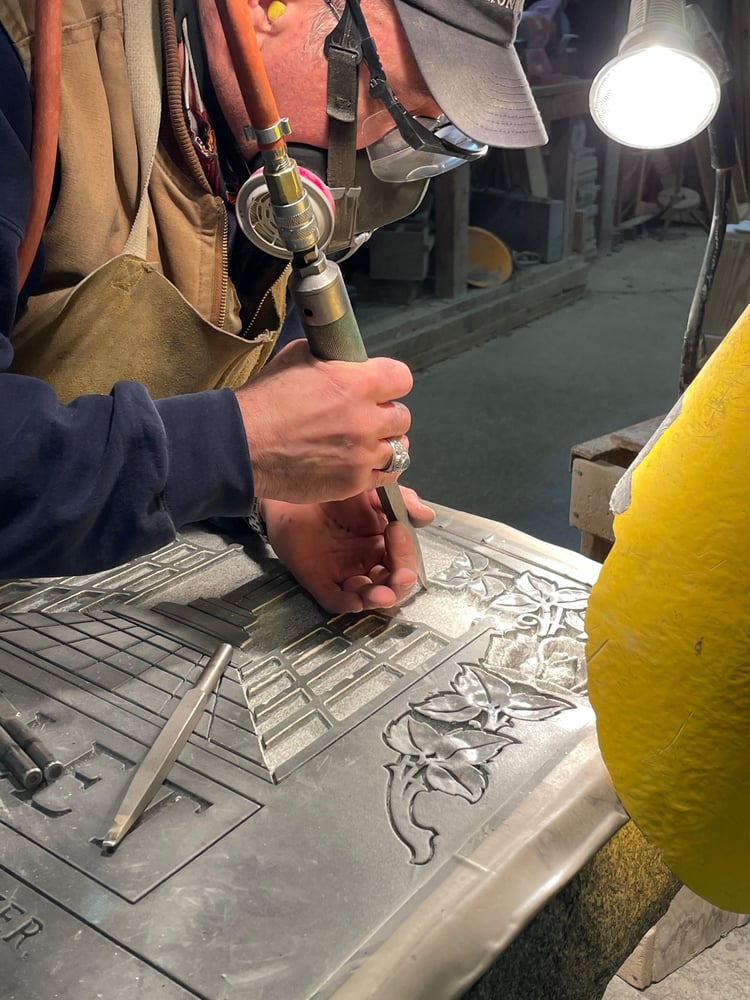 For a truly personal experience, visit a Rock of Ages Authorized Dealer near you. When you purchase from an exclusive Authorized Dealer, you can rest assured that you are buying direct from the source.
You can get started designing a granite headstone today. Download the style guide.