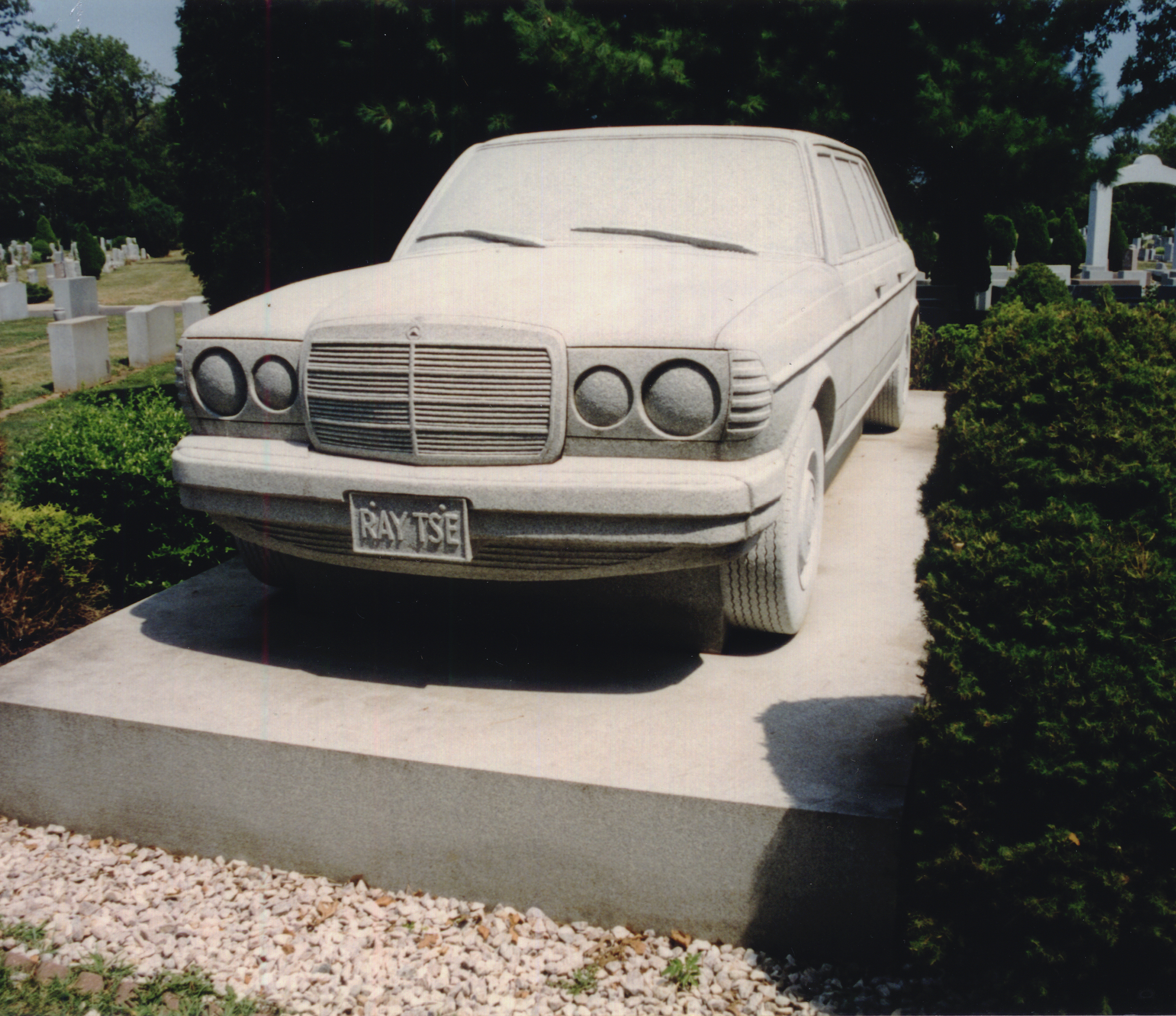 Photo © Weird NJ
Four cylinders, 67 horsepower, seating for eight, and over 30 tons of Blue Gray granite from Barre, Vermont. The grave site of Raymond Tse indeed holds up to the Mercedes-Benz motto, "The Best or Nothing."
Parked in a suburban cemetery near Newark, New Jersey, is a monument to a teenager's passion for Mercedes cars and a dream that went unfulfilled in life. Completed four decades ago, this feat of American stone-carving craftsmanship in homage to German engineering craftsmanship remains a landmark for curious tourists and a source of Internet fascination.
The true to-scale Mercedes 240 D sculpture was expertly crafted in 1983. Tse, who died two years earlier in Hong Kong at the age of 15, reportedly dreamed of owning a Mercedes when he turned driving age. His older brother David, a New York City businessman, promised to buy him one, but never got the chance. Instead, he had one made for young Raymond's memorial.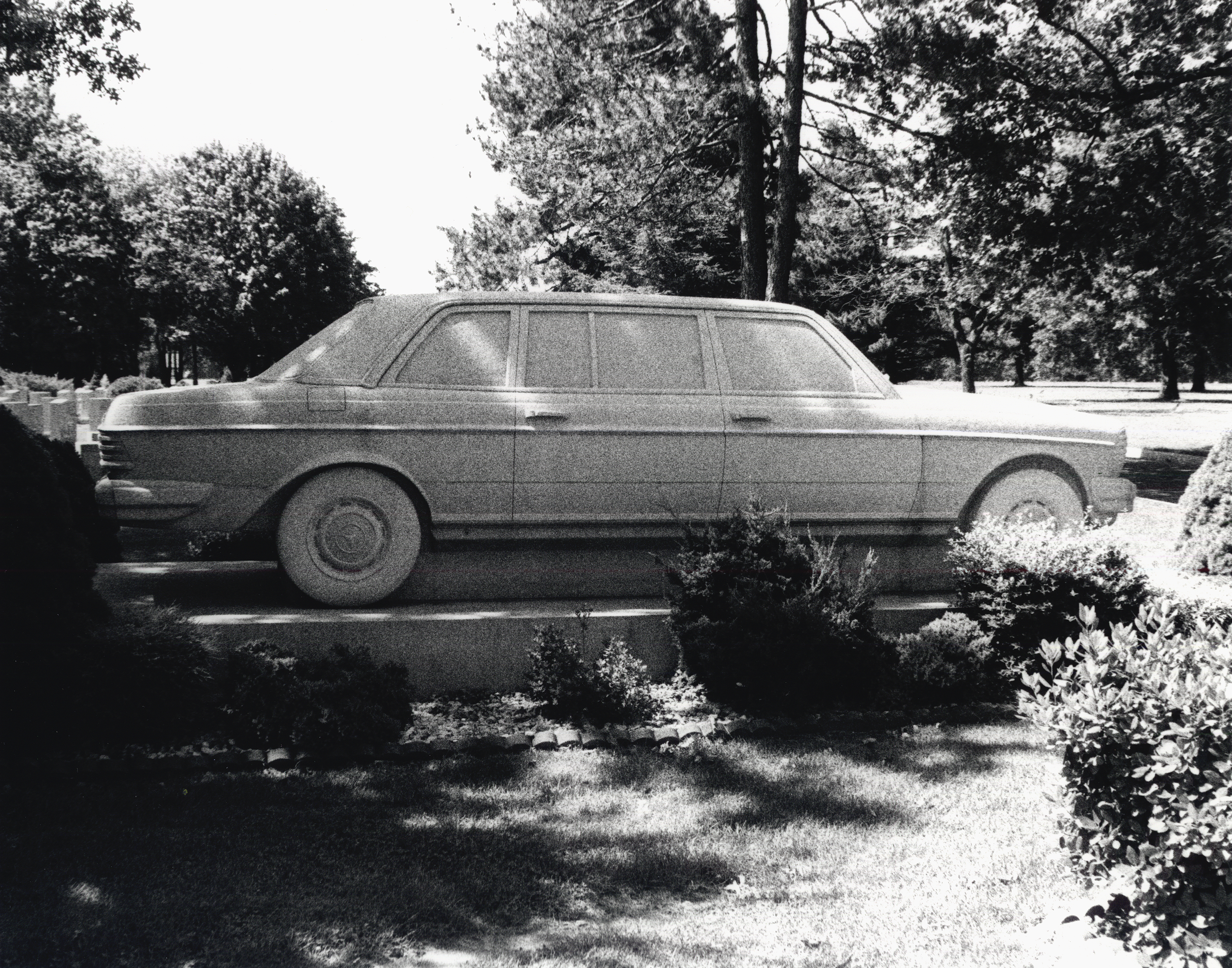 Photo © Weird NJ
Michael Di Piazza Sr., owner of Koch Monument in Hackensack, New Jersey, recalled the request.
"When the family came in, I thought they were talking about a mausoleum with a Mercedes engraved on the wall," Di Piazza said. "But he said he wanted a full-sized one made of stone. So that started the vision, and we got to work to make it a reality."
The first step was to put together a design plan. Di Piazza noted that the particular model of Mercedes that Raymond was enamored with, a stretched version of the classic early 80s car, wasn't available in the U.S. So he got the design drawings from Mercedes in Germany and gave them to Rock of Ages to begin the construction process.
Next, they had to find a block of granite large enough to carve a full-size replica of a car.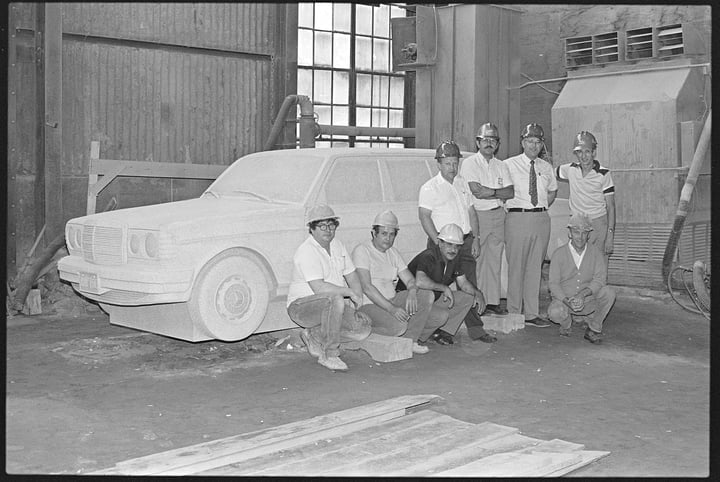 "It started as a massive 66-ton block," Di Piazza said. "The need for this size block for a memorial is unique so we were thrilled that Rock of Ages accommodated the request." Sculptor Dante Rossi and two others worked on carving the stone for 13 months.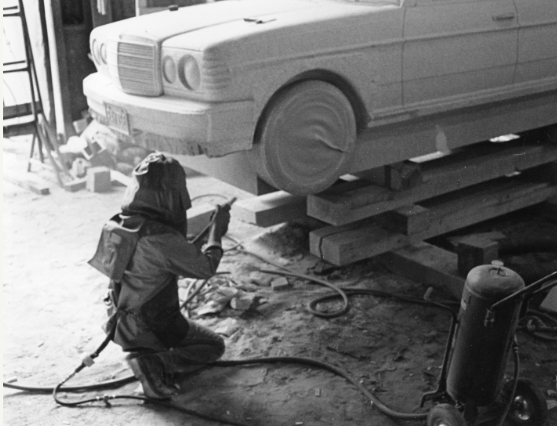 "The sculpture ended up weighing 32 tons,'' Di Piazza recalled. "The base alone weighs 18 tons." Another challenge was moving the stone car from the Rock of Ages plant in Vermont to the grave at the Roselawn Cemetery in Linden, New Jersey. When transporting a mausoleum, it's typically delivered on a truck in parts and assembled on site. The car, however, had to be moved as one giant piece of granite by truck. 
"I took out a special insurance policy," Di Piazza said. "And that covered if something happened when we lifted it off the truck and put it on the foundation. You'd never be able to get back the two-and-a-half years it took to create it, but if something failed, we took that as a precaution because it had to be specially rigged, and things could go wrong. Thankfully, they didn't." 
Di Piazza explained that Raymond's plot consisted of an underground burial vault with a heart-shaped monument placed at the grave. Around that, they built an impressive mausoleum of polished granite with two foo dogs (Chinese guardian lions) at the entrance.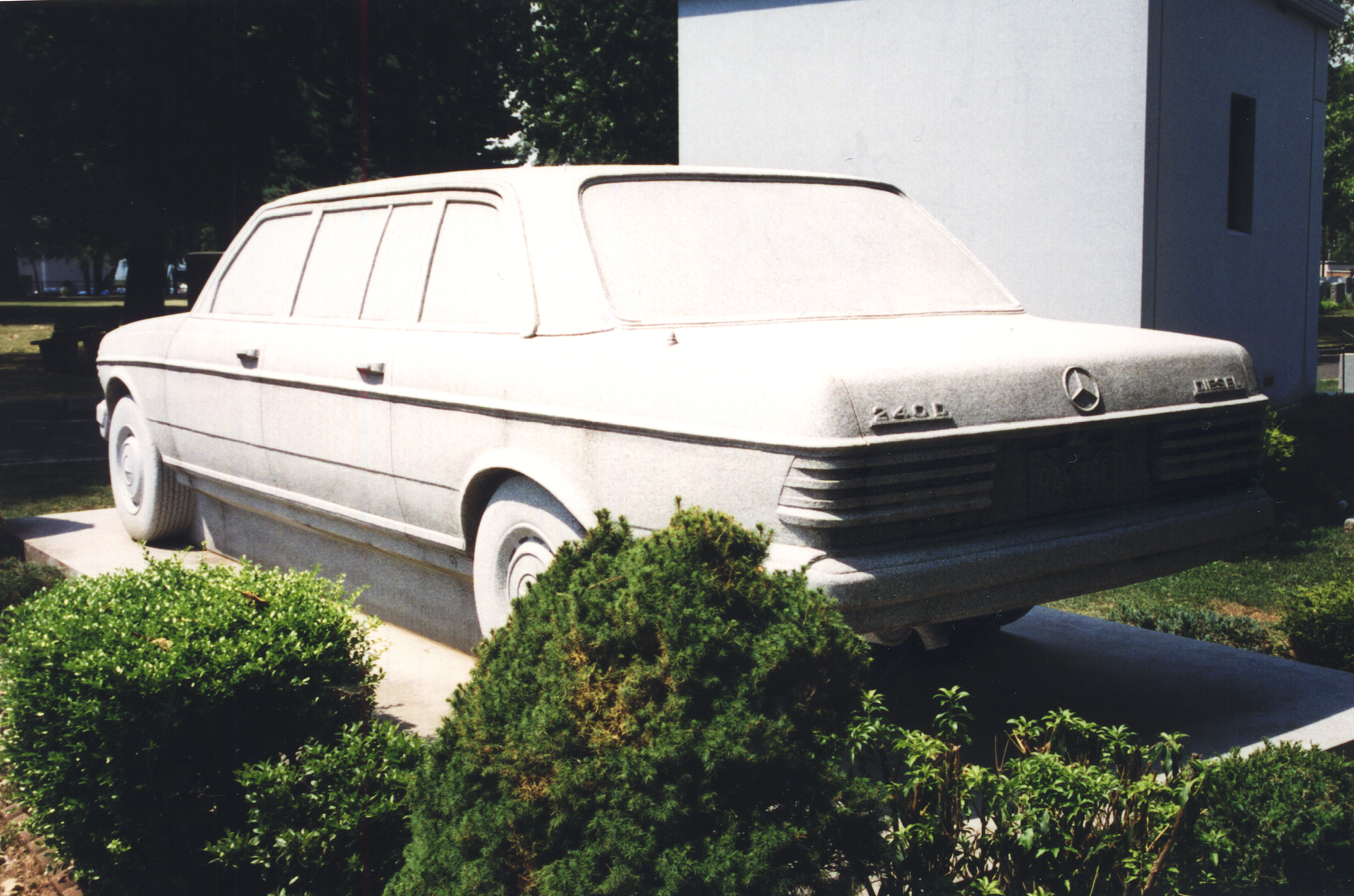 Photo © Weird NJ
"We went back and forth on the design," Di Piazza said. "The car was pretty straightforward; you know what a Mercedes looks like. But for the foo dogs, they gave us pictures and we did drawings."
When installing the memorial on site, the Tse family surprised Di Piazza and his team with a bang. "We were putting the building up and it was half done. One night the family placed fireworks in the foo dogs. It's Chinese custom and the sound of the firecrackers is supposed to scare away the evil spirits. It was a nail-biting moment for sure!" Di Piazza recalled. "I said to the family, 'You can put dynamite in there if you want, but not until we're done, please.'"
The stone Mercedes is parked behind the mausoleum.
Di Piazza feels the stone monument also serves another purpose: as something for other cemetery visitors to experience. "It takes their mind off a funeral and their sorrow for a few moments when they get there and they see a granite car."