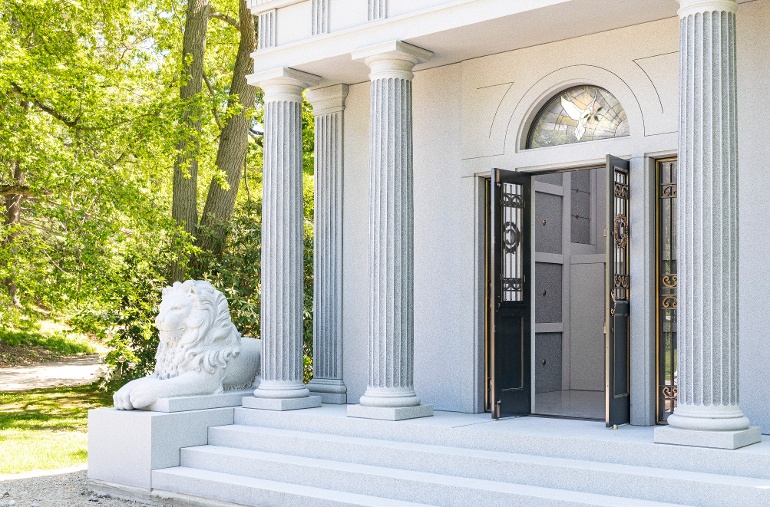 Herb Chambers has never liked the thought of being buried underground, and though he's a Navy man and a yachtsman, burial at sea didn't seem to be a good fit either. He's also not too keen on cremation. Chambers might have put off thinking about his interment all together if it hadn't been for the death of his beloved younger brother Paul in 2018.
"We had an amazing relationship that most brothers don't have. We worked together," Chambers said. "When I lost him I was heartbroken. Before he passed away, I asked him, 'What would you want to do about burial?' He said, 'I've been doing what you want me to do all my life, why would I change it now?' So I said, 'Ok I think I want to build a mausoleum because I just want to be with you."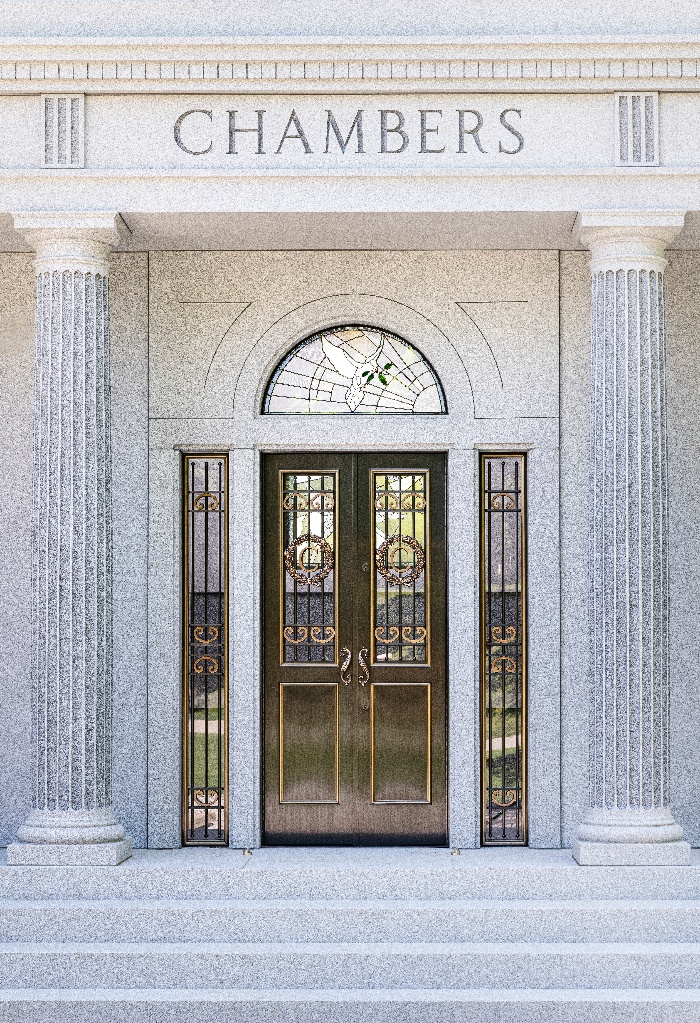 Chambers did just that, working with Rock of Ages to design and fabricate a classic 12 crypt mausoleum in BLUE GRAY ™ granite that he located on property he purchased at Forest Hills Cemetery in Boston. As the patriarch of his family, Chambers wanted to assure that his family stayed close for eternity.
By Chambers' estimation the building he chose is a simple, stately style. Outside two regal lions, hand carved by Rock of Ages artisans, guard the entrance from a four-step elevation. Bronze doors with sidelights are flanked by four fluted columns supporting a pitched roof with keystone and carved wreath detail.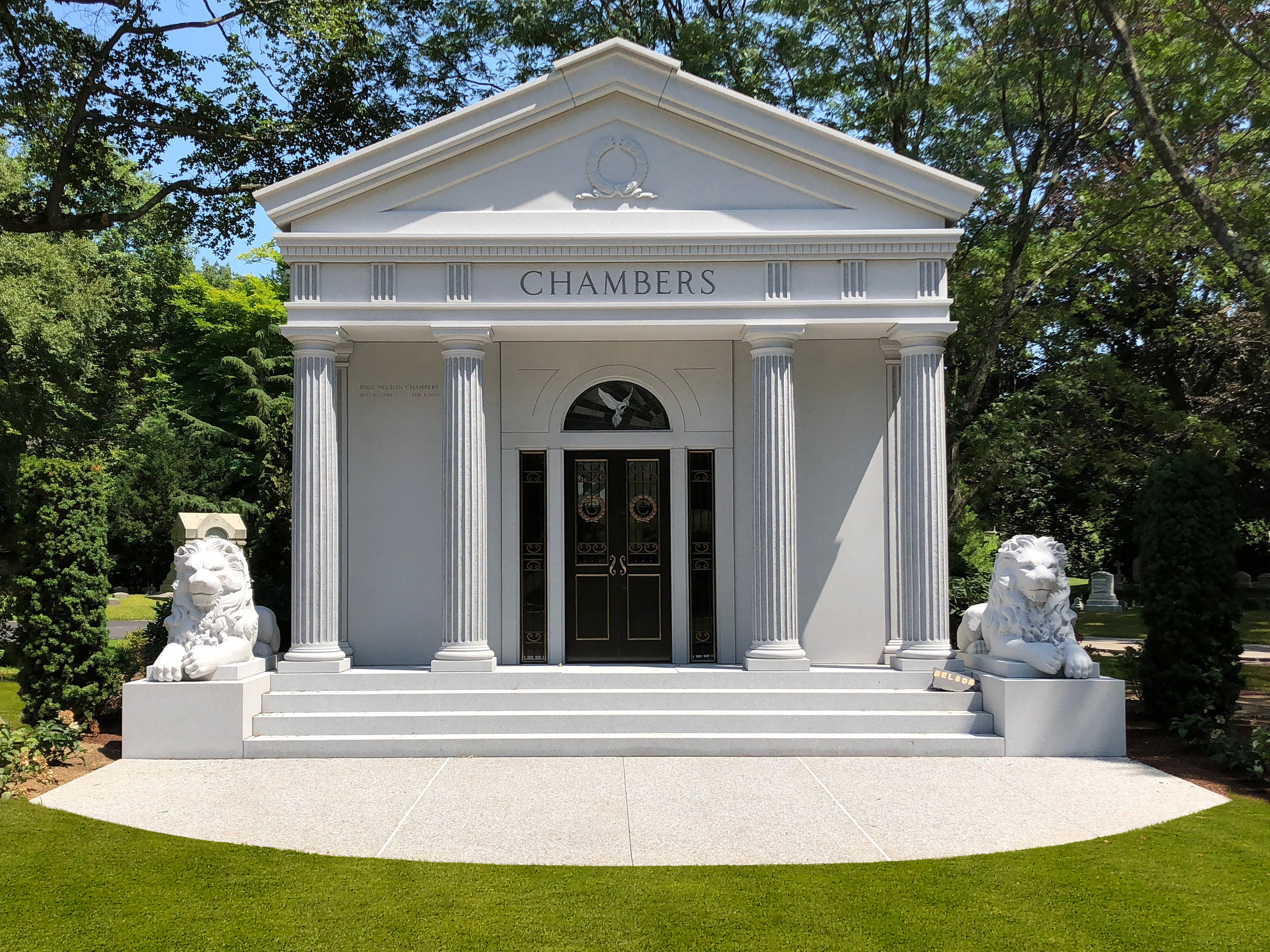 Though buildings like Chambers' mausoleum are a major investment, price was not the main factor when considering the kind of mausoleum he would build.
"At that particular time the cost was irrelevant," Chambers said. "I just wanted to get it done. I was thinking about my brother."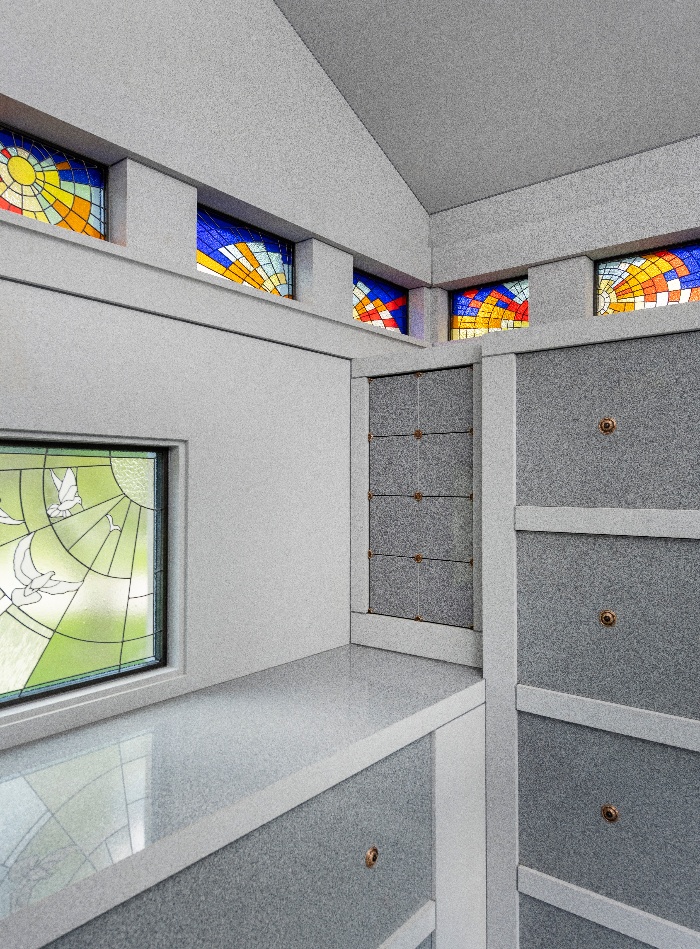 When he considered who would design and fabricate his building, Chambers said it was the people at Rock of Ages, both their character and their work, that moved him.
"I didn't shop around. I called Rock of Ages because I had seen another mausoleum that they had built that I liked, and I liked the people I spoke to," he said.
"I'm in the auto business. It's not like comparing a Mercedes Benz and a Cadillac. Terri [Ford] who I worked with at Rock of Ages was really easy to deal with," Chambers said. "Actually extraordinarily, and a really, really good guy."
Though he chose a design very close to one he saw in the Rock of Ages portfolio, Chambers still put his own personal touch on the building with design elements like stained glass windows at the front and back. Doves rise up across the brightly colored glass to symbolize sunrise on the front and sunset on the back.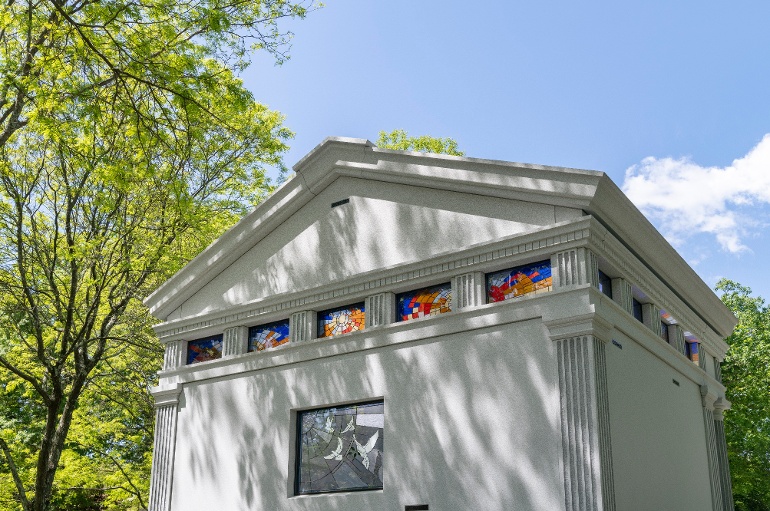 Chambers, a self-described no nonsense guy who knows what he wants, is the founder of The Herb Chambers Companies, owner of 60 car dealerships and 3 collision centers in Massachusetts and Rhode Island. (He also successfully launched and sold a copier business in the 80s and is a US Navy veteran.)
"People tell me that I'm real easy to deal with because I know what I want and I don't waiver," he said. "I'm pretty busy. I don't like to think of things twice."
Thanks to Ford and his team, Chambers didn't have to think twice about his mausoleum.
"When he tells you, this is what's going to happen and when, that's pretty much what it's going to be. I'm very pleased with the design."
What Chambers likes best about his mausoleum though, isn't the stained glass. It's that he and his brother will be together again.
Start creating your family's legacy today. Download the Mausoleum Inspiration Guide.