Although a monument crafted from quality stone will stand the test of time in the cemetery, Mother Nature might pose maintenance challenges down the road.
"Depending on the memorial's location — whether it's under a tree or exposed to a lot of sun —it's probably going to need a cleaning at some point," said Anthony Minozzi, Vice President of Travis Monuments, which has four locations throughout Orange, Rockland and Putnam counties in New York.
The fourth generation of a family of Italian and American stone carvers, Minozzi said the biggest issue is water. "It all comes back to moisture," he said, explaining how over time natural staining from moss and lichen growth can impact the legibility of any engraving. "Moisture is not your friend in the granite world."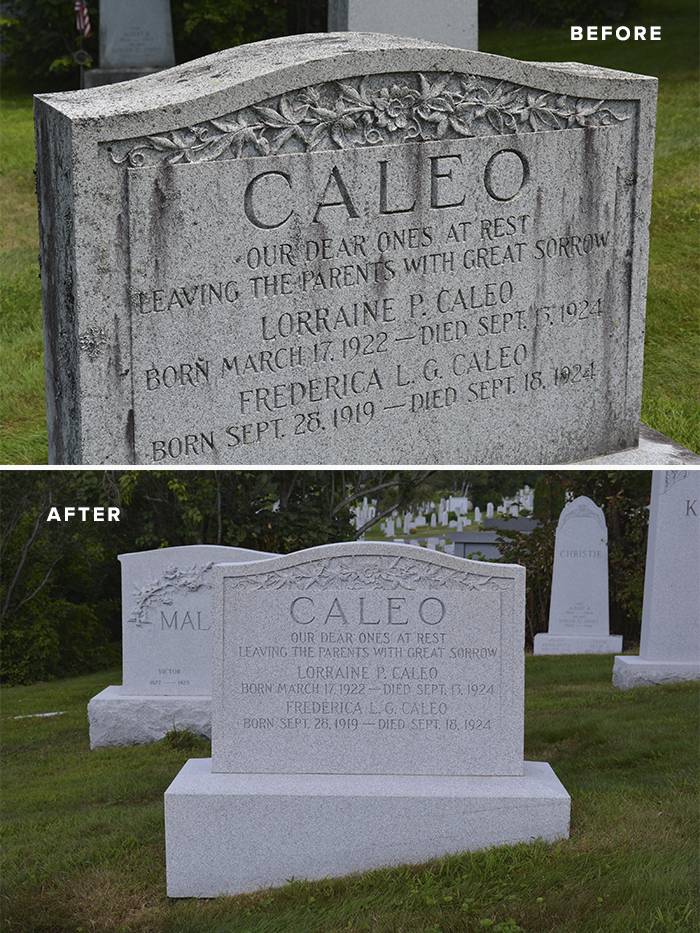 BLUE GRAY® granite headstone before and after cleaning at Hope Cemetery in Barre, VT. Local manufacturers donate annually to cemetery restoration and beautification, and each year a section of Hope Cemetery is cleaned.
Luckily, there are options for those who want to restore their loved ones' monuments. "If you're careful and know what you're doing, you could restore those monuments to like-new," said Minozzi, who started working for the family business during summers as a teenager.
With locations that date back to 1899, Travis Monuments offers monument maintenance packages to clients at the time of purchase. "We take a conservative approach, because granite memorials can easily — and mistakenly — be damaged," he said. Using the wrong brush or chemicals could permanently damage the stone's finish, Minozzi said. "We don't want them hiring just anybody to use any type of chemical on the stone that could possibly ruin it or damage the finish," he said.
Hiring experienced professionals to clean a cemetery monument is also a good way to protect its warranty, especially if it's a Rock of Ages product, said Minozzi, whose company has been a Rock of Ages retailer for 15 years.
He pointed out that lesser quality products, often imported, are often less responsive to cleaning attempts when they have a polished finish. Many imported granites have additives added to the polish to make them appear darker, which when exposed to prolonged sunlight causes the agents to burn off over time. "Unfortunately that cannot be restored," said Minozzi. "We can't put color back in."
Travis Monuments offers an automatic annual maintenance service to clients who don't live close enough to the burial to visit regularly. Once a year a maintenance expert assesses the monument — checking the joints and install — washes it and takes a photo to send to the client.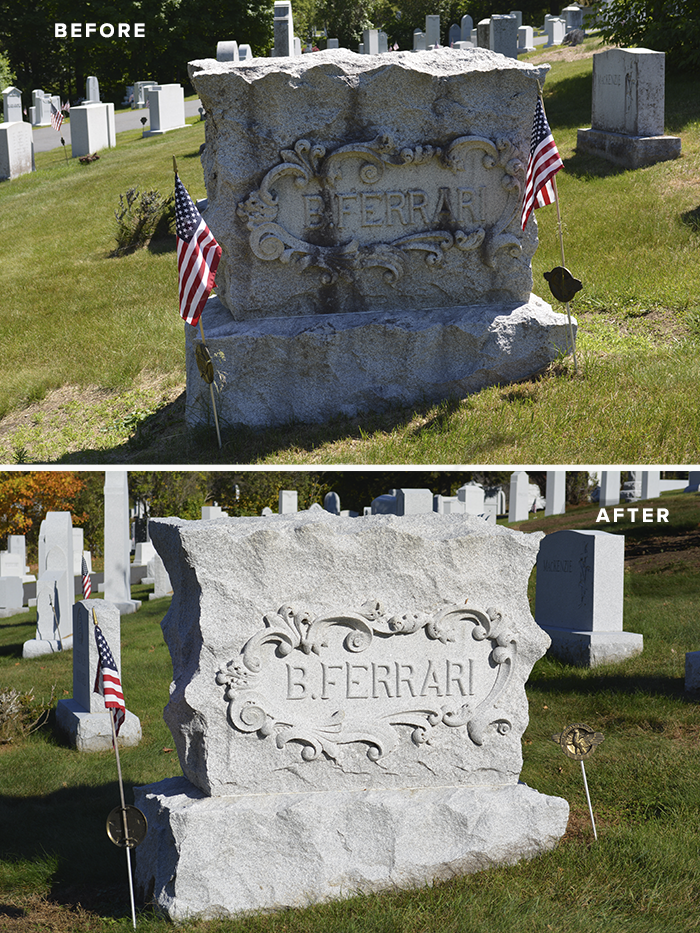 Blue Gray granite headstone before and after cleaning at Hope Cemetery.
The challenge to maintaining cemetery monuments is the lack of running water in most cemeteries, said Minozzi. When a cleaning calls for a power washing, it requires bringing in their truck with a 200 gallon water tank that needs to be lifted by crane to the work site because it weighs about 1,600 pounds, he explained. Then the memorial is cleaned with an acid wash to cut through any moisture stains or accumulated dirt, grime, salt crystals or algae.
"People assume at first that it's just like power washing their house," Minozzi said. "But it's much more complicated, and time consuming, than that."
One trend he said he's seen is a movement towards using more "green" cleaning products, which Travis Monuments use for restoring memorials. Nowadays, they use a biodegradable, citrus-based chemical that doesn't damage grass or nearby vegetation and is also sustainable.
"The biggest problem we see by far is people grabbing a gallon of bleach and dousing the stone with it," Minozzi said, adding that if the bleach isn't diluted, it damages the finish. "We're stuck coming in afterward to clean up, and there's only so much we can do."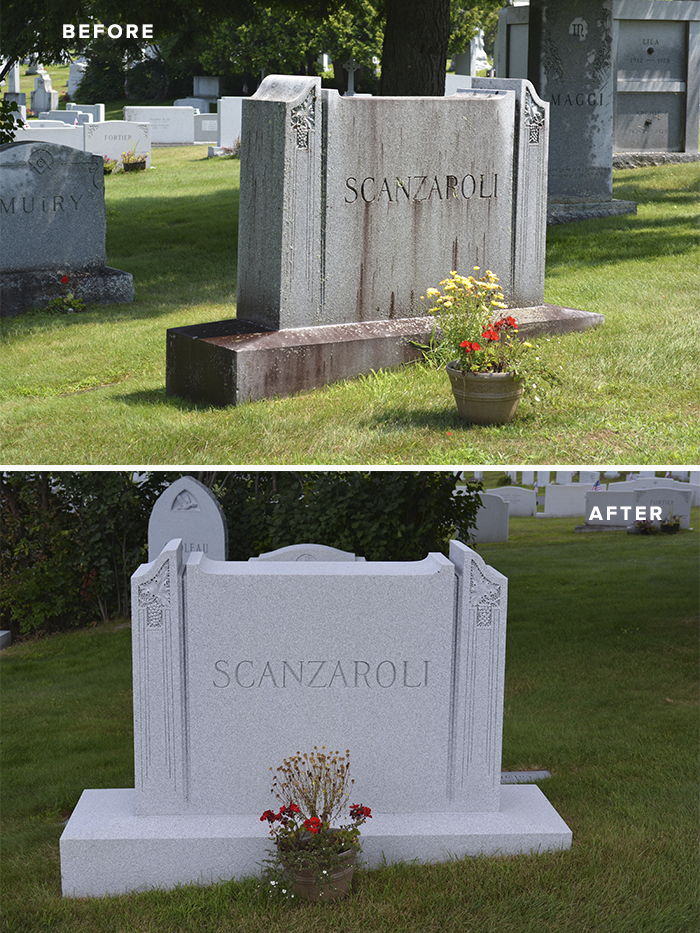 Blue Gray granite headstone before and after cleaning at Hope Cemetery.
For the do-it-yourselfers, Minozzi recommends starting with gentle soap, like Ivory, and water. He said the stone needs to be rinsed well with plain water before applying soap with a nylon bristle brush. Metal and hard bristle brushes should never be used as they could cause permanent damage to the finishes of the stone. After brushing the stone with gentle soap, it needs to be thoroughly rinsed. "If that doesn't take it off, it's time for a professional cleaning."
Often times, cemeteries use well water which can have a high iron content which is not good for granite. It's best to wash and rinse with water brought from home.
Another problem Minozzi said he sees is people using products to clean cemetery monuments that are intended for interior granite, which might seal the stone's pores and cause future staining.
"Sometimes the internet can be misleading and cause well-intentioned people to do irreparable harm to their loved one's memorial," he said.
Even monuments crafted from the highest quality stones will require some type of maintenance over time, whether caused by Mother Nature or airborne pollutants. But a clean monument not only enhances the natural qualities of the granite but will add to the overall beauty of the cemetery.
Need assistance maintaining a cemetery monument? Contact your local dealer and they can assist you or take care of it for you.