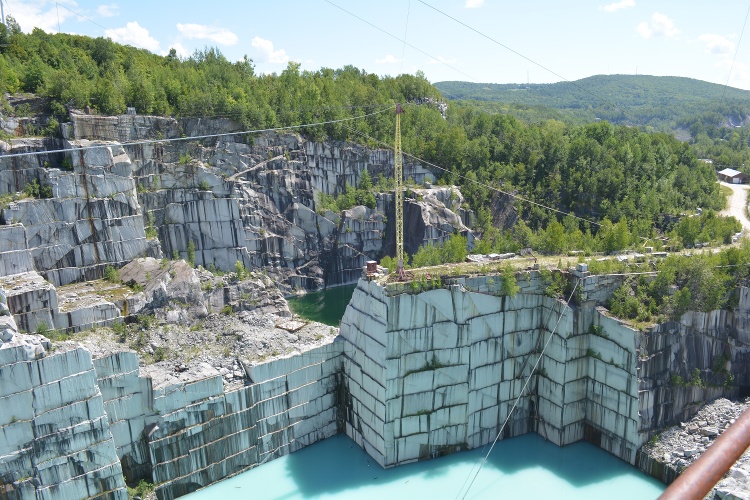 Looking for a one-of-a-kind Vermont tour that combines the history of a region known as the "Granite Capital of the World," along with awe inspiring views, and some bowling to boot?
Rock of Ages' quarry in Barre, VT — the world's largest deep hole quarry that's nearly 600 feet deep — offers guided tours most days to the edge of the massive quarry and a state-of-the-art visitor's center that's a must see if you're in the Central Vermont area from May to the end of October.
"We're here to offer a unique experience you wouldn't get in other places," said Ruthie Adams, manager of the Rock of Ages Visitors Center, explaining how visitors can look down 300 feet to the opaque turquoise water and imagine another 300 feet below that. "The views are pretty incredible."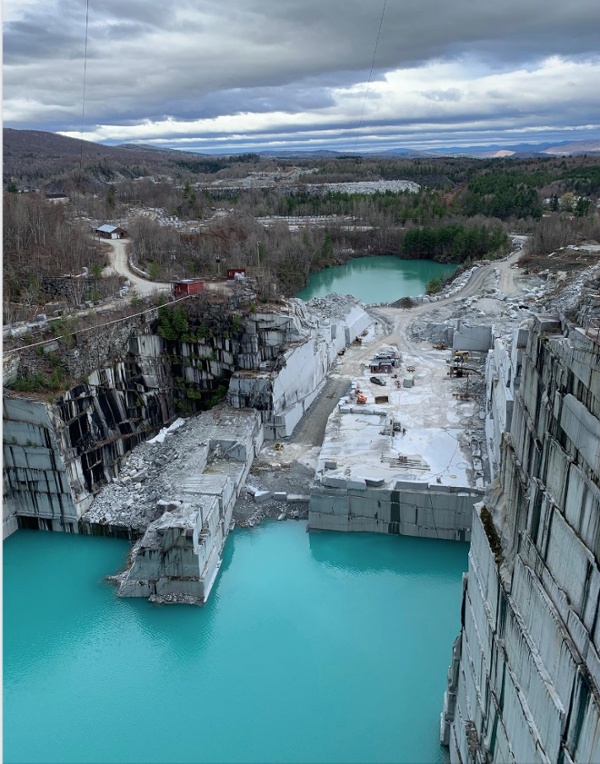 Visitors can watch from the top as quarriers cut the gray granite, most notably used for monuments and mausoleums, away from the quarry wall.
One of Vermont's Oldest Quarrying Operations
When European settlers first came to the region, they were mostly farmers who did their best to work around the stone, which was hard and heavy. Stone cutters who emigrated from Italy to Vermont brought their knowledge of natural stone and a thriving American granite industry was born. When the railroad came through Barre in the latter half of the 19th century the industry kicked into full steam.
According to measurements made by researchers from MIT, the depth of the granite in the area is four miles long, about two miles wide, and ten miles thick. At current recovery rates, there's another 4,500 years of stone in the ground.
Rock of Ages granite blocks pulled from the Graniteville quarry yield memorial quality stone that doesn't crack or degrade with time. Rock of Ages has several Vermont granite quarries including one that produces BLUE GRAY™ granite: a stone sought after worldwide for its fine grain, even texture, quality for sculpting and superior weather resistance.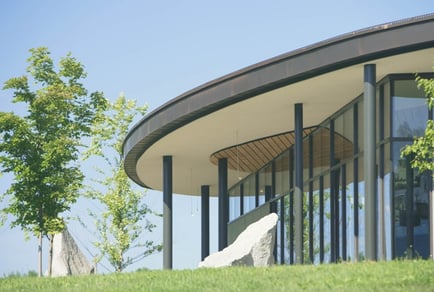 The Rock of Ages Visitor Center is modern, spacious and welcoming. It includes photography and video exhibits and a gift shop.
Making the Most of Your Visit
The best way to begin your visit to the Rock of Ages quarry is by stopping by the Visitors Center, said Adams, where you can view a 10-minute video that "goes hand in hand with the quarry tour." She stressed that the tour is guided and that visitors can't just wing it and go alone as it is a working quarry. Per safety regulations guests are accompanied by a guide to the active working quarry.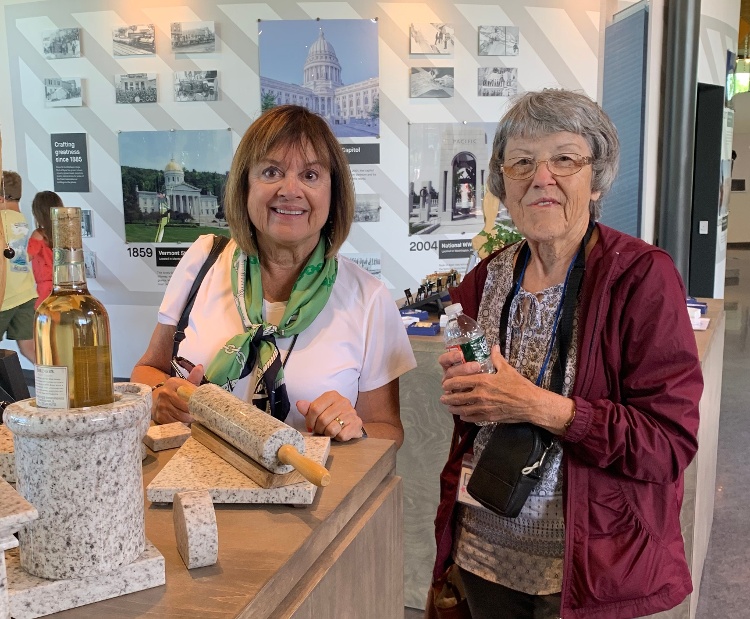 Pick up a one-of-a-kind granite souvenir at the Visitors Center. You can check out and buy the items here.
The Visitor Center also displays historic photos and exhibits visitors can browse, and a shop featuring unique natural stone gifts made straight from the quarry, including cheese boards, rolling pins, wine sleeves, and other Vermont specialty products.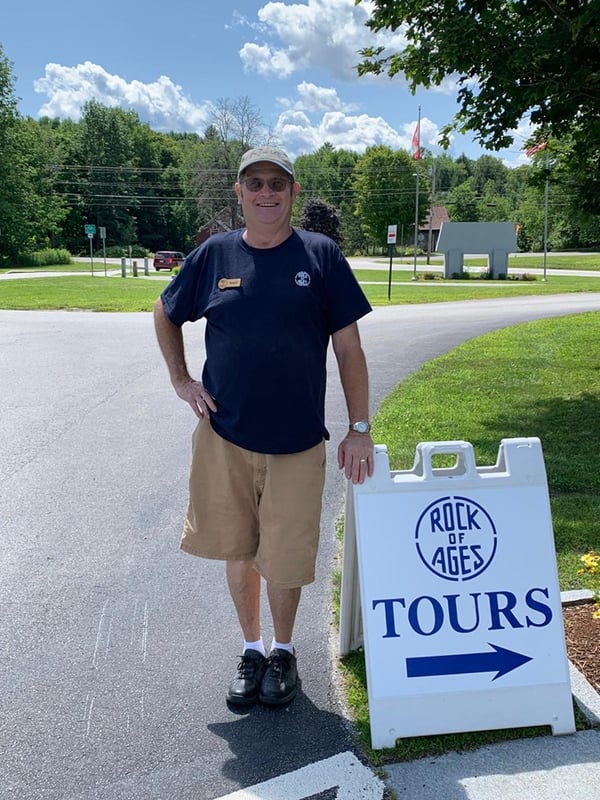 From 1980 until his retirement, Roger Larrabee was a drill operator in the E.L. Smith quarry. He's now a happy tour guide. Come join Roger as he shares his love for stone work.
A Trip to the Edge
Tourists caravan the three miles to the quarry either in a complimentary first-come first-served air-conditioned van that seats 14 passengers or using their own vehicles to the site, which also accommodates for larger charter buses. Upon arriving to the overlook, a tour guide explains the history of the quarry and its mining operations.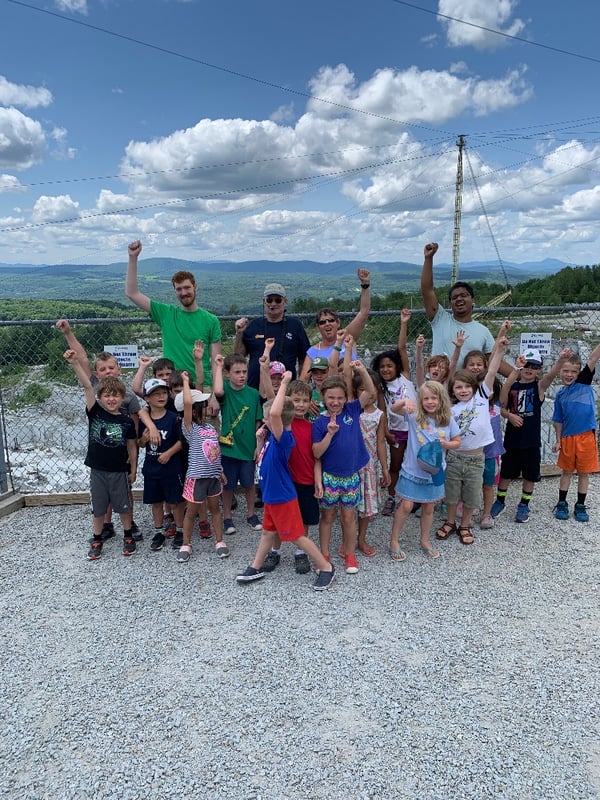 The Smith Quarry welcomes day trippers, families, and church and school groups.
"The guides' depth and breadth of knowledge offers such an authentic experience," Adams said. Each, she said, bring their own unique experience to the tour. Whether it's the guide who's a former science teacher, another who worked for many years as a drill operator at the quarry, or those with deep family connections to the granite industry.
See Artisans at Work
Following the trip to the quarry, visitors are encouraged to do a self-guided tour of the 160,000 square foot factory. Visitors can watch as artisans cut and carve granite memorials and mausoleums, in much the same way as Michelangelo did centuries ago.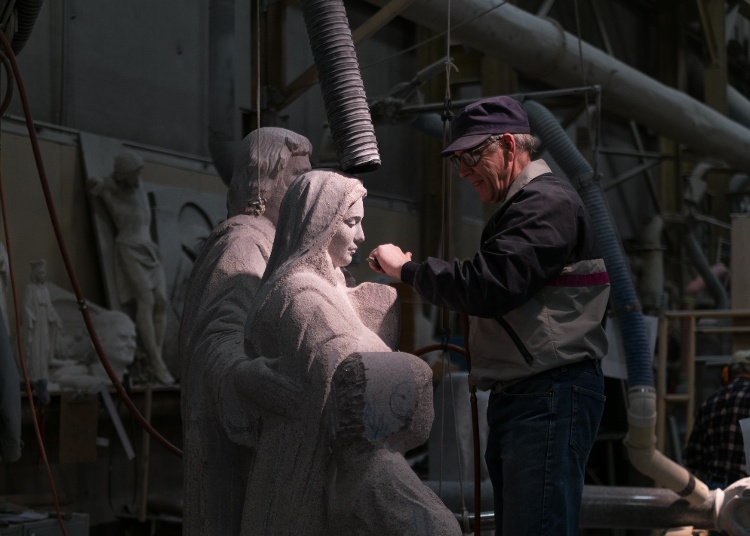 Peer down into the workshop of artisans creating headstones and memorial statues in a time honored tradition.
"There's an incredible sense of pride that we're taking somebody's legacy and creating something that will last forever," said Adams. "We're playing a role in someone's history and we take that very seriously."
Go for a Lucky Strike
One feature that's not to be missed, especially when visiting with kids, is the outdoor granite bowling lane, which has been a fun stop for all ages since it was installed in 1958. Developed initially as a prototype to replace wooden bowling lanes, the design was discovered to be flawed when it was determined that the traditional balls eventually broke after hitting the hard granite lane. Today it's a fun stop to see if you can roll a lucky strike after a day of touring.
Have fun seeing why granite bowling lanes never took off.
In his TripAdvisor review, Doug S. from Plymouth, MA said, "We made a special trip to Vermont to see the granite quarrying at the Rock of Ages, in part because we want to better understand the mining and use of granite..."
Another reviewer posted, "This was such a cool place to visit. They took you up to the oldest working granite quarry in the US. The guide did an amazing job explaining the process and details to the group. There is a great video back at the visitor center that was incredibly helpful. They also have a granite bowling lane on their property and my boys had a wonderful time with this!"
Planning Your Visit to Graniteville
Adams said visitors of all ages tour the quarry, whether it's the leaf peepers in the fall, spring and summer school groups or couples meandering through New England for a week. For families looking for an economical day trip, the quarry delivers an awe-inspiring experience without the theme park expense. Some travelers tie a quarry tour with a trip to nearby Stowe or Montpelier, and others who've come to Barre for the annual Heritage Festival, Rock Fire or Fall Fire manage to squeeze in a trip to Graniteville.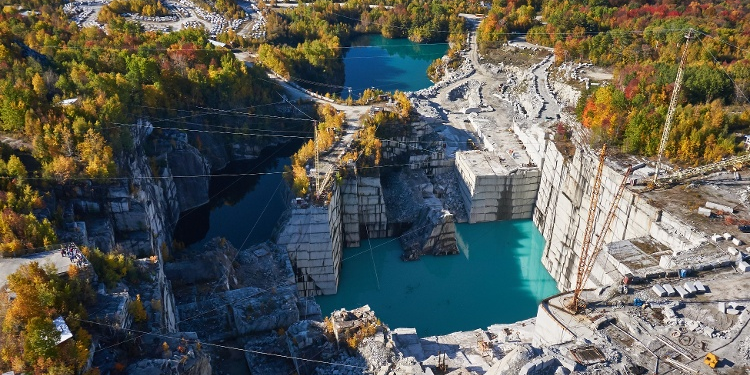 Tours run from May 14 to Oct. 31, Monday through Saturday.
One popular combination is for folks to visit the quarry, followed by a trip to the Vermont Granite Museum and finally, nearby 53 acre Hope Cemetery, which only allows monuments, sculptures and artistry fashioned out of the Rock of Ages Blue Gray granite.
Whether you're checking out the fall foliage or touring classic Vermont stops like Ben & Jerry Factory, Cold Hollow Cider Mill, the Cabot Creamery or local maple sugar houses like Bragg Farm or Morse Farm, the Rock of Ages quarry is a fun and informative stop on your trip.
For tour dates and times, visit the Rock of Ages website for all the details for planning your visit.