Every memorial stone tells a story - Who they were, what they did, what and who they loved, and whose hearts they will stay with. When a family loses a loved one or someone prepares for that moment, they go to a memorial designer to have a memorial designed and crafted which represents the life of their loved one.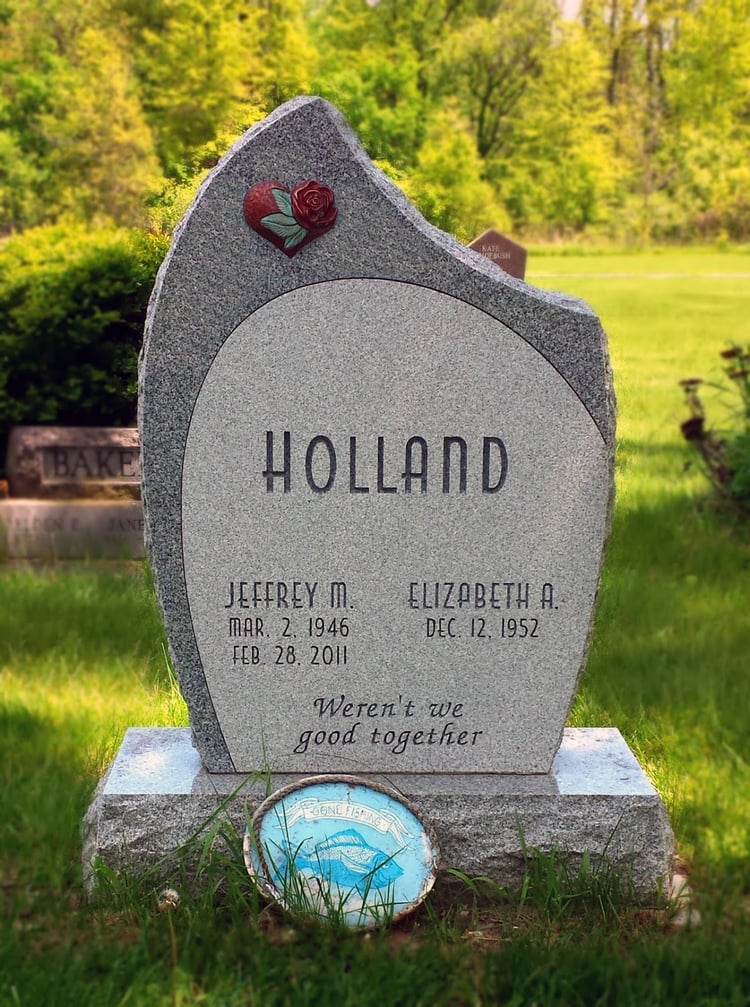 The Holland Memorial Stone is made from Blue GrayTM granite. This memorial stone features a bronze heart and a verse (weren't we good together) which symbolizes the love they had for each other.
Aaron Faehnle is a memorialist they will meet when they walk into Ohio Monuments, in Waterville, OH. Ohio Monuments has four locations throughout Ohio including Waterville, Maumee, Toledo, and Defiance . He says that the first thing he does when a family sees him is to sit down with them and ask them to tell him about the person they are memorializing. "They might say, 'Mom was a homemaker; she was the foundation of the family, and she had the best rose garden around.' " From there, he helps them choose symbols that represent their life. "We might put a rose on there, not only for her garden, but it's also a symbol of love," he says.
Being a memorial designer comes with a responsibility to create a design that helps the family remember their loved one and who the person was. Faehnle's great grandfather (who started their company) believed, "Monuments should be erected not because a person has died, but because they lived."
Symbols and epitaphs are a way to add personalized meaning on a memorial stone. They can be traditional symbols, including flowers and religious symbols, to more highly personalized symbols for clubs, affiliations, organizations, memberships, military insignias, alma maters, even photographs.
Faehnle shared some of the requests and suggestions he's accommodated over the years to offer inspiration to those thinking about a headstone for themselves or a loved one.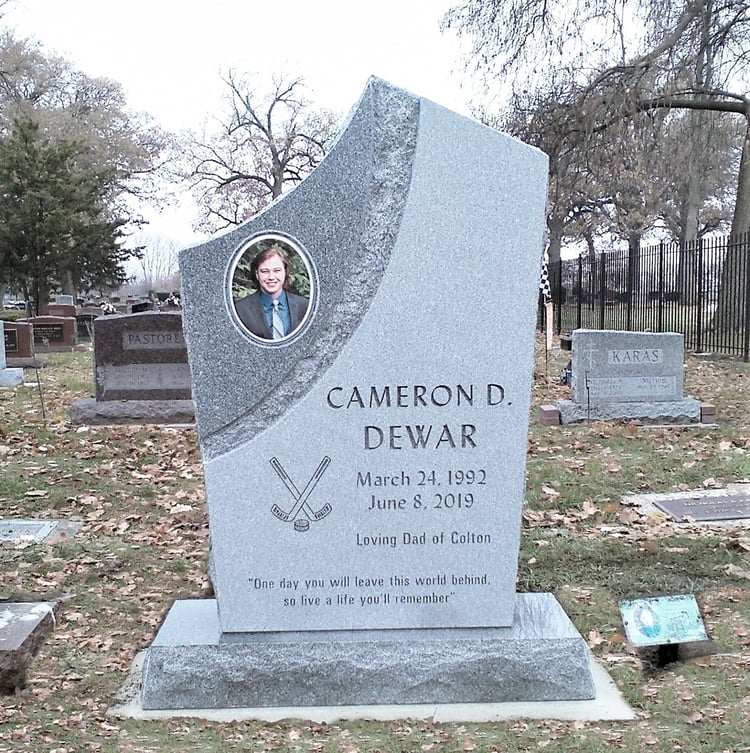 The Dewar memorial was crafted from Blue GrayTM granite. The stone has a rough rock dividing line between the individual information and the photograph representing the path of life.
KEEPING IT TRADITIONAL
Faehnle says symbols like dogwood for the resurrection, roses and crosses have always been popular. He's also done a lot of family trees on the back of headstones. "People often want their children's names on there," he says.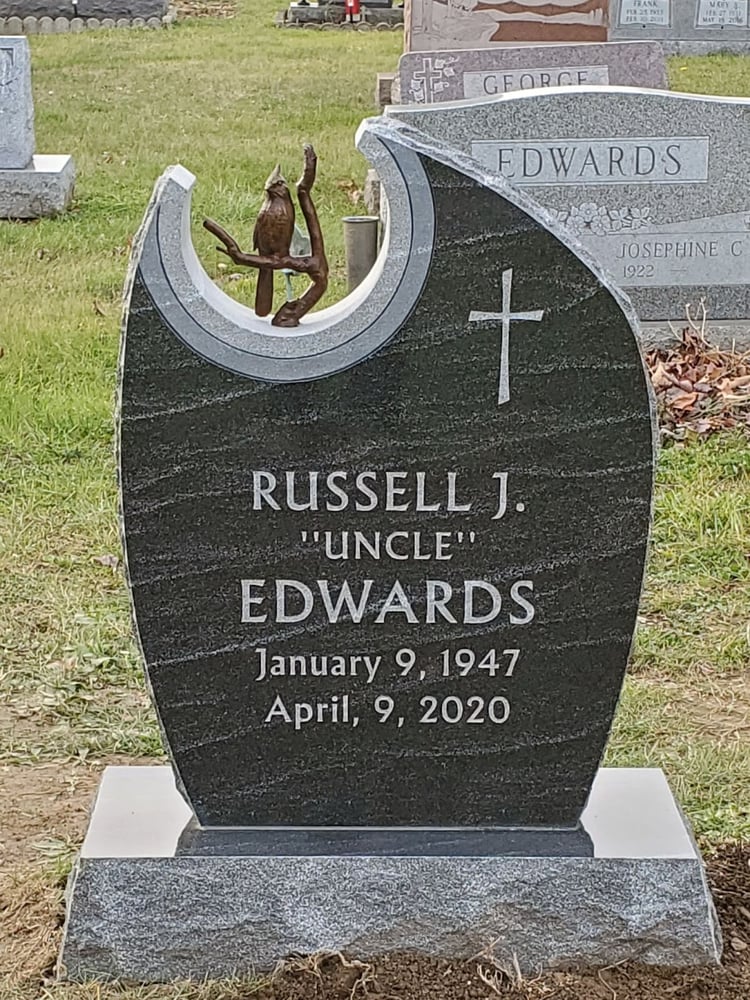 The Russell memorial is made from Black MistTM granite. This memorial stone features a bronze cardinal perched in a round cutout on the monument. The cardinal represents messages from angels & friendship.
A LIFE'S WORK
A person's occupation or career choice will often be represented on the stone.
"If a family comes in and tells me, 'Dad was a farmer,' I would put shafts of wheat to represent farming. For an artist we might put a paintbrush or palette."
He says business owners will often want their business logo to represent their life's work.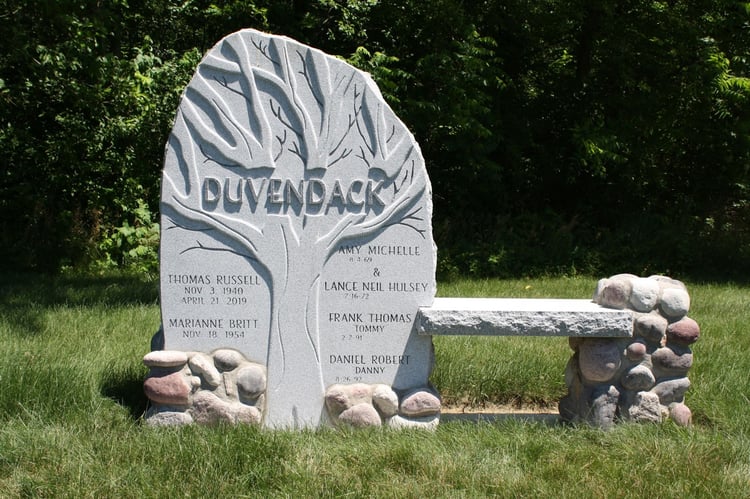 The Duvendack memorial is made from Blue GrayTM granite and features a prominent relief carving of a tree representing the many years of adventures outdoors together as a family. Incorporated in the design are rocks that each individual family member had picked up from their travels all over the United States.
LOCATION, LOCATION, LOCATION
The places people love can also be represented on a stone, whether it's their hometown or places they loved to travel to,
"I live near a lake," says Faehnle. "So we get a lot of nautical lighthouse requests. People who are snowbirds want beach scenes. Pine trees can represent the love of the outdoors. These are places that represent happy times for people."
The Parrish marker is made from Laurentian Rose® granite. The rose granite represents Sharon's favorite color and also is a reflection of her middle name. Also featured is a cross and rose representing the individuals love of the Christian faith.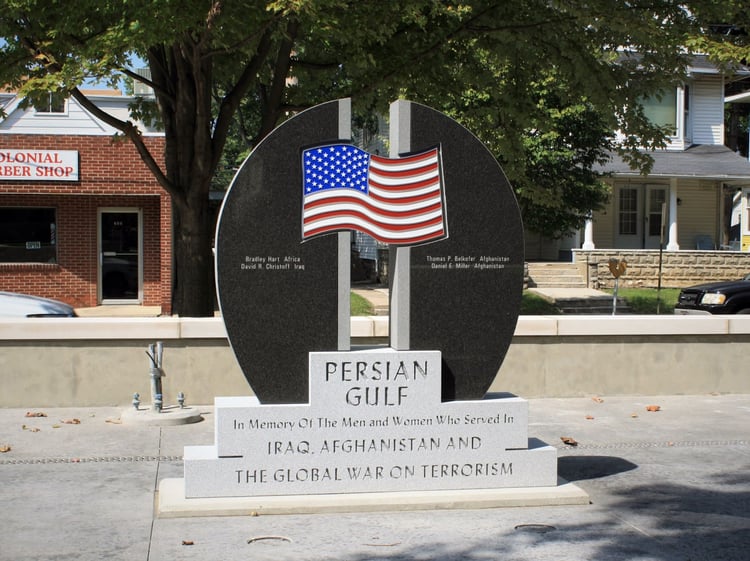 The Persian Gulf Memorial stone is a combination of Midnight BlackTM and Blue GrayTM granite. The design features a solid bronze colored American flag and a verse commemorating the men & women who served in the conflict.
EVERY PICTURE TELLS A STORY
With the innovation of laser and diamond etching, Faehnle says they can put exact replicas of photos of the people themselves, places or things they loved. "We do a lot of married couples with the marriage date and maybe a pair of interlocking rings."
UNUSUAL REQUESTS
Faehnle says he hasn't had too many unusual requests, but some have been more personal than others. "We had a guy come in who worked for NASA, so we built him a rocket ship. We've also put a full-house poker hand and a martini glass on headstones. And we worked with a guy who made pinballs; he wanted two 4 x 4 pinballs on a slant marker."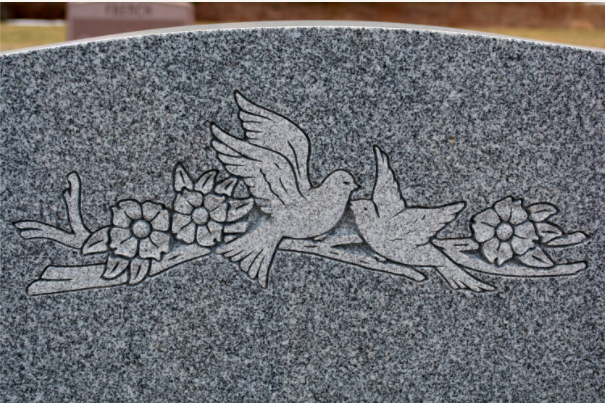 He says tattoos are another request that some may think are unusual, but they have become more popular. "It's a little bit of an embarrassing moment for me to take a picture of them, depending on where they are," he laughs. "But it's something significant to them. It's with you forever, just like the headstone marker will represent them forever."
PUTTING IT INTO WORDS
What a headstone says can also speak for the person it represents. Faehnle says they get a lot of requests for inscriptions, everything from Bible verses to poems to song lyrics and simple statements such as "Family Is Forever" or "Forever in Our Hearts." Faehnle says when people come with a whole verse, it's his job to cut it down to a line or two that makes the most impact. "I can put a reference to where the line came from if people want to read more," he says.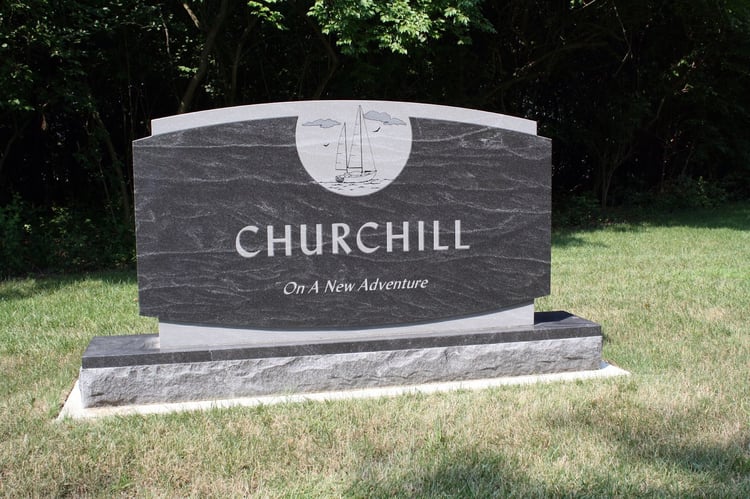 The Churchill family memorial was crafted from Black MistTM granite and features a sailboat carving representing the time the family spent sailing together on Lake Erie.
GETTING IT INTO SHAPE
The shape and finish of the stone itself can also be symbolic. "If the person was outdoorsy, we might do something more rustic with rough, exposed rock work," says Faehnle. "If they were a polished person, the stone would reflect that with clean lines."
The Fauver memorial stone is made from Midnight BlackTM granite. The shape of the stone is contemporary and bold just like the person the memorial is for. It also features an etching of the family on a beach vacation.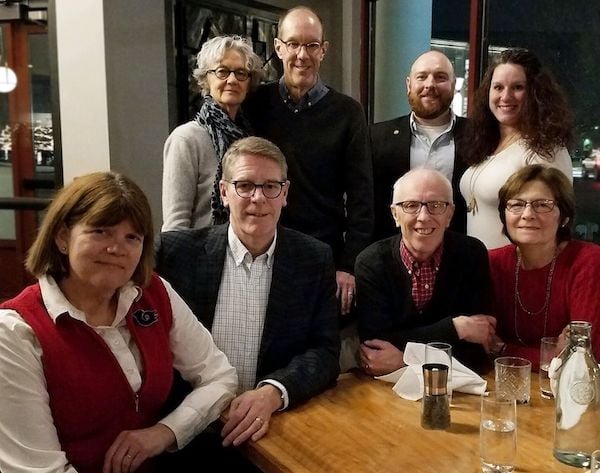 THE EVOLUTION OF MONUMENTS
Faehnle is the fifth generation in a long line of memorial designers that includes his father, two uncles and grandfather. His great grandfather Henry A. Mason started the family business in 1877 in Columbus, Ohio, with the simple philosophy, "We don't simply make granite markers, we create lasting tributes to one's life." They now have four separate locations throughout Ohio.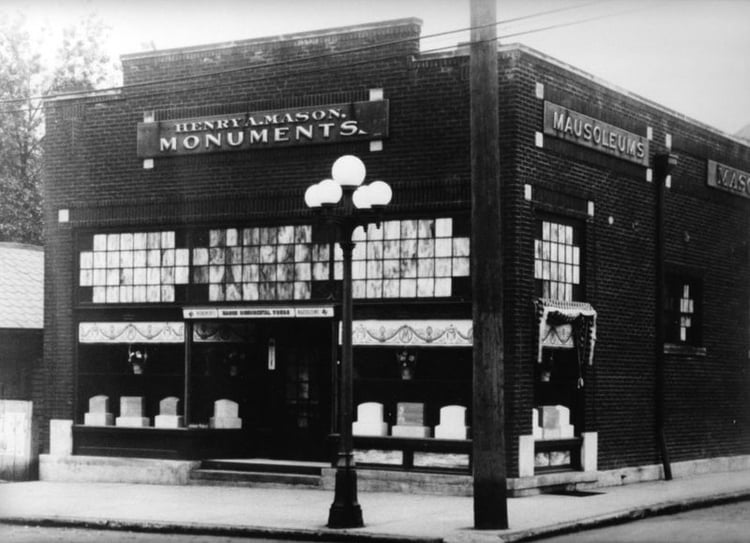 Faehnle says there is so much more they can do these days with the advances in technology. "A few years ago, we would have to hand draw everything and then carve it in the stone. Now, I can take an image and design a memorial to have its likeness in stone, utilizing different techniques like hand carving, sandblast, and etching."
He says being a memorial designer is not the easiest job. Working with people often during grief can be emotionally taxing. But Faehnle takes his job very seriously and very personally, "What it comes down to is folks come to my door and they want help. It's my job to help them through a difficult time and get their thoughts into stone. I get to meet them; they tell me about their family, which helps provide some closure for them. I look at it more as helping than making a sale. That helps me mentally get through the day."
He says the stories he gets to hear about people and their lives are part of what makes his job worthwhile. "It's about people and who they are. You're telling their legacy and carving it into stone, and it will be there forever."
Are you considering a headstone for yourself or a loved one? Get information and inspiration with our Headstone Design Guide: https://go.rockofages.com/rock-of-ages-granite-headstone-style-guide