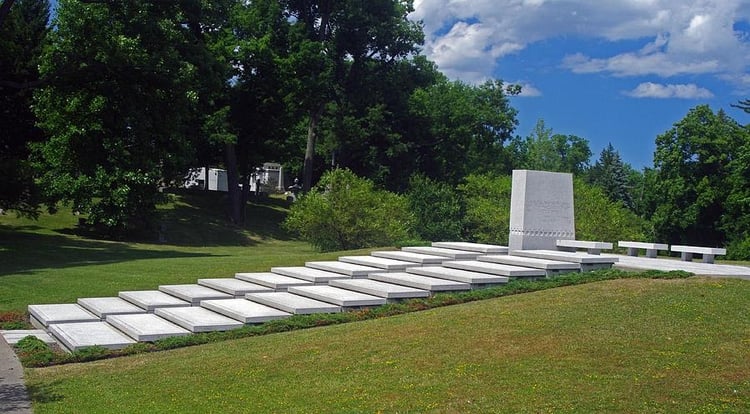 In 1928, a historic cemetery and one of America's most famous architects came together to create an iconic, breakthrough monument. When Darwin Martin commissioned Frank Lloyd Wright to create the Blue Sky Mausoleum™, it was to fulfill a lifelong quest to bring his family together in one place. The outcome, one of Wright's only memorializations, was built nearly 80 years after initial design, and would become a focal point in Forest Lawn Cemetery in Buffalo, New York.
Joseph P. Dispenza, President of Forest Lawn, has spent 31 years at the cemetery, and knows just how special the grounds are where the mausoleum found a final resting place. "In the 18th and 19th centuries, cemeteries were strictly utilitarian. Every church and a municipality had a neighborhood cemetery, and plots simply filled as people passed. Forest Lawn is developed under a unique notion — that it is a deliberately designed landscape first, and a place for burials second," Joe continued. "Forest Lawn was created under the idea that the undulating topography and curvilinear roads were designed to inspire and provide solemnity to everyone, regardless of faith. It is a non secular cemetery, constructed within the natural landscape. Every faith can find inspiration, solace, and peace in the beauty of nature. For example, there is a fantastic canopy of trees at Forest Lawn which draws the eyes upwards, towards the heavens, and everyone can appreciate that beauty, regardless of race, religion, or economic status. Cemeteries are the great equalizer."
The cemetery is an experience unto itself, and the Blue Sky Mausoleum™ only adds to its allure. From the first design to execution, the piece took nearly 80 years to bring to fruition, but less than a year to build, under carefully selected architects and Anthony Putnam, who studied under Wright.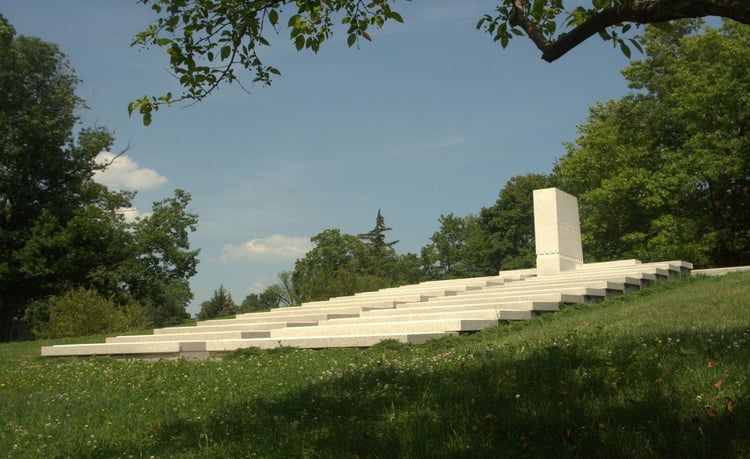 Photo Credit: Holly Bickerton
The mausoleum design is composed of 12 shallow steps leading up to a massive monolith, which stands seven feet tall, six feet long, and two feet wide. On each side of the 12 steps rests a stone - covered vault 4 feet 4 inches wide by 8 feet 4 inches across, providing a total of 24 double tiered vaults.
"People don't come to Buffalo just to see the Blue Sky Mausoleum™, but if you are interested in architecture, it is a must see," Joe said. "It is Frank Lloyd Wright's only cemetery design, and it's here at Forest Lawn. If you know who Frank Lloyd Wright is, this piece is indicative of his desire to marry earth, nature, and the physical world. The sky is the ceiling!"
When the project finally kicked off in 2004, Forest Lawn turned to Stone Art Memorials, Erie County's exclusive Rock of Ages Authorized Dealer.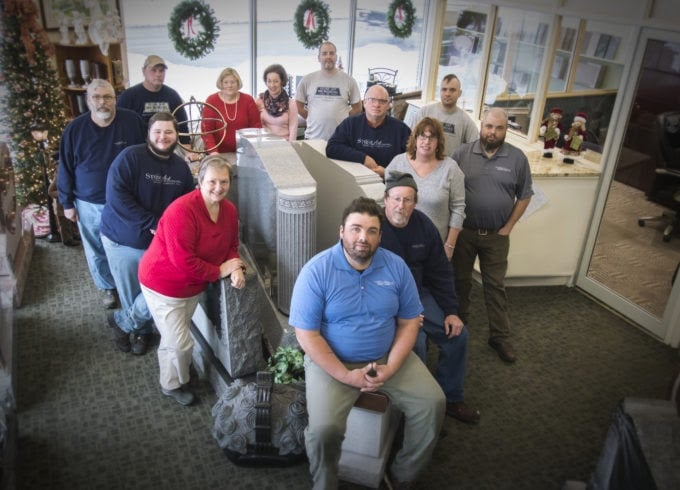 Photo Credit: Stone Art Memorials
As an authorized dealer, Stone Art Memorials has expert knowledge in Rock of Ages memorials. This is key to helping families find the perfect way to honor the memory of a loved one. They understand that the best-in-the-industry guarantee on craftsmanship and stone quality is the peace that ensures a family's investment will last for generations to come.
"Tom Koch of Stone Art Memorials and Rock of Ages are longtime exclusive providers of stone to Forest Lawn," Joe explained. Wright's original design concept called for "cream marble", but the extreme temperature variances in Buffalo made that an impossibility. Marble is prone to "melting", known for holding moisture and wearing away. So Stone Art Memorials came up with a solution - Rock of Ages BETHEL WHITE® granite. "They came to us with a fantastic alternative, and even gave it a thermal finish; which gives the granite a softer, "marble-esque" look, but with the stability and durability of something that will last until the end of time. We had to ultimately look at the most timeless material we can find, and that is Rock of Ages granite."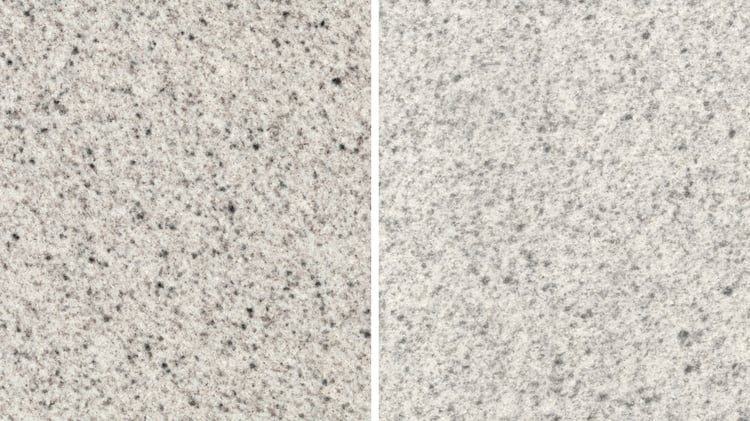 These close-up images of Bethel White granite, polished (left) and thermal (right), demonstrate the exceptional contrast achieved when different stone finishes are used in memorial design.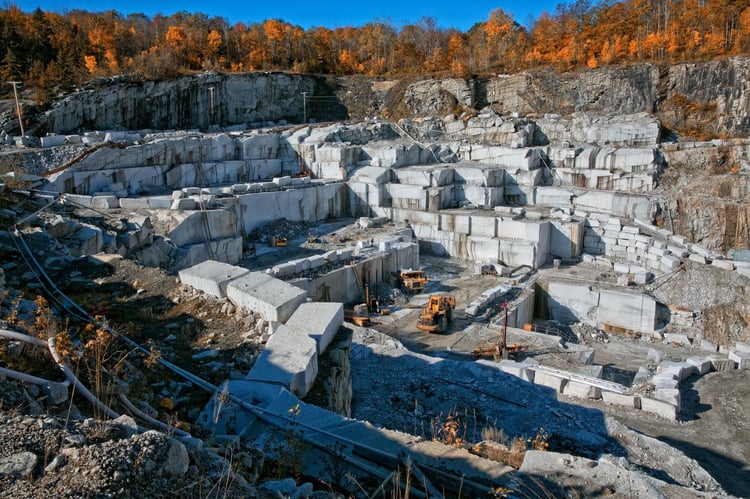 The Bethel White Quarry in Bethel, Vermont was among the first commercially operated quarries in the U.S., and material from the site was used for a range of historic buildings and national landmarks. Polycor Inc. has recently achieved NSC-373 certification for the quarry. This is a voluntary accreditation that helps architects and builders who specify stone ensure their selection is produced in an economic, environmental and socially responsible manner.
The Blue Sky Mausoleum™ is located in Section 15 in Forest Lawn Cemetery between Jubilee Springs and Crystal Lake, overlooking two ponds. Currently, only 6 crypts have been sold, about 25%, leaving more than half available for those who seek this memorialization choice.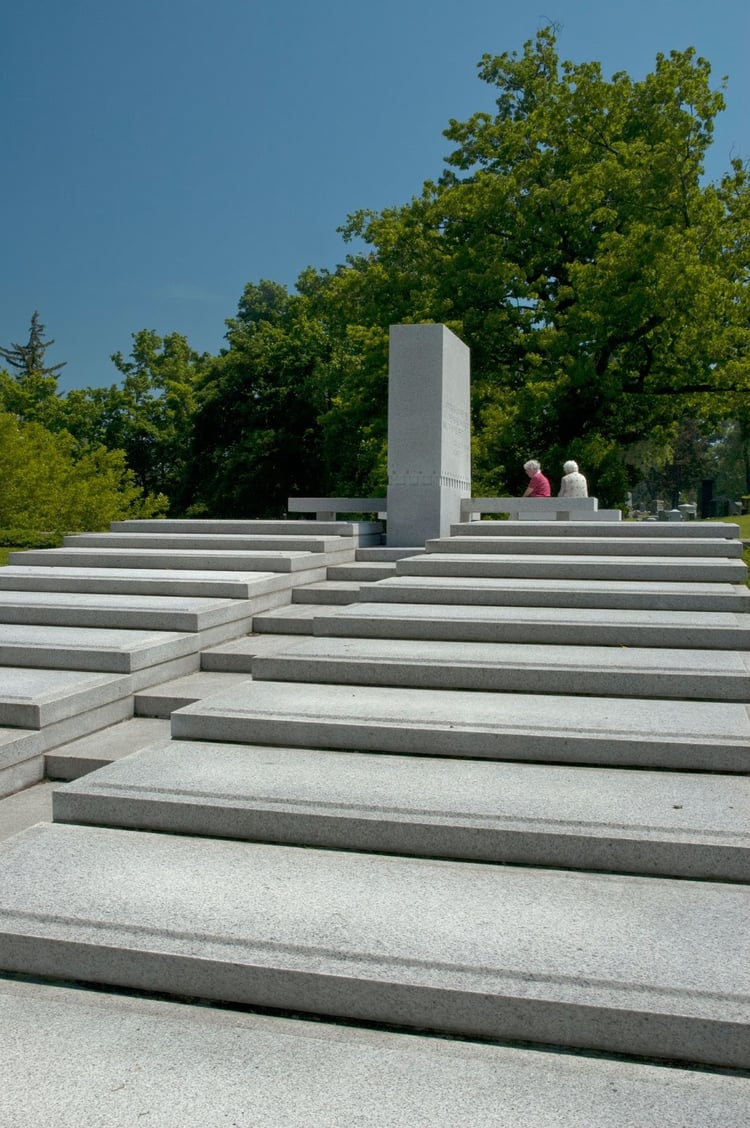 Photo Credit: David Leadbitter
TOURISM AT FOREST LAWN
Once you've explored Wright's masterpiece, an entire landscape of tranquility and education awaits you on your visit. "We commit significant annual resources to tourism," Joe explained. On a "normal" year, (that is to say, pre-COVID) Joe and Mark DePalma, Forest Lawn's Director of Marketing and Communications, estimate about 125-150,000 people walk through Forest Lawn's gates. This is no surprise, as it has consistently been ranked in the top 3 places to visit in Buffalo on Trip Advisor, due in large part to it's tourism program. "Yes, we are a place of burial, but cultural heritage tourism is an additional reason to visit," Joe stated. "It's where the value of the visit lies. No matter what you're interested in, there is a compelling reason to come to Forest Lawn. Art, architecture, nature, landscape, foliage… the list goes on."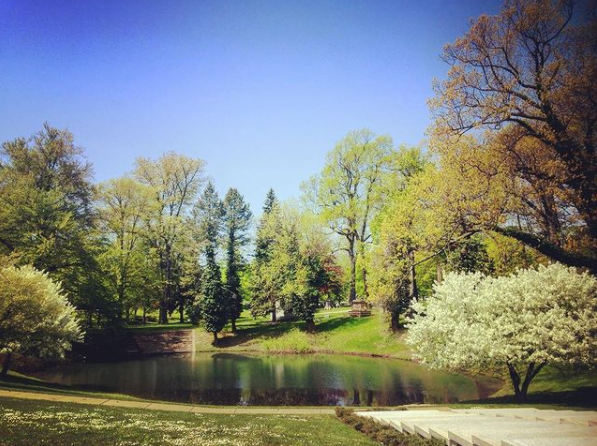 Photo Credit: Forest Lawn Cemetery
Jubilee Spring as seen from the steps of Blue Sky Mausoleum™.
The reason for the extensive work and commitment dedicated to the tourist program at Forest Lawn? "It's one simple fact," Joe states. "We believe strongly that if you do not surround the dead with the living, the dead will be forgotten. And that is not an option nor aligned with our mission of keeping the promise of perpetual care. As long as you can visit, you're perpetuating their life. You keep them alive. The grounds are alive with tourists and we maintain the legacies of our beloved dead."
Another unique aspect to Forest Lawn? It's forward thinking policies. "It's one of the most progressive cemeteries in the country," Mark said emphatically. "Not only do we invest heavily in the grounds, we invest in continued care. Burial records are available to the public online. Even if you can't physically visit, you can learn about those who have passed on. We have open records where you can post pictures, videos, and films, essentially enabling the deceased to live forever."
When you mention notable memorials, Joe explains, it's important to remember that some of the most impactful monuments can be attributed to design. "People travel from all over to visit the Vietnam Memorial in Washington D.C. and there is not one body beneath it. Yet it has an extreme and emotional impact on many who visit. It evokes a memory, it keeps people alive, even if it is simply a name; that is the profound and transcendent value of permanent memorialization. People need to be remembered. You may loose photos and videos — the only proof of existence is a stone to honor those who have passed on in a perpetual care cemetery."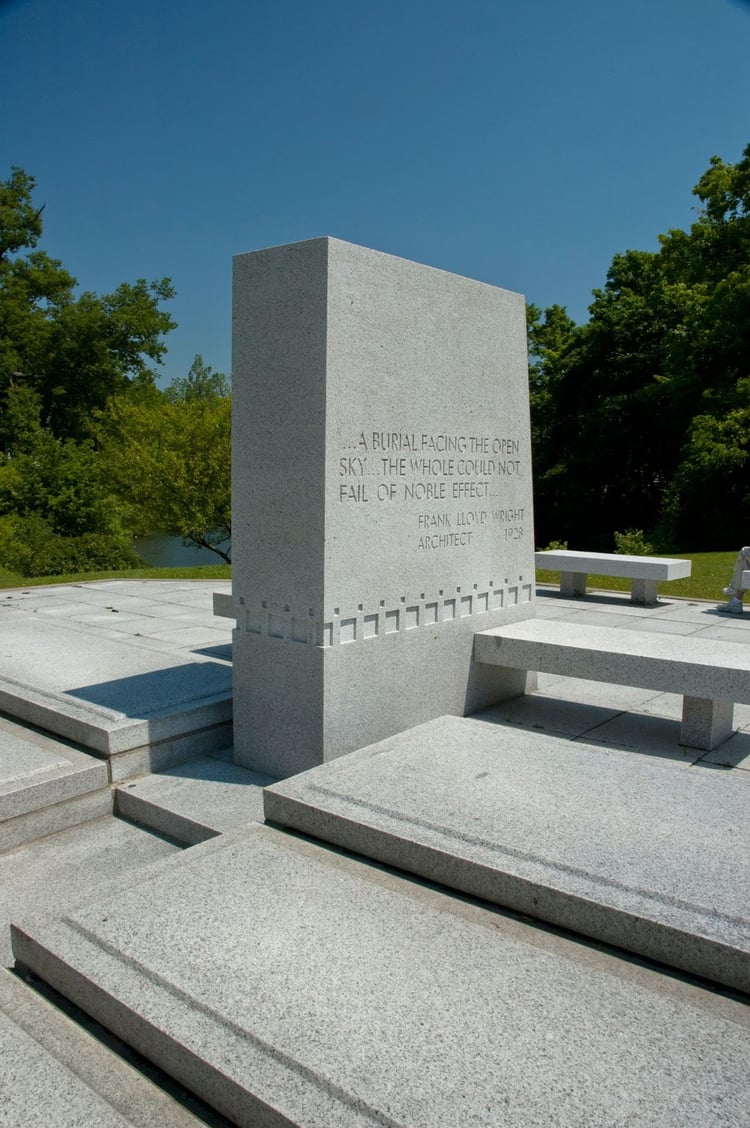 Photo Credit: David Leadbitter

More than anything, the grounds are unequivocally peaceful, and Forest Lawn's vision remains the same. Their dedication to design and providing a highly personalized experience goes hand in hand with a unique memorialization process. Forest Lawn has more than 20 acres of land that are still undeveloped, and there are also more mausoleums planned for the future. People can keep choosing Forest Lawn for hundreds and hundreds of years to come as their final resting place, and there are a wide range of options available to those who choose it as their final resting place.
When you are ready to choose a memorial, visit a Rock of Ages Authorized Dealer near you for a truly personal experience. When you purchase from an exclusive Authorized Dealer, you can rest assured that you are buying direct from the source.