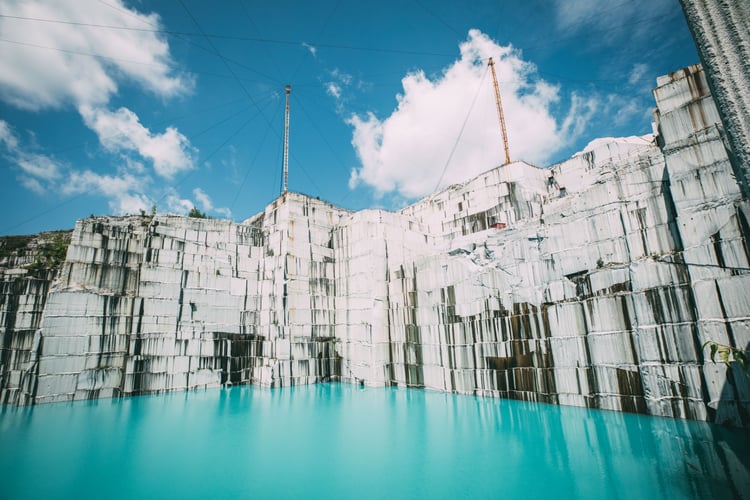 After closing for the season, the Rock of Ages Visitor Center in Graniteville, Vermont, will open its doors again and welcome guests for tours of its historic E.L Smith quarry.
With stunning panoramic views of Vermont from the vantage point atop a 600-foot hole where legendary granite is pulled from the earth and crystal blue waters shine from the bottom, the tour allows visitors a behind-the-scenes look at a unique industry.
"It's something you're not going to see every day," says Jeff Gauthier, Tourism Development and Guest Service Manager. "Plus you'll find out the geological history of how granite forms and how the granite industry has evolved." He says the most impressive thing about seeing the quarry is the scale. "Compared to other tours, everything we do at Rock of Ages is really impressive in size."
According to measurements made by researchers from MIT, the granite in the area measures four miles long, about two miles wide, and ten miles thick.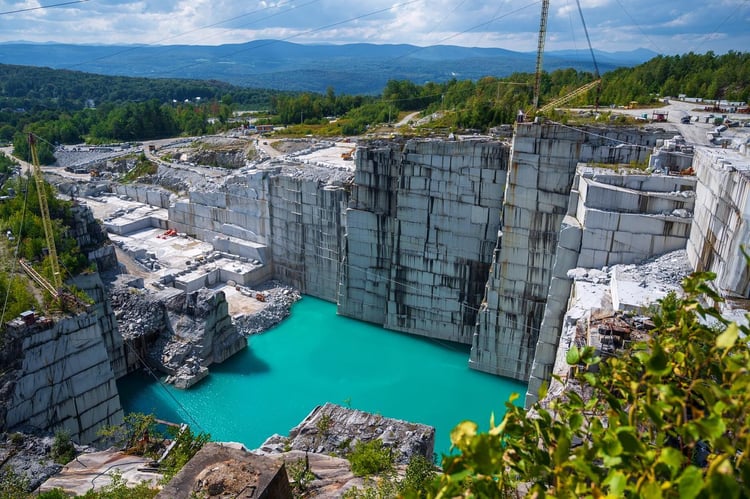 Photo by narrow.road.family
Named after Emery L. Smith, a native of Northfield, Vermont, the Rock of Ages quarry has been operating for 136 years. Smith married the daughter of Eliphalet Hewitt, who was, in turn, the son-in-law of Robert Parker, the first commercial granite quarrier in Barre.
During the tour, you will learn about the history of Rock of Ages and how granite is extracted from the earth, but you will also learn how the quarry water achieves that beautiful teal blue hue and why the granite blocks that line our hillsides are called grout.
We hope to reopen the Craftsmen Center observation platform later this year, and welcome our guests back into the manufacturing building to watch our artisans transform raw stone into true works of art.
"You'll be able to see the different types of work," says Gauthier. "That could be anything from crafting a single monument to watching massive walls of mausoleums being cut, to seeing master sculptors at work." This sense of craftsmanship, pride and attention to detail has made Rock of Ages the industry leader in memorialization for over a century.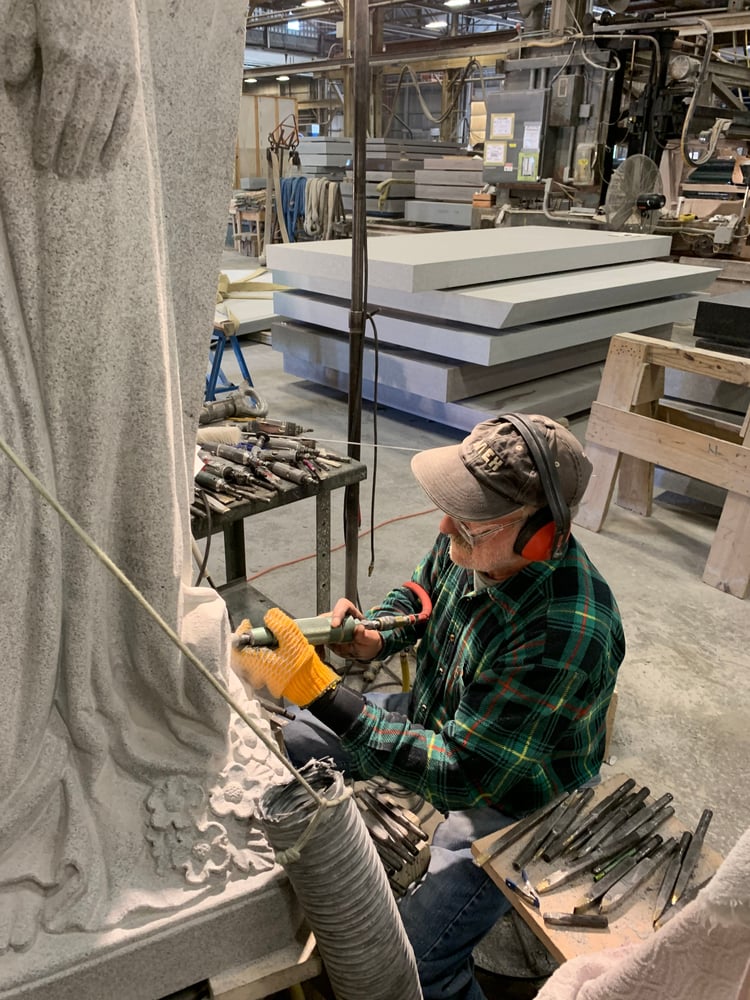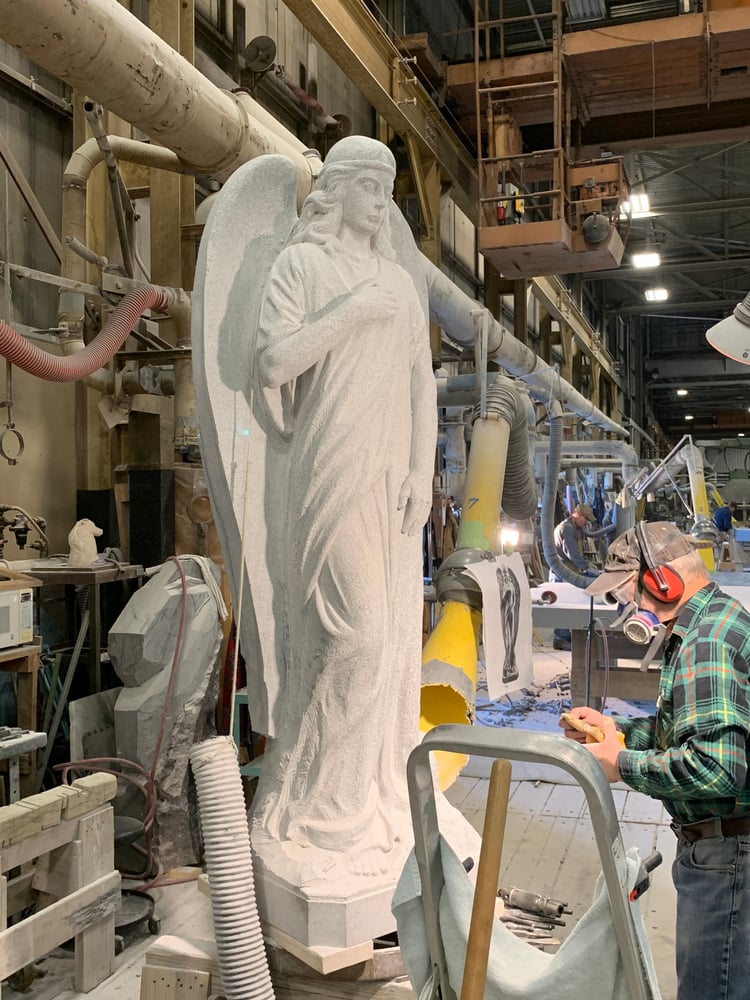 Gauthier says many of the calls he gets about visiting come from people who have a family member that worked in the industry. "They want to see how the industry shaped their family."
The tours have been so popular, they even got a mention on HGTV!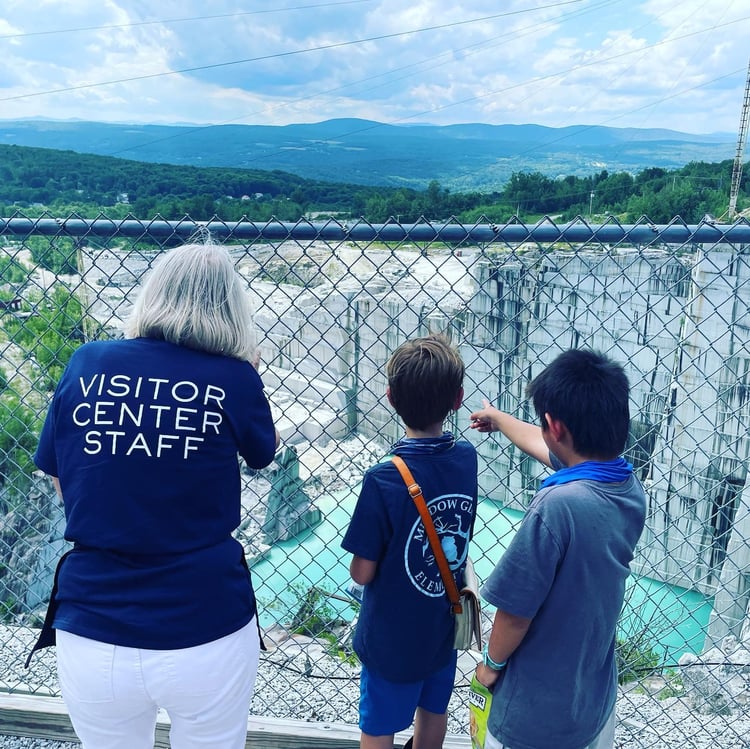 To take the tour, purchase your tour tickets at the Visitor Center gift shop. You then drive comfortably in your car to follow a Rock of Ages lead vehicle to the quarry observation deck.
The tour takes about 40 minutes. Afterwards, enjoy the gift shop where you can find branded t-shirts, sweatshirts and beautiful household items made from granite. You'll also find several exhibits in the Visitor Center, including a video inside the Rock of Ages circular theater.
No trip to Rock of Ages would be complete without trying your turn on the world's only outdoor granite bowling lane, a prototype for granite bowling lanes and the only one of its kind!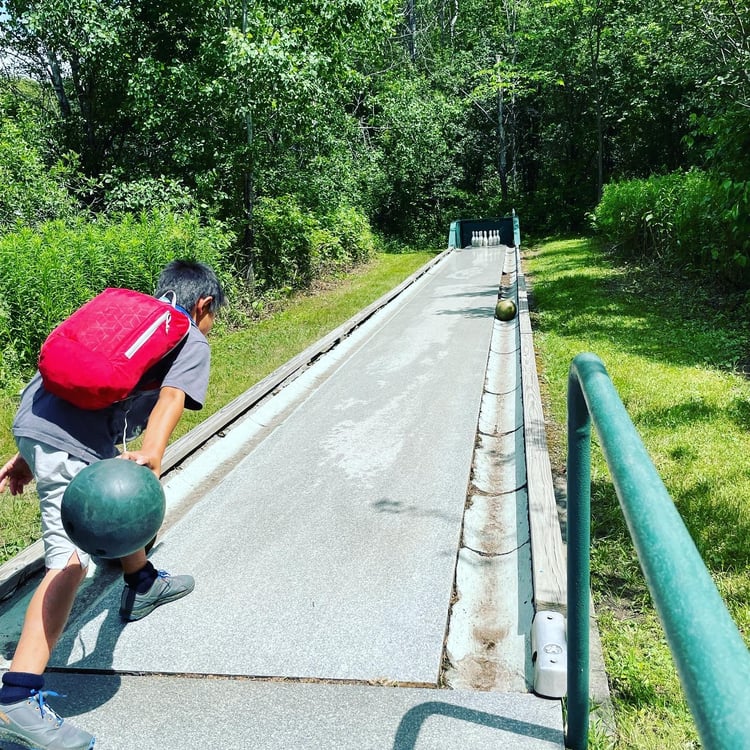 And don't forget to grab your free piece of historic granite as a souvenir before you leave!
We also recommend taking the time to see the Living Monuments exhibit and outdoor granite podium, which honor the bravery and generosity of the service men and women who have dedicated their lives to serving America.
Learn more about the Living Monuments on our blog.
A great place to hike and take photos nearby is Grand Lookout, a public walking trail that you can walk to see historic abandoned quarries.
Rock of Ages Quarry Tours run Monday through Friday four times a day: 10:15 a.m., 11:30 a.m., 1:15 p.m. and 2:30 p.m.
Pricing is $8 adults, $7 seniors, and $4 children ages 6-14. Children under 5 get in free.
Tours are first come first serve. At this time, we do not offer online pre-booking or a pre-visit ability to purchase tickets. For questions about the tour, please contact Jeff Gauthier, our tourism and guest services manager, at jeff.gauthier@rockofages.com
Rock of Ages guided quarry tours offer affordable outdoor family entertainment. We look forward to seeing you!
Before you plan your trip, download the Barre, VT Getaway Guide for a peek into the region's designation as the "Granite Center of the World," plus informative listings on the visual and performing arts scene, diverse dining and lodging opportunities, and a coupon offering two adult guided tour tickets for the price of one.