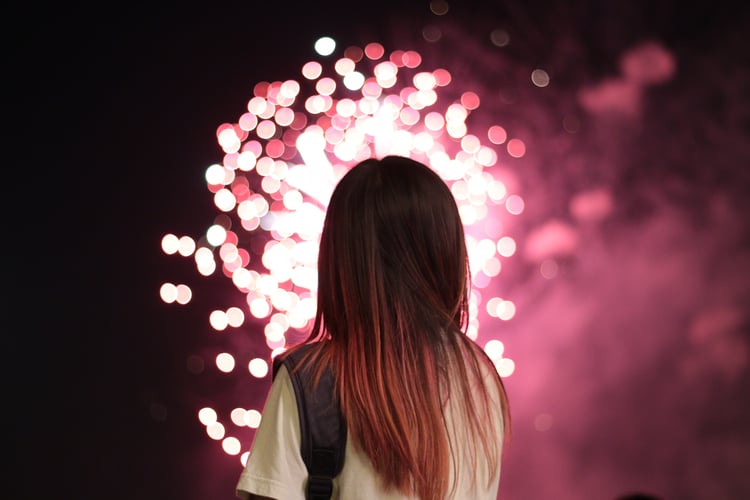 Whether you are following a loved one's wishes, or cremation is a decision you had to make in the absence of instructions, you have some decisions to make regarding how to handle the ashes.
This shift in how we handle death and remembrance has spawned a host of new choices from the sweet to the absurd. If you're deciding on the ultimate resting place for your loved ones ashes (or even your own) you're no longer limited to an urn on the mantle.
Here are six inventive ways to memorialize after cremation.
Create a personal piece of art
There are now companies that specialize in using cremated remains to create beautiful, keepsake art pieces such as paperweights, clay pottery, glass sculptures of favorite animals, even using 3D technology to mix ashes with resin to create one-of-a-kind pieces.
Turn ashes into jewelry
There are several companies that turn ashes into stunning pieces of jewelry including rings, bracelets, and pendants, some infused with both the deceased's ashes mixed with crushed opal. A few companies also offer surviving friends and family the opportunity to create memorial diamonds for a truly precious keepsake.
Go out with a bang
For those who were considered truly out of this world, you can launch their ashes into space. Some are opting to create special fireworks to celebrate those with a special spark, scattering the ashes to the four winds via one last honor flight through the clouds.
Give new life to the earth
Two choices for green burial include using ashes as part of rebuilding coral reefs to support new life in the ocean, or as a medium to help grow a new tree. Interring ashes in a granite memorial is also a sustainable choice. Natural stone is naturally free of chemicals and its production produces very little waste.
Make a statement about the passage of time.
You can now preserve ashes in a hand-blown hourglass. These keepsakes are intimately symbolic of the passing of time and how finite and precious it is.
Add a loved one's ashes to your ink
Cremation tattooing is increasingly popular for people who want an absolutely unique and personal reminder of the person they love. In addition to the name and perhaps meaningful dates or symbols that identify the loved one, the tattoo artist mixes the ashes of the deceased into the ink.
CONSIDER A PERMANENT MEMORIAL
As unique and interesting as these ideas may be, they're not for everyone (especially the tattoo), and they all lack one thing - a permanent central place where future family members can visit to remember. Urns break, trees die, art pieces get lost in moves (or worse could end up in a thrift shop after the spouse dies), and they're all private things. Creating a central place to gather and remember, even if not in a cemetery, is psychologically beneficial for those grieving.
If you or your loved one wants to be cremated there are a number of options that include a permanent place of remembrance - on your property, in a cemetery or even a public park. A special note to Catholics, the Church recently made a statement sanctioning cremation, but requires that the ashes be interred in a sacred space such as a church or cemetery.
Here are four cremation memorial options that will prove lasting and beneficial to all family and friends.
Personal cremation memorial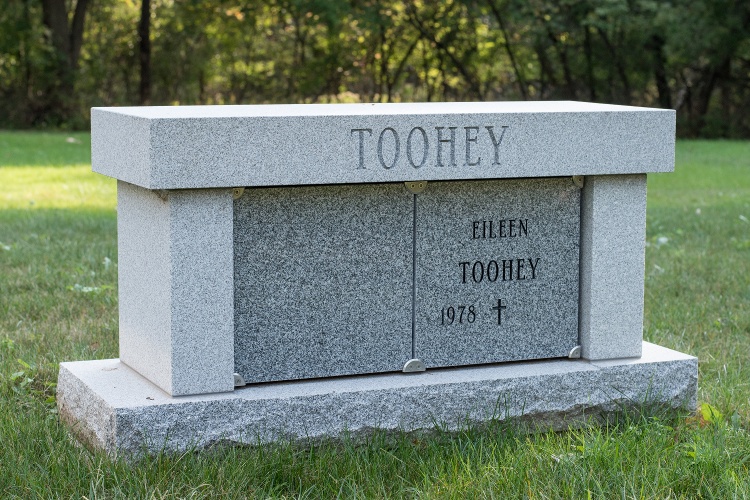 A personal cremation memorial for a couple, located in Niagara, NY, made from BLUE GRAY™ granite from Rock of Ages.
This private monument can house the ashes of an individual, a couple or even a family and blend well with traditional cemeteries.
Boulder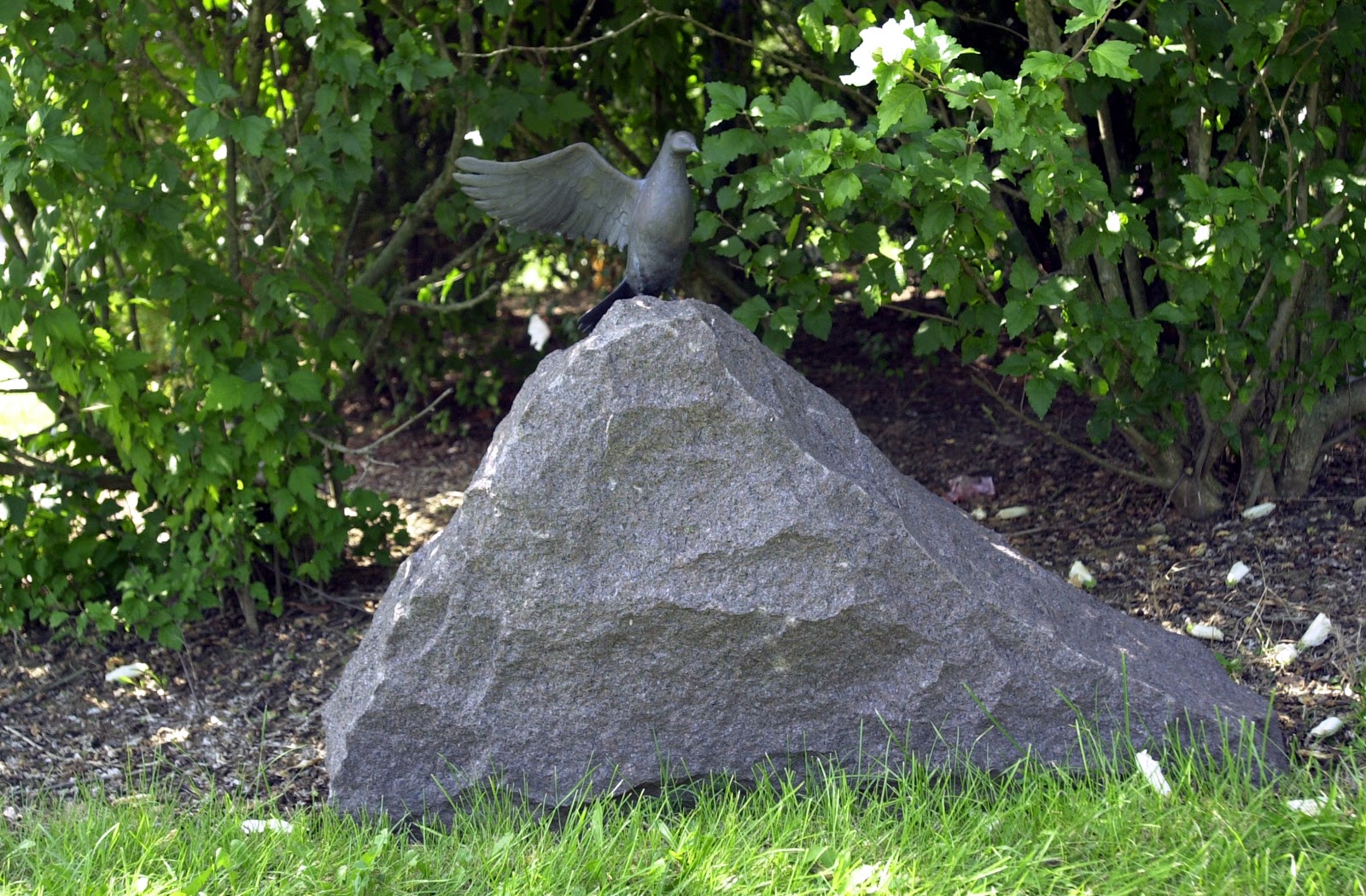 A Blue Gray granite boulder with bronze dove fits organically with the landscape.
Rough hewn rocks make a memorial that blends with the natural environment. These ornamental accents can be tailored to your own design.
Bench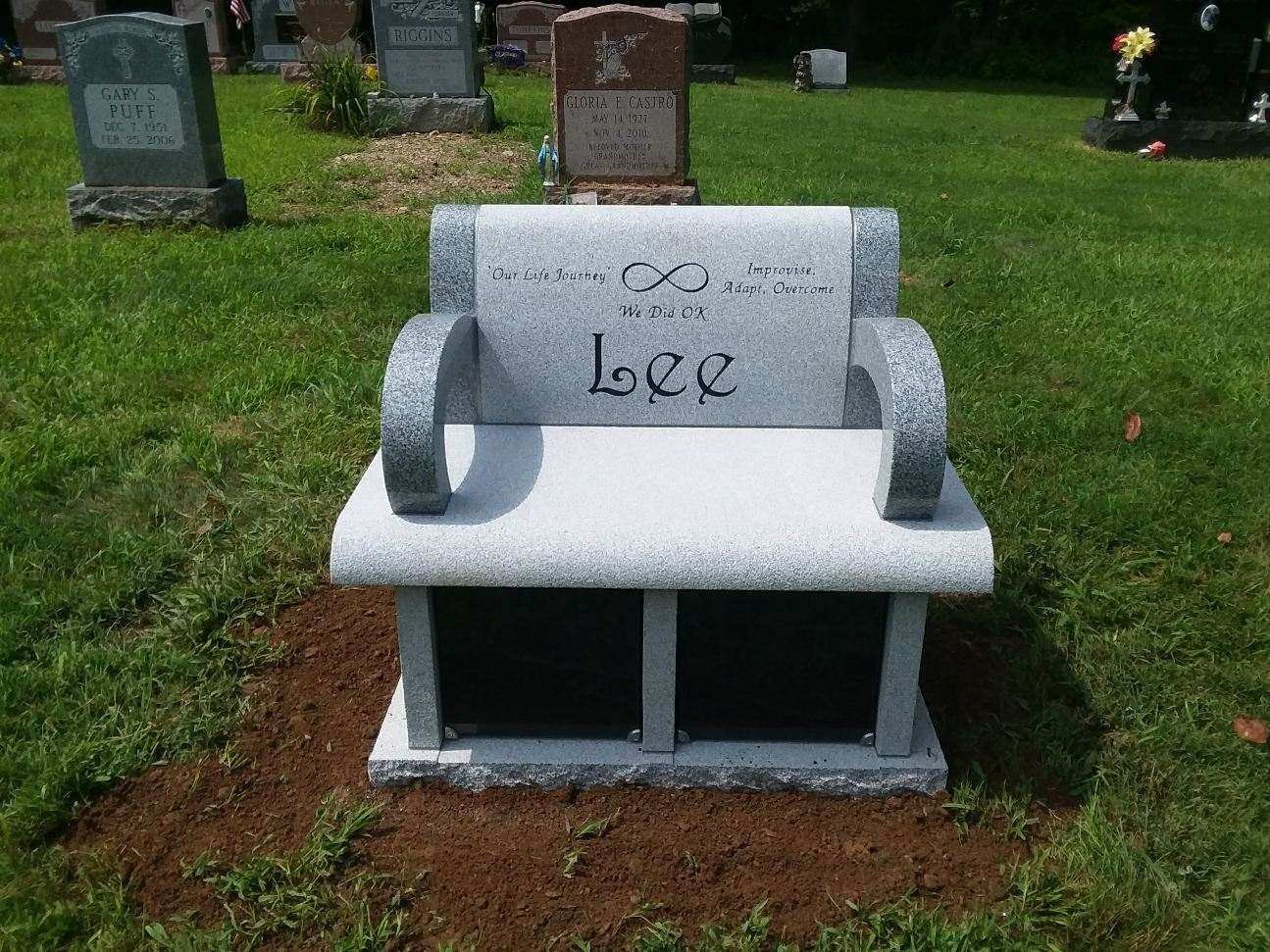 This companion bench memorial by Travis Monuments in Rockland County, New York is made from Rock of Ages Blue Gray granite and STARLIGHT BLACK™ granite.
Available in traditional and modern custom designs, memorial benches can be used to intern ashes or just serve as a memorial in your yard, a cemetery or even a park.
Traditional headstone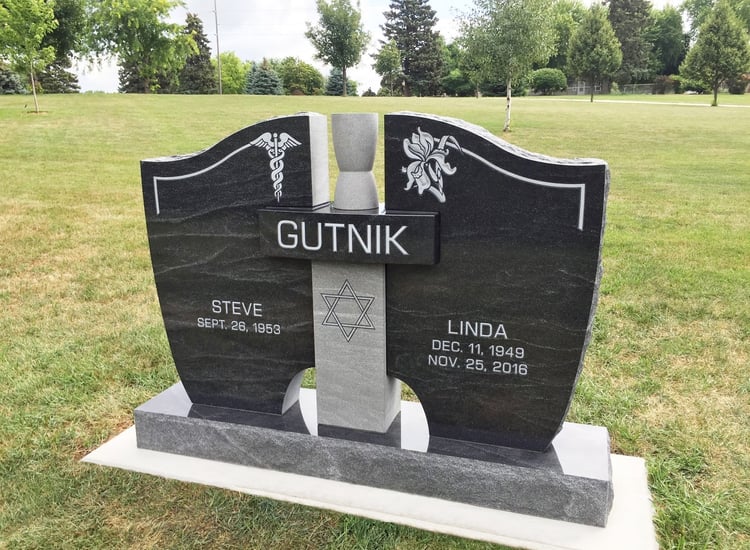 This traditional upright headstone by Luken Memorials serves as a cremation memorial for a couple. The natural veining of BLACK MIST™ granite and Blue Gray granite create added interest on this highly personalized design.
Essentially cemetery headstones, these traditional monuments can adorn a family burial plot, even if the deceased chose cremation.
If you're considering cremation but still want a permanent memorial you'll be pleased to see there are almost unlimited options for granite memorials. A local Rock of Ages authorized dealer can help you design your own with your unique personality and creativity.
Get inspired to create your own cremation memorial. Download the Granite Headstone Style Guide.