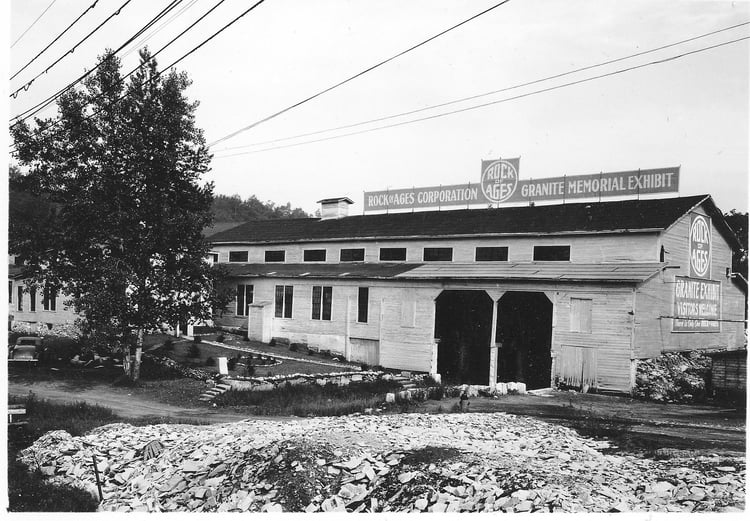 Located in the town of Barre, Vermont, referred to as the "Granite Center of the World," is the Rock of Ages Corporation and the granite deposit responsible for BLUE GRAY®, one of Vermont's oldest operations, dating back to the 1880s.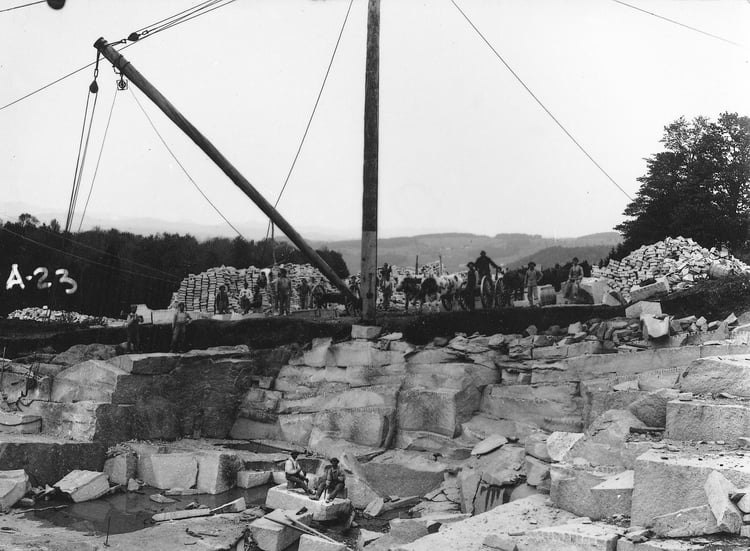 Today, Rock of Ages is North America's premier granite quarrier and manufacturer, owning and operating several granite quarries in the United States, as well as certain Canadian provinces. It's the largest producer of cemetery memorials in both the US and Canada. The Rock of Ages Memorial Division fabricates traditional and cremation memorials, mausoleums, columbaria, features, statuary and civic memorials with a dedication to quality products, timeless craftsmanship and unparalleled customer care.
From its founding fathers to quarrymen and talented stone artisans who craft the quality stone memorials and monuments you see today, Rock of Ages takes exceptional pride in all it does to guarantee products with the strongest warranty in the industry.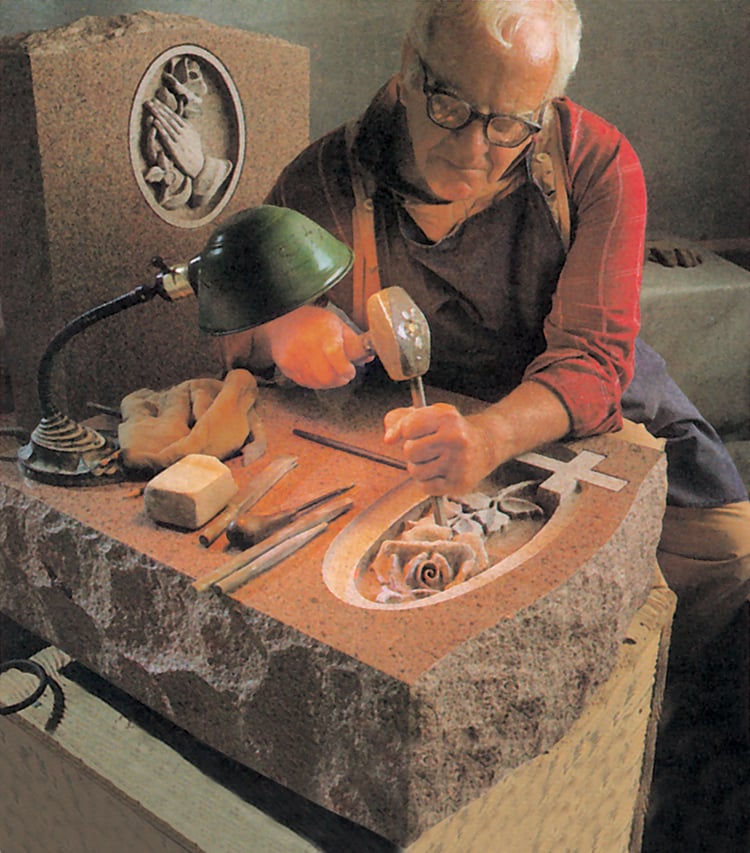 There are three important names to remember in the rich history of Rock of Ages. Here is a little bit of how Rock of Ages was founded and the important men that had the vision to create a granite movement in central Vermont.
Who Started Rock of Ages
A gentleman by the name of George B. Milne came to America from Aberdeen, Scotland, known as "The Granite City." In his teens, he became an apprentice granite cutter and rose to journeyman five years later. Journeymen are experienced in their practice, and work with the big picture in mind, calculating all involved in making sure a job goes smoothly. In 1880, he traveled to America to seek new opportunities and worked various jobs before going to Barre, Vermont in 1883.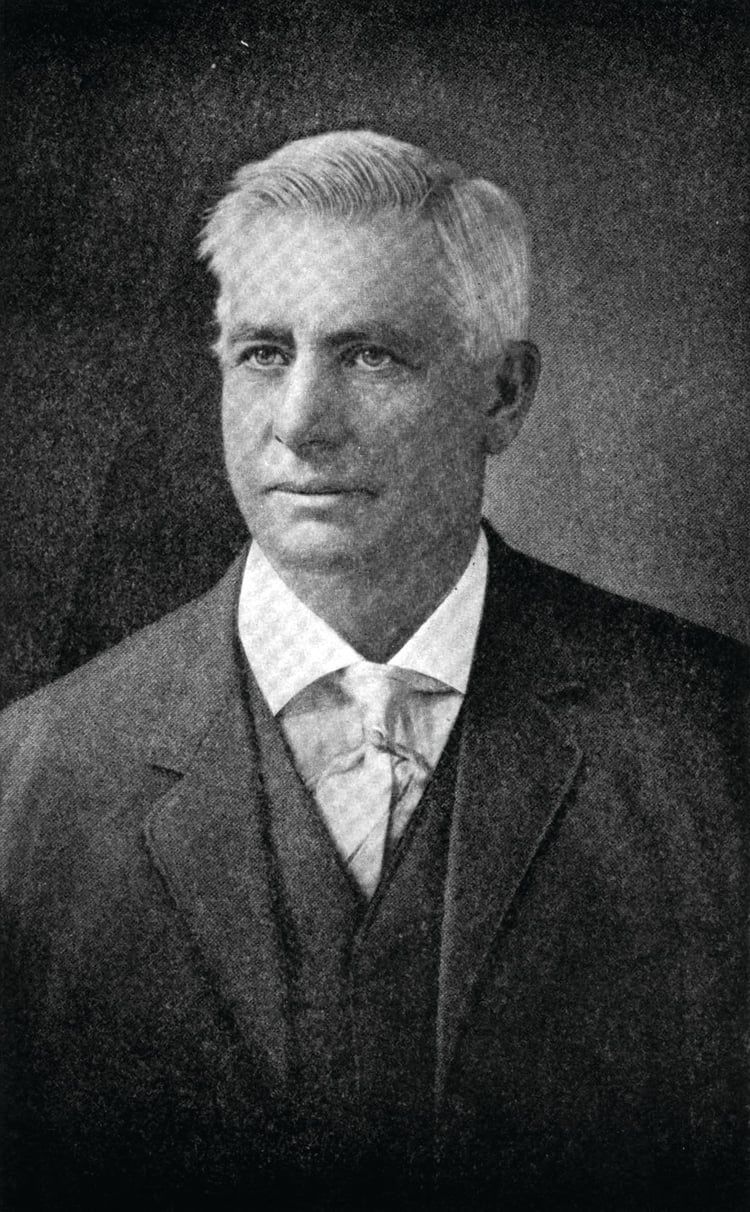 He knew the value of going with what you know, and he knew granite. In 1885, he established a granite manufacturing firm and he bought his first quarry in 1889. That quarry would later become Rock of Ages.
James M. Boutwell was born in Montpelier, Vermont in 1856. He became an apprentice machinist and was working for the Montpelier & Wells River Railroad by age 19.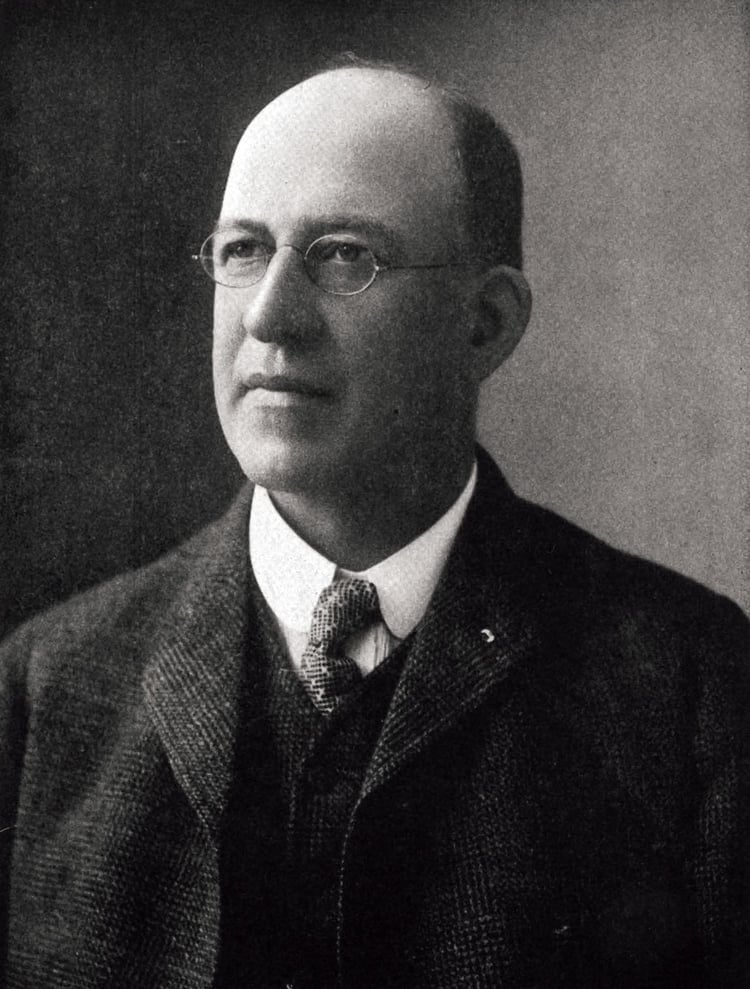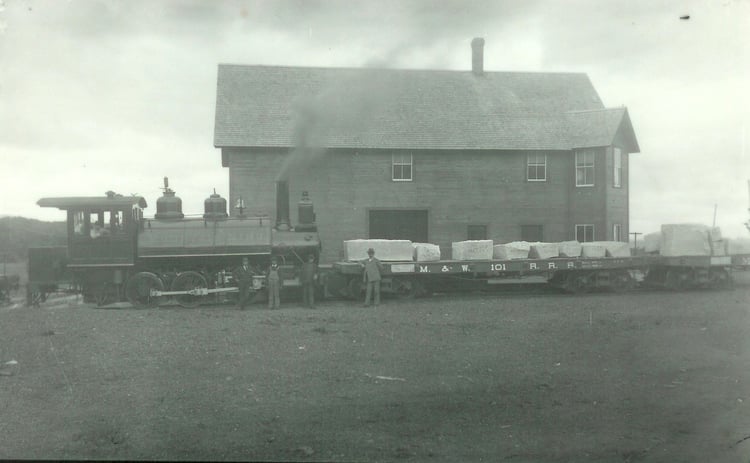 Around this time, Barre granite quarries were suffering from a lack of efficient transportation to get their granite where it needed to be. Boutwell's natural mechanical skills and ability to solve difficult problems was soon noticed by his employers.
In 1875, the Central Vermont Railroad extended its line from Montpelier into Barre. This provided the transportation system needed by the Barre granite industry. There was just one catch. The quarries were at an elevation of 1,025 feet, which was too steep for the railroad's traction system to climb.
Respected railroad engineer Ward Crosby recommended a traction system utilizing a series of switchbacks. But the railroad company wasn't sure it would work. When Boutwell backed the idea, they agreed to try it and it was a massive success. The "Sky Route" connecting Barre's quarries to the railroad depot in the city led to a boom in the industry.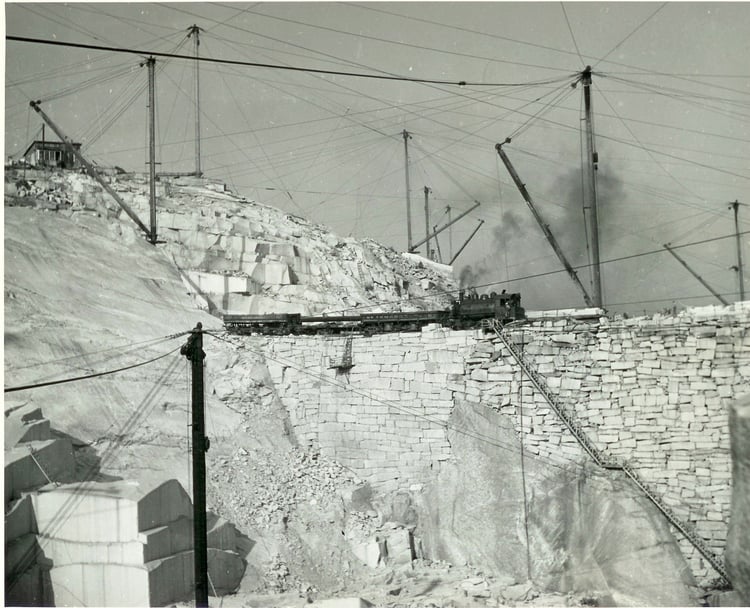 Boutwell's skills became so widely recognized that Langdon Quarries hired him to supervise their entire operation. Five years later, he bought the company and became one of Barre's foremost quarrymen.
Harvey Varnum was born in Danville, Vermont, and worked with the railroad before using his engineering skills for the contracting firm of C. J. Gilfillan, becoming a full partner in Varnum & Gilfillan a short time later. He became interested in the granite industry after several projects brought him to Barre. His skills in development and production in business would prove to be an asset to Rock of Ages.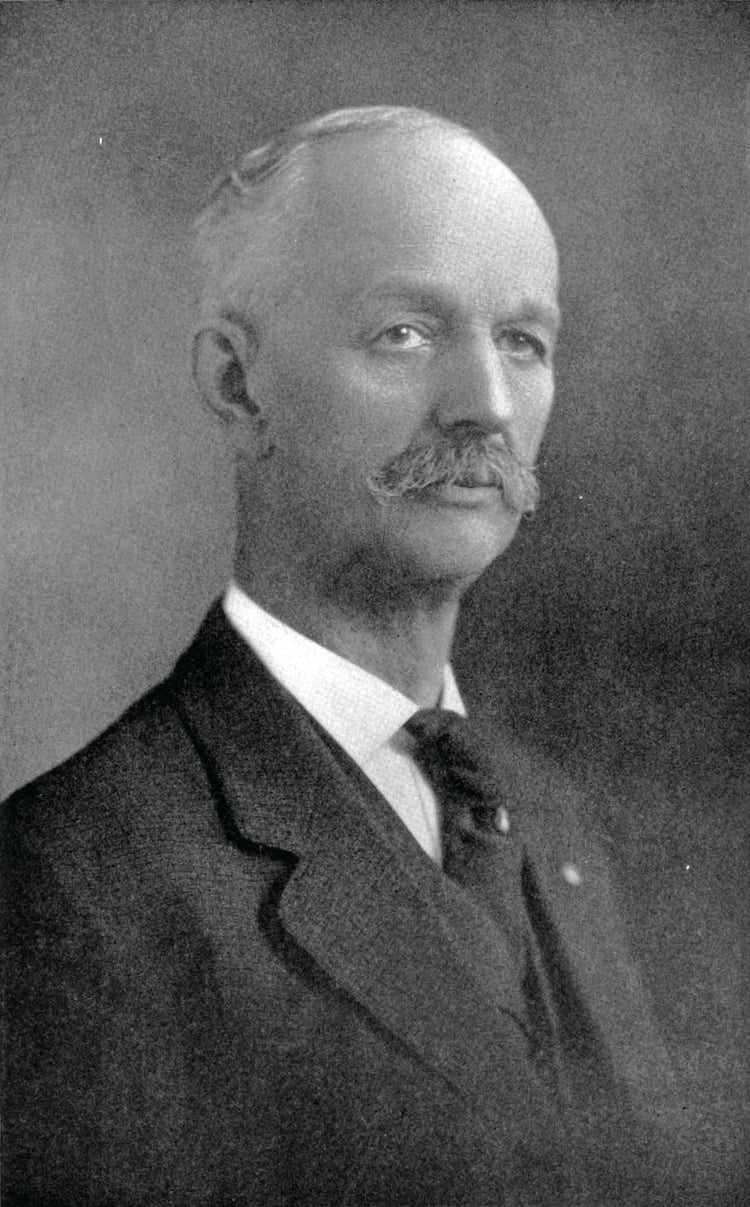 In 1905, these three gentlemen joined forces and formed the Boutwell, Milne & Varnum Company (BM&V). Together, they operated quarries in Graniteville, selling Medium Barre and Dark Barre granites.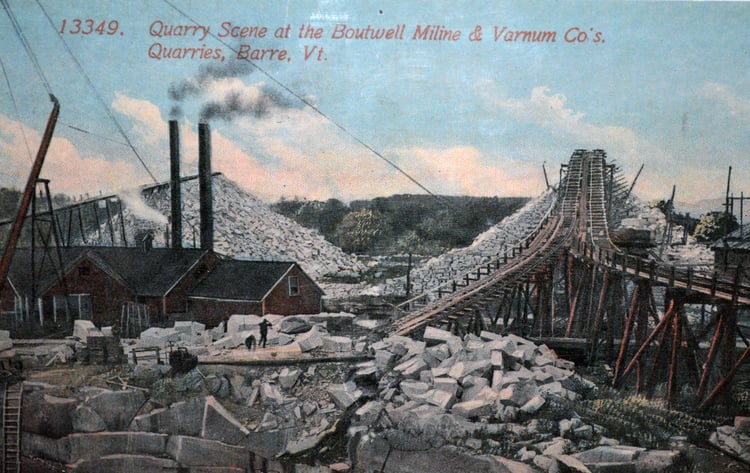 They knew they had a premium product that would be in demand from memorial makers. To set themselves apart from competitors, they made alliances with manufacturers to provide guarantees. Each monument made of Blue Gray granite from the BM&V quarries was guaranteed against flaws in craftsmanship, checking, cracking, and discoloration. That is what's known today as Rock of Ages' perpetual warranty.
Only memorials engraved with the prestigious Rock of Ages SEALMARK™ are backed by their perpetual warranty and only Authorized Rock of Ages dealers can provide them. The SEALMARK™ guarantees that your memorial will never crack, discolor, or otherwise fail due to material or Rock of Ages craftsmanship.
In 1925, they incorporated the company as Rock of Ages. In 1984, Rock of Ages was purchased by Swenson Granite Company LLC (now known as Swenson Granite Works) of Concord, New Hampshire. In 2010, Rock of Ages and Swenson Granite merged. In 2016, Polycor announced the acquisition of Swenson Granite and Rock of Ages.
The Quarry and the Granite
Vermont is the home of Blue Gray granite, an outstanding natural stone for making sculptures because of its ability to hold finely carved details. Blue Gray granite is made of small crystals of gray feldspar, black mica, and gray-to-white quartz. You can see that it sparkles in the light from the mica in the stone, and its strength comes from feldspar and quartz. It's what makes Vermont the "Granite Center of the World."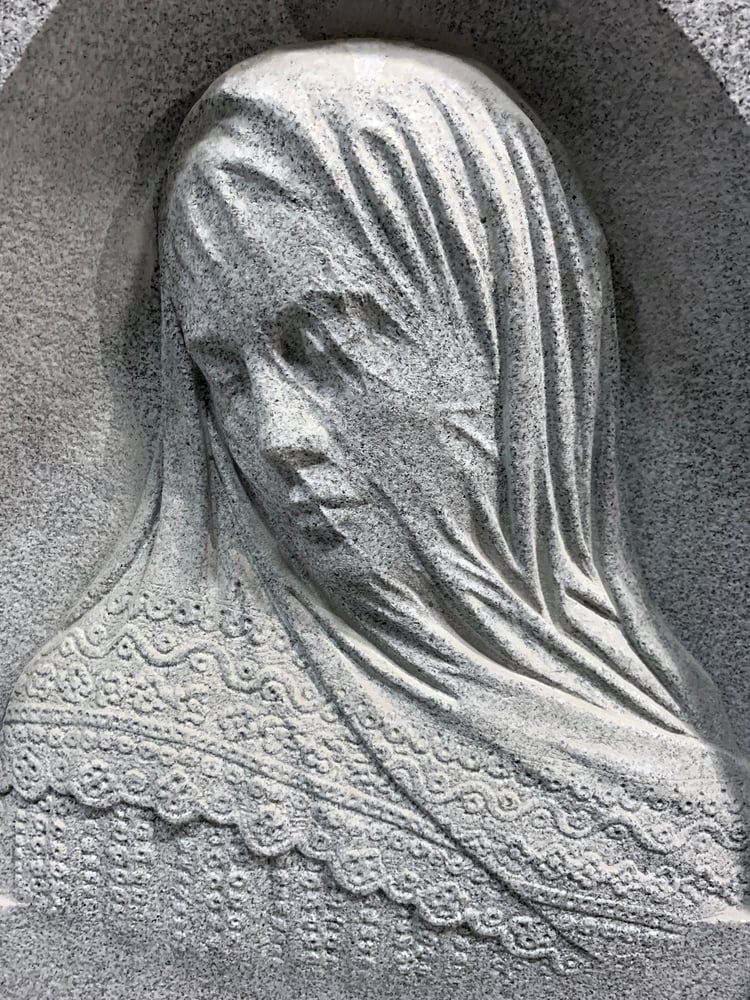 Intricate carving in Blue Gray granite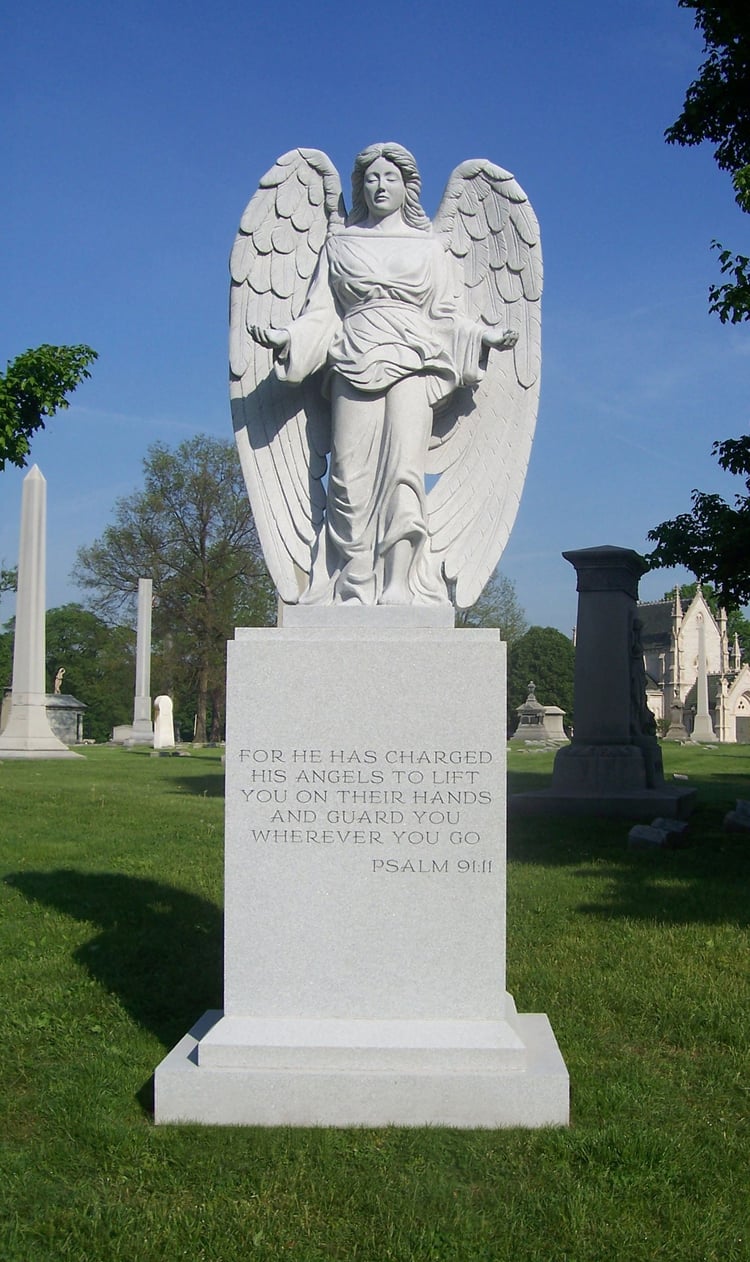 Blue Gray granite memorial with hand carved angel
This granite is pulled from the Rock of Ages prestigious quarry, located in Graniteville, Vermont. The quarry is 60 square acres in surface area and approximately 600-feet deep, the largest quarry of its kind. Natural seams in the rock allow groundwater to run through it and collect in a pool of opaque turquoise water at the center, making for a stunning sight.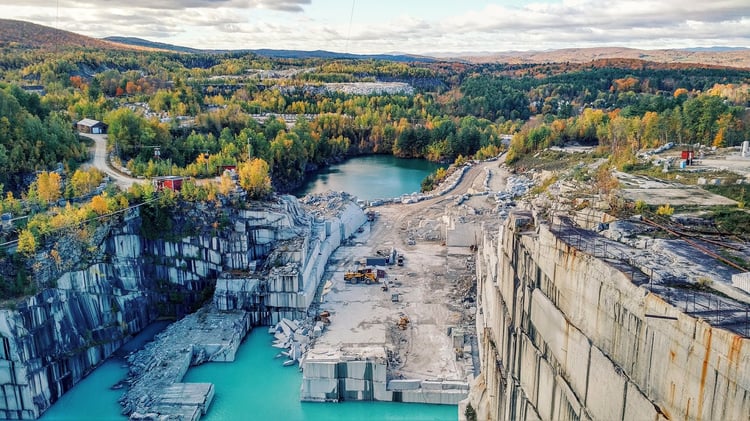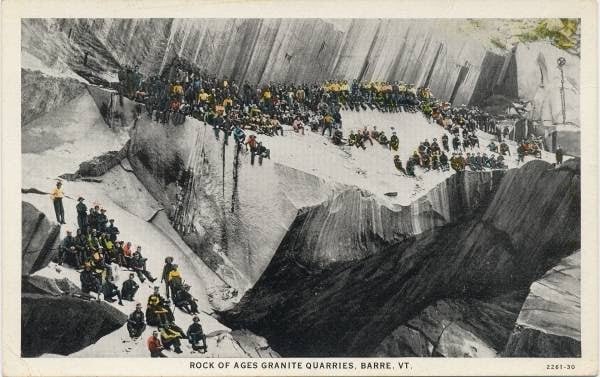 Here, the quarrymen pulled the largest single block of stone on record in one solid mass. It measured 200 feet long, 80 feet wide, and 24 feet thick. Its estimated weight was 65,000,000 pounds. Its pieces filled 1,728 railroad cars.
READ MORE ABOUT THE E.L. SMITH QUARRY AND ROCK OF AGES VISITORS CENTER
The Sculptors
While granite from Rock of Ages' quarries are of the highest quality, it is the master craftsmen who bring out the true beauty in the stone for statues and memorials. Many of those who work here are of European descent; their artistic stone-cutting skills were handed down from generation to generation and have taken years to master.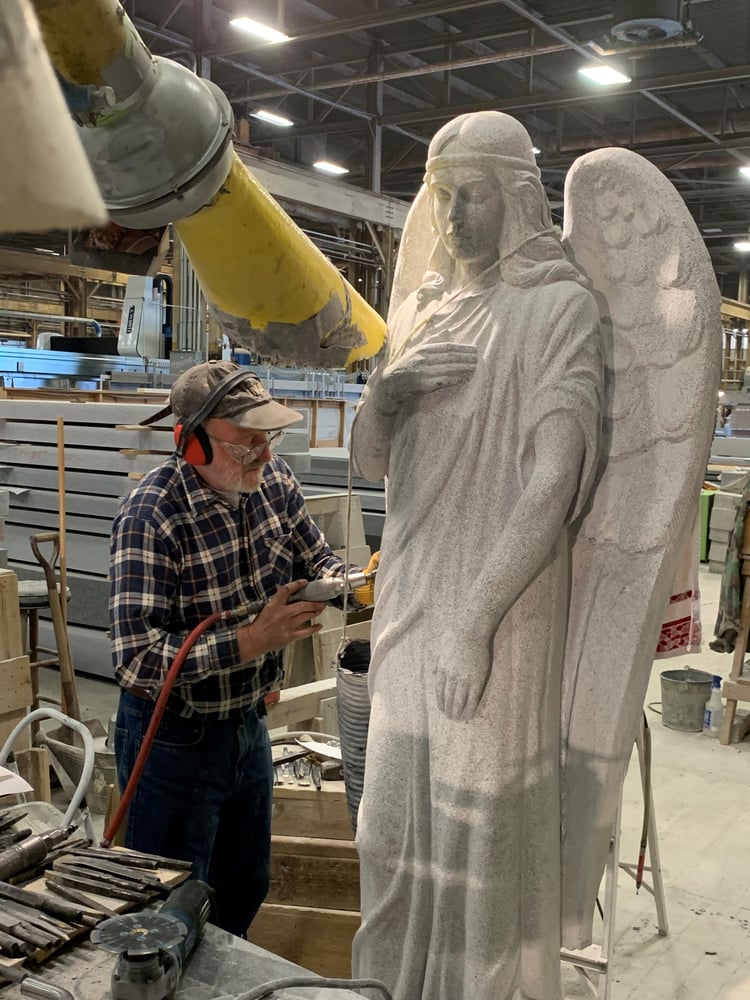 With the arrival of the railroad system in the late 1800s that provided a means to transport the granite, the industry started to boom and good-paying jobs were available to stone artisans who could meet the rising demand. And so they came. Between 1870 and 1950, the workers came from all over North America and from granite capitals of Europe, including Italy, Scotland, Sweden, Finland, Spain and Norway to the granite "goldmine" of America's east coast.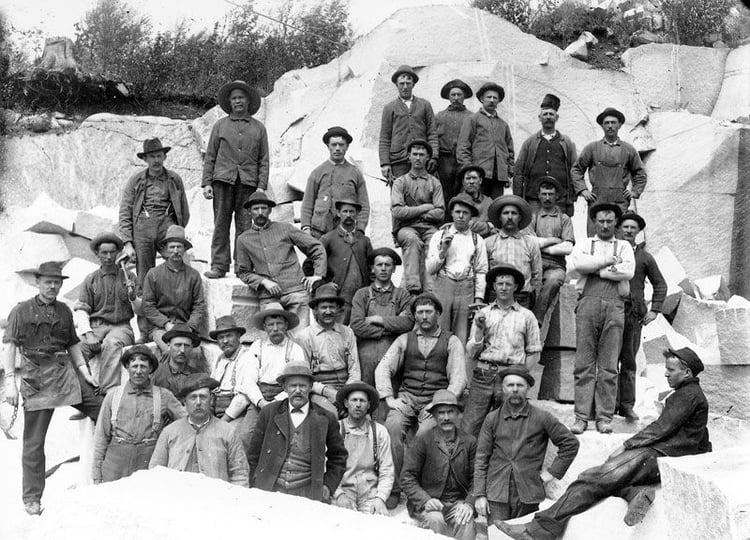 We may never know them all by name, but their hard work and craftsmanship have touched thousands of families who honor their loved ones with memorials and monuments, and by those who tour cemeteries, such as the famous Hope Cemetery in Barre, Vermont, just to stand in awe of their mastery. This is the legacy of these talented artists.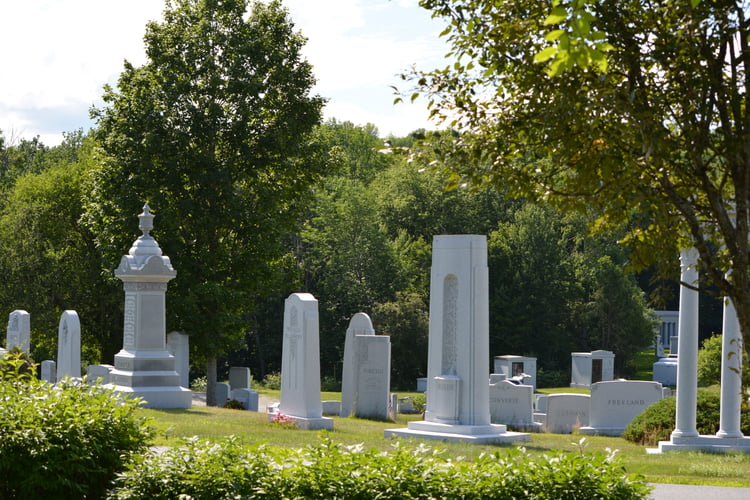 Hope Cemetery serves not only as a place to remember those who work outside the craft and are buried there, but also as a tribute to the stone cutters and artisans interred amongst the sculptures they created while they lived.
Sculptors understand the importance of what they do. It is their work that helps loved ones grieve and connect with those they've lost through memorials and monuments custom-made to represent someone's life and legacy or pay tribute to those who passed during an act of bravery. Being a stone sculptor is not only hard physical work, it also takes mental strength to understand the meaning behind each project. They put all of their experience and craftsmanship into every piece that is slowly and carefully hand-carved, making sure every detail is right.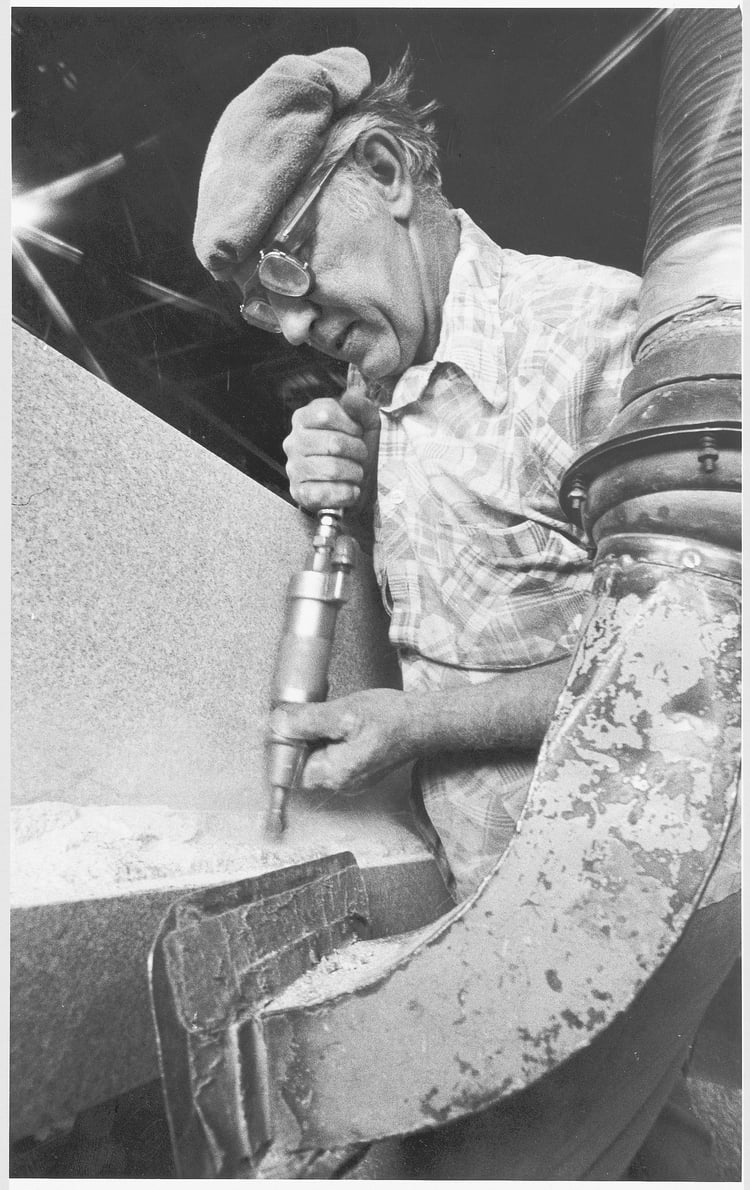 Confirmed by its history and reputation, Rock of Ages has lived up to its name for over 100 years, transforming blocks of natural stone into treasured memorials and monuments that people will cherish for their lifetimes and beyond.
Plan your visit to Rock of Ages to learn more about its history and tour the quarry. Download the Barre, VT Getaway Guide for a peek into the region's designation as the "Granite Center of the World," informative listings on the visual and performing arts scene, diverse dining and lodging opportunities, and a coupon offering two adult guided tour tickets for the price of one.