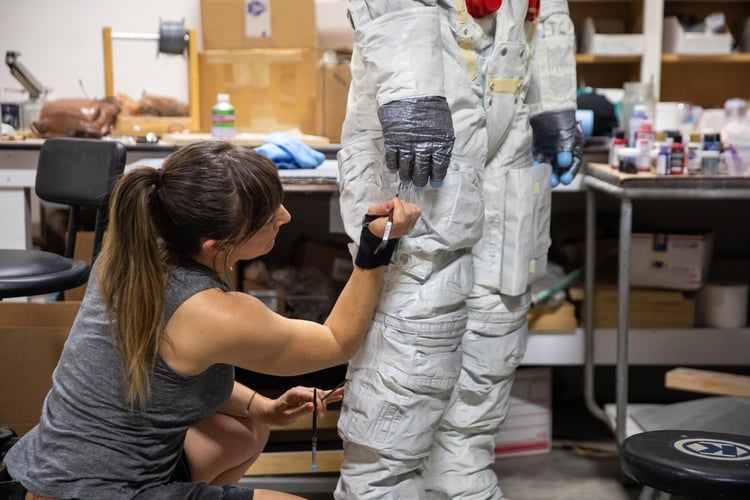 When designers from the Smithsonian Institute went looking for a pedestal to display 15 replica statues of Neil Armstrong's spacesuit, they landed on a stone as iconic as the white suit itself.
Each of the statues, created to commemorate the astronaut's historic moonwalk 50 years ago, were displayed in 15 Major League ballparks across the country during the 2019 baseball season as part of a National Air and Space Museum project. And quietly supporting each one was Rock of Ages granite.
The replica suits were installed atop a 600 pound pedestal made from Rock of Ages BLUE GRAY ™ granite quarried in Barre, VT. Each engraved with the Rock of Ages SEALMARK ™ the mark of its perpetual warranty for the stone and craftsmanship.
"The Rock of Ages Blue Gray granite is simply the very best granite in the world," said Rich Urbach, owner of Keith Monument Company, an authorized Rock of Ages retailer based in Kentucky. "It was important to have a quality product as the base because the statues would be moving on from the baseball stadiums to permanent homes at museums and history centers across the country."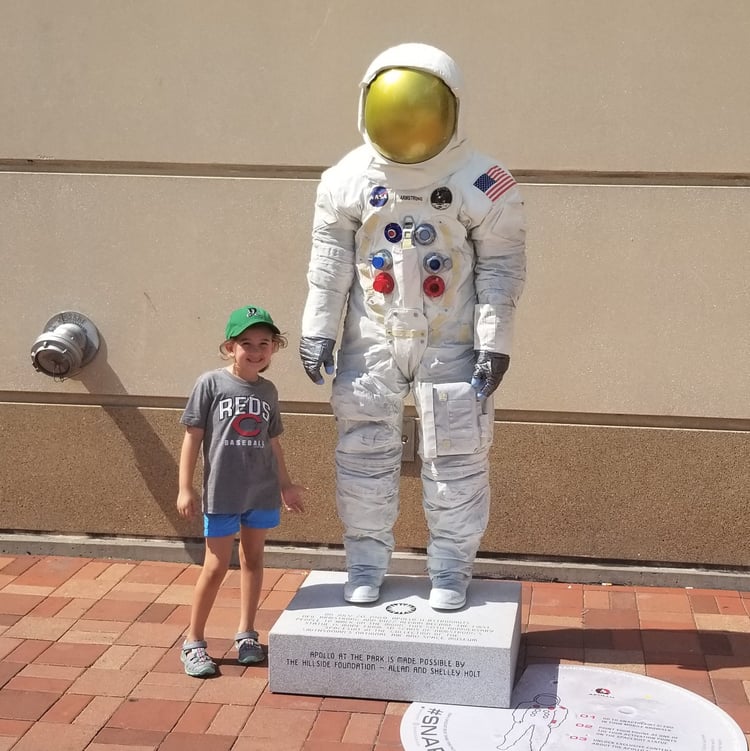 T

his summer f

ans big and small posed with the suits and posted pics on Twitter with

#snapthesuit

. This one by

Chris Gemperline at the

Cinncinatti Reds

Great American Ball Park.
An American stone for an American achievement
Blue Gray granite brings a timeless elegance to every project and is the classic stone used for civic memorials like the 5th Marines Vietnam memorial at Camp Pendelton. This Vermont granite is known for its deep, natural color and quality as well as its consistent, fine-grained appearance. Its unique properties make it especially durable and moisture-resistant. It's also excellent for carving and achieving contrast.
The granite was quarried, cut and engraved at the Rock of Ages quarry and manufacturing plant in Graniteville, VT and then delivered to the 15 National League stadiums coast to coast — from Seattle Mariners to Tampa Bay Rays — where craftsmen assembled the statues. Each base is 8 inches tall, raising the statue to an 80-inch height.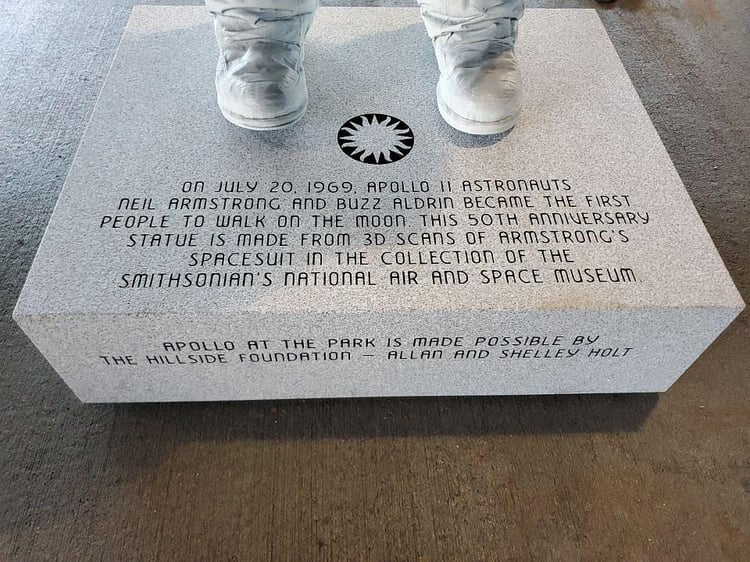 Engraved details of the Apollo at the Park statue at Detroit Tigers Comerica Park. Photo by Rich Urbach.
On the top of each pedestal is engraved, "On July 20, 1969, Apollo II astronauts Neil Armstrong and Buzz Aldrin became the first people to walk on the moon. This 50th anniversary statue is made from 3D scans of Armstrong's spacesuit in the collection of the Smithsonian's Air and Space Museum."
On the back, the artist's name is engraved and the front of the pedestal recognizes that "Apollo at the Park" was made possible by The Hillside Foundation and Allan and Shelley Holt. Opening photo credit: Adam Savage.
Armstrong's spacesuit was conserved and digitized thanks to funding from a successful Kickstarter campaign in 2015 and went back on display for the first time in 13 years at the museum on July 16. The "Apollo at the Park" statues were created using 3D scan data of the original spacesuit performed by the Smithsonian's Digitization Program Office. California-based sculptor Paula Slater, who's known for her public and privately commissioned busts and monuments, provided artistic oversight - providing the artistry that the 3D printer could not. You can read about her process here.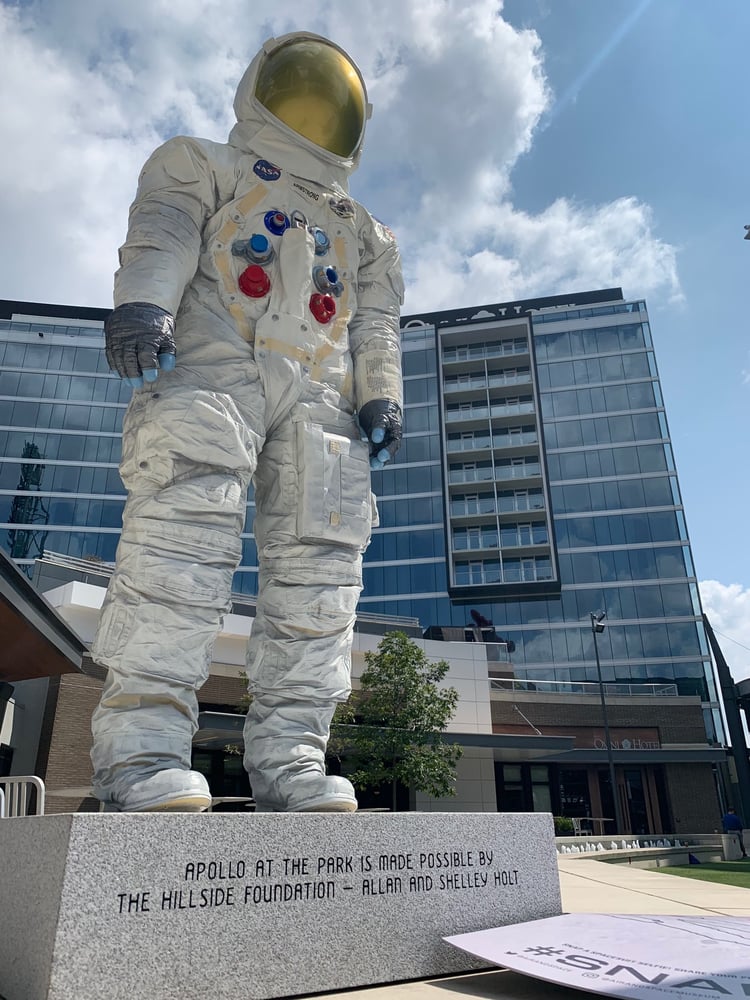 Apollo at the Park statue at Atlanta Battery home of Braves photo by Laura Means via Twitter @LMeansWellArtist. Search more photos with #snapthesuit.
Each spacesuit replica statue is made of a blend of rigid resin for strength and durability for outdoor display, and hand painted. The suits had an interactive component that allowed fans to use their phone cameras to scan parts of the suit, including the Apollo 11 patch, NASA logo, American flag and glove patch, to access videos and additional information about the Apollo 11 mission, astronauts and the anniversary. You can go behind-the-scenes with a video by Adam Savage of MythBusters fame.
Apollo statues find permanent homes across the country
The statues were donated to the following locations:
Air Zoo Aerospace & Science Experience – Portage, Michigan
Armstrong Air & Space Museum – Wapakoneta, Ohio
Columbia Memorial Space Center – Downey, California
Cosmosphere – Hutchinson, Kansas
Fernbank Science Center – Atlanta, Georgia
Framingham State University – Framingham, Massachusetts
Senator John Heinz History Center – Pittsburgh, Pennsylvania
Hiller Aviation Museum – San Francisco, California
Peoria Riverfront Museum – Peoria, Illinois
Space Center Houston – Houston, Texas
Tampa Bay History Center – Tampa Bay, Florida
U.S. Mission to International Organizations – Vienna, Austria
Western Reserve Historical Society – Cleveland, Ohio
The National Air and Space Museum will retain two of the statues in its permanent collection.


Apollo at the Park Statue at Fenway Park. Photo by Rich Urbach of Keith Monument
Urbach traveled to Fenway Park to visit one of the statues this summer and said it was exciting to see all of the baseball fans gathered around the spacesuit and admiring it. "Everybody worked so hard to make sure everything was installed right," he said. "The Blue Gray granite was the perfect stone to help commemorate such an important chapter in our country's history."
Learn how you can create a civic memorial with American granite. Contact our memorial team.