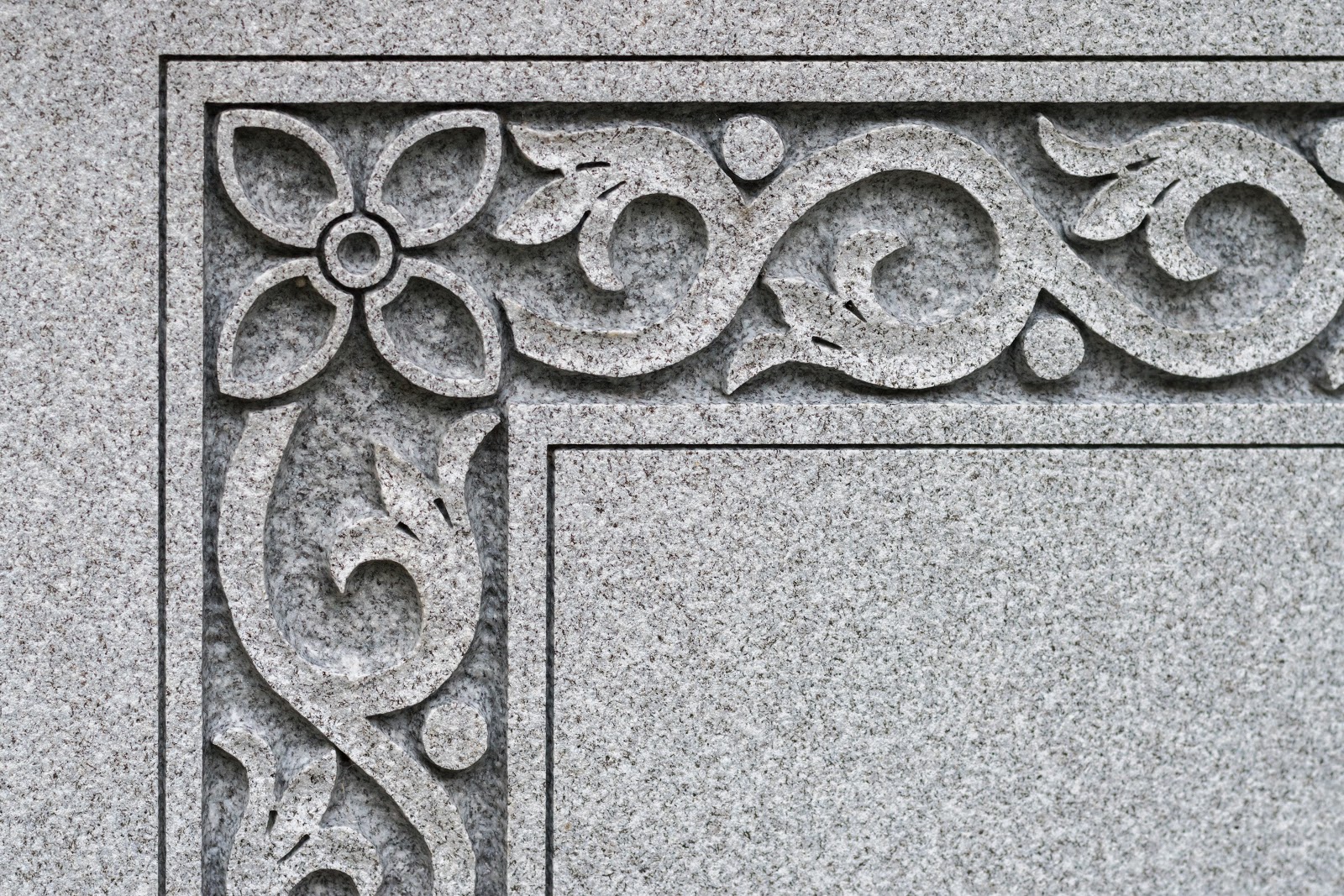 Designing a headstone is intensely personal. What's appropriate for one person's memorial, flowers and a Bible verse perhaps, might be completely wrong for another who had a lifelong love of motorcycles.
Just ask Kelly Pearson, owner of Leominster Monuments in Leominster, MA. For a decade she has guided clients through the design process to make their memorial visions a reality. And while she's helped clients with all types of headstone designs, Pearson says the only restrictions are the cemetery's guidelines and your budget. Pearson has helped clients create monuments in all shapes and sizes and with designs as personal as a portrait of a loving couple and the view from another husband and wife's lakehouse.
Headstone design 101: cemetery restrictions
"Every cemetery has different restrictions," says Pearson. Her family's full-service monument company has been serving Lunenburg and the surrounding area, about an hour west of Boston, for more than 40 years. Some cemeteries might not permit polished headstones or another might only allow flat markers in certain sections, Pearson explained. Because she's worked closely with cemeteries throughout Massachusetts, her company knows what the height restrictions are based on the number of lots someone has and can begin to guide them on the headstone size.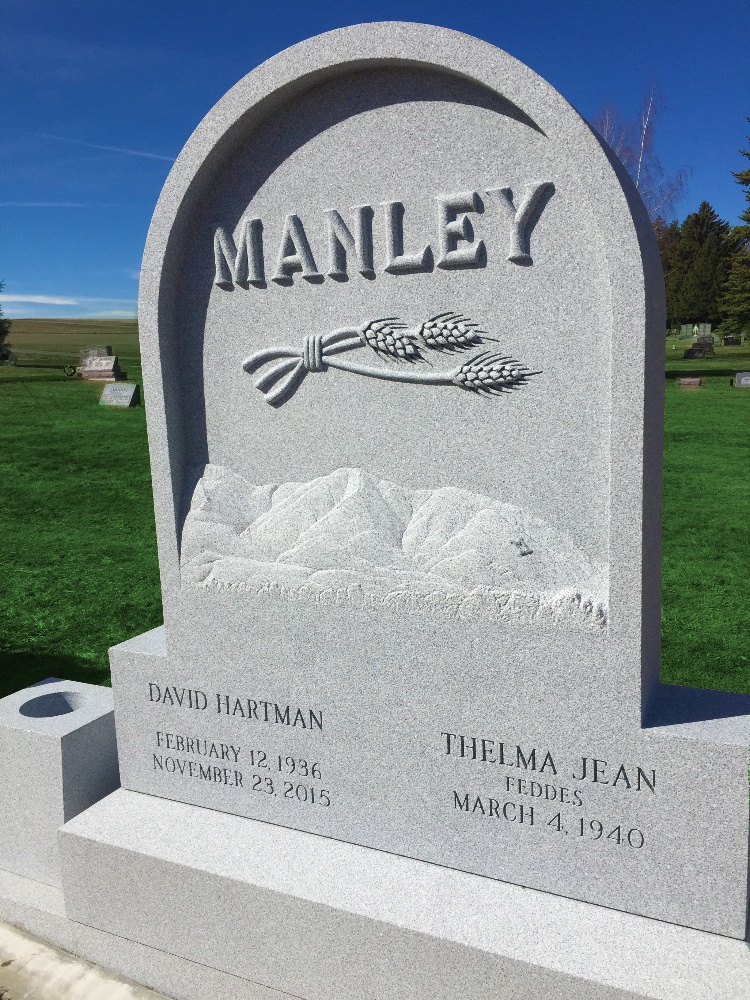 A custom monument by Goose Ridge Monuments in Bozeman Montana. It was crafted using MEDIUM GRAY ™ granite. The mountains, wheat and family name are all hand carved.
Choosing the right stone for your cemetery memorial
Once those cemetery parameters have been established, Pearson says she begins to help clients choose a stone in their preferred color. "Some people have already looked around online or at other monument dealers," she says, "and others come in and don't have any idea what they want."
The starting point for clients who come in and need a lot of guidance is always the same, says Pearson. "I always start by showing them BLUE GRAY ™ granite because it's the industry standard."
Sourced from the Rock of Ages quarry in Vermont, which yields memorial quality stone that doesn't crack or degrade with time, Blue Gray granite is sought after worldwide for its fine grain, even texture, and superior weather resistance.
Blue Gray granite monuments are engraved with a SEALMARK ™ guaranteeing that if there is a defect in the stone or workmanship, the perpetual warranty will protect you. If the stone proves defective over time, Rock of Ages will take care of it.
The possible headstone shape and style options are 'endless.'
Once you've chosen your stone and determined the size, it's time to choose the shape or style of your monument, and there are a lot to choose from. "It's endless, really," says Pearson of the number of headstone shapes available. You can go with a more traditional serpentine top headstone, a classic design and what most of us think about when we imagine a headstone. According to Pearson, it's the style she says is probably 90 percent of what you see in the cemetery. Another popular style is the granite slant headstone, which are upright but with an inclined face and usually measure about 1-2 feet high.
When you choose a Rock of Ages stone, you have access to their team of artisans who can cut most any shape you are looking for, whether it's a heart, a carved angel, a celtic cross, or even your own design says Pearson.
Headstone designs can be as unique as every individual.
With the guidance of a local memorial dealer, there are many ways to personalize a headstone, beyond the type of granite and the style of the monument. "After we sit down with the family and discuss the basics, like names and dates, then we start to learn more about their loved one," she explains. "Like if the person loved to fish, we show them a variety of images of fishing and gear to give them ideas about what they can do."
But sometimes designs don't come out of a book. One family came to Leominster and showed them a family heirloom necklace, the design of which they wanted replicated on a headstone. "We take the ideas in and turn it into a memorial that tells a story," says Pearson.
A unique way of honoring a spouse
After her husband passed away, a widow came to Leominster to design a companion headstone featuring an etched replica of a photo of the couple.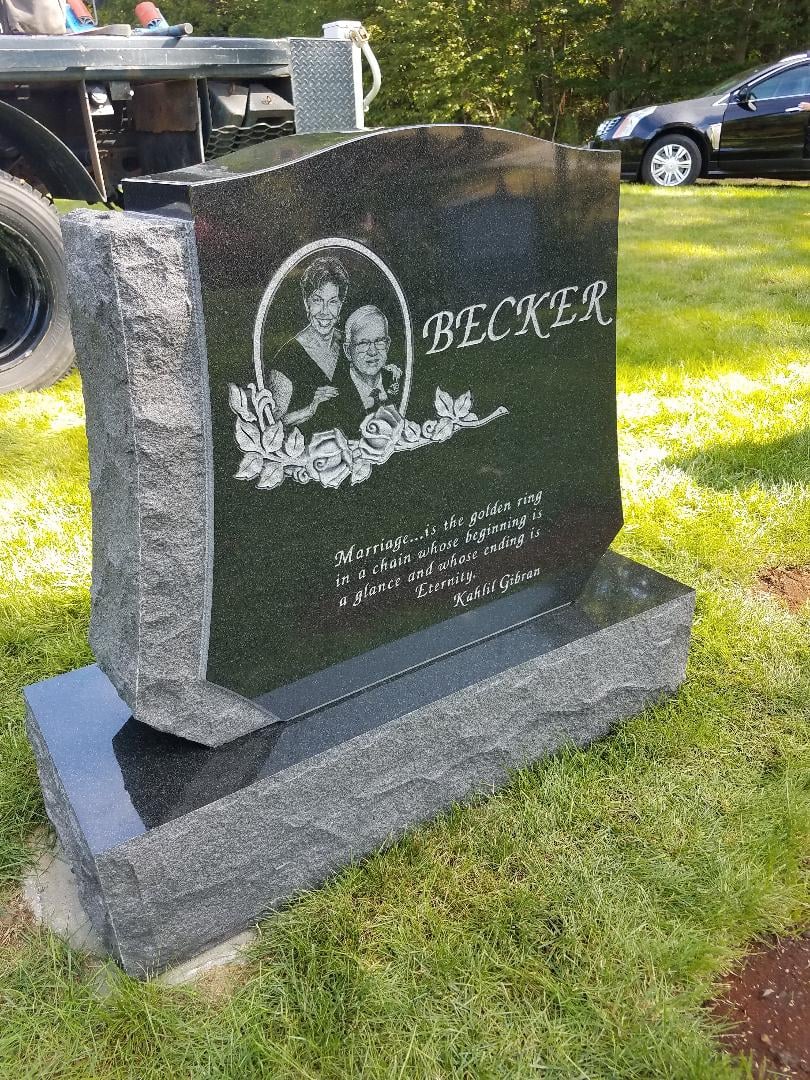 Rustic rock edge work lends an element of contrast on this STARLIGHT BLACKⓇ granite companion headstone by Leominster Monuments. The roses are shape carved and portrait is etched.
Sometimes, clients come in knowing exactly what they want and it's Pearson's job to help bring that design to life. She worked with one woman for seven months to design a headstone featuring a large tree. Prior to coming to Leominster, the client had been to other monument dealers but wound up frustrated. "Everyone kept giving her cookie cutter, out-of-the-book cartoonish trees," She said.
Pearson was the only monument dealer who sat with this widow and worked with her to create a custom design that brought her vision of this symbolic tree to life. Working together with Rock of Ages, they went back and forth for months, looking at drawing after drawing — making slight changes like turning a leaf at a different angle — until the client was satisfied. "She was super happy with it."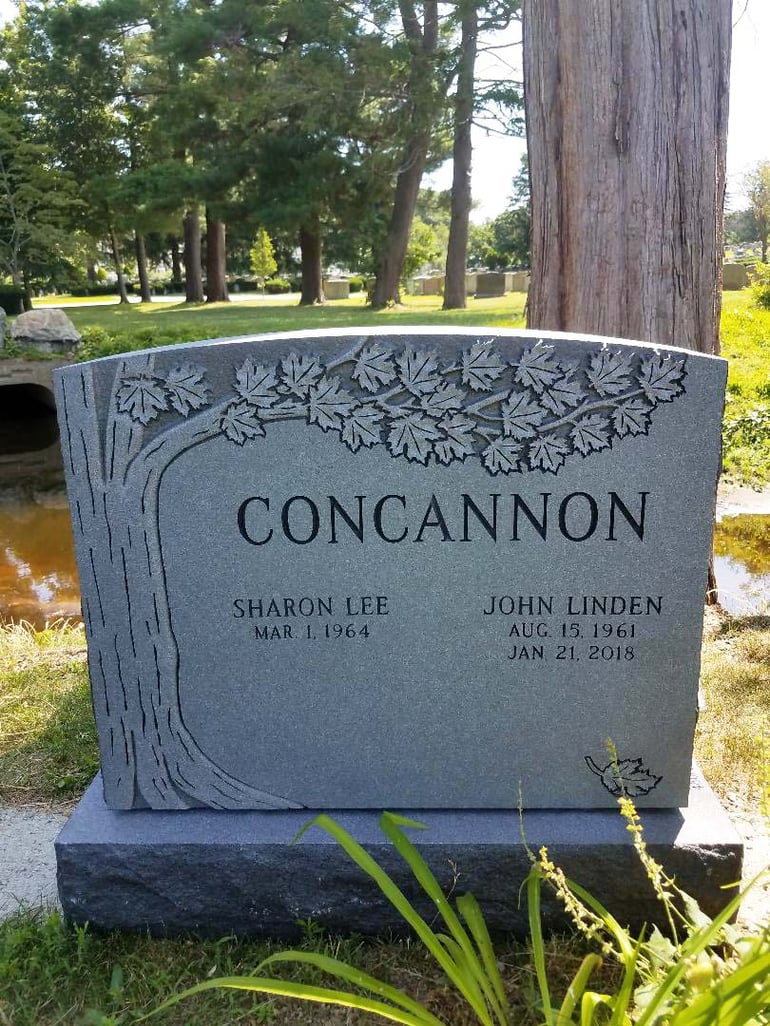 Another Starlight Black granite monument by Leominster Memorials, this one with a Tiffany finish (also known as steeled), has rock pitched ends shape carved leaves.
Pearson stresses that what one person chooses for a headstone design might not be another person's cup of tea. For that reason, she says she always keeps her opinions to herself, unless she's asked for them.
"It's their headstone and I would never try to influence what they choose," she says.
For more headstone designs for couples and individuals, download the Granite Headstone Style Guide.