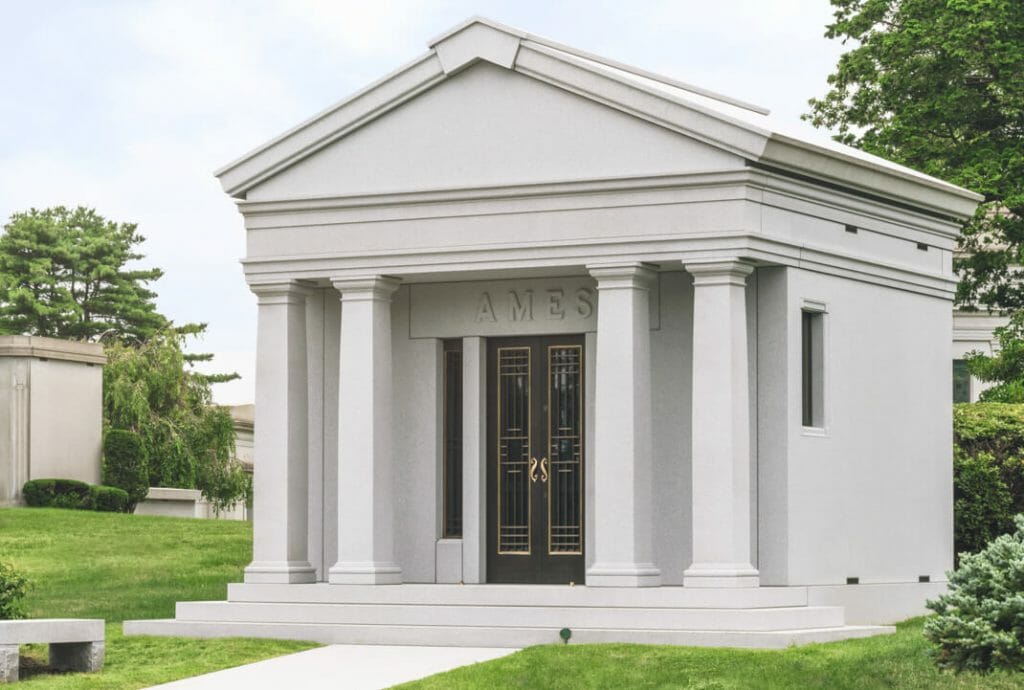 You've been thinking about creating a family cemetery memorial, and though you've seen some striking headstone designs, you're looking for something more. A legacy piece to mark your family's place in the world. You're looking for a mausoleum.
A general description for a mausoleum is a freestanding structure built to enclose a burial chamber or space for interment. It may include crypts for caskets and, or niches for cremated remains.
Mausoleums are highly personalized works of art and architecture designed to inspire everyone who sees them. Like the architecture of a dream home, the design elements of a mausoleum are almost infinitely customizable.
Detailed square columns flank bronze doors on this BLUE GRAY™ granite mausoleum located at Kensico Cemetery in Valhalla, New York. This is a detail of the top image.
Let's go over the steps you can take to design a mausoleum that will not only be inspiring and memorable, but durable to last for future generations.
Find an experienced mausoleum designer and fabricator
Vetting a mausoleum professional is much like the process for vetting a custom home builder. Look for one who is both a designer and fabricator of mausoleums, meaning they can take your project from concept to design through to construction and installation (or setting as it is known in the industry).
There are a few qualifiers that mark a high caliber mausoleum design and fabrication company.
Align yourself with a company that:
Has a large portfolio of work, images and plans that prove that its team has designed, crafted and installed a variety of mausoleums.




Uses only monumental granite, not construction granite. Like diamonds and food, granite comes in many grades. Rock of Ages uses only monumental granite with more than 100 years of proven durability.




Fabricates their buildings in North America. The significantly cheaper prices of overseas built units (like those available for purchase online) reflect a lower quality - of granite and workmanship. Lack of proper pinning and anchoring, use of low grade solvents and other poor manufacturing techniques can and do cause mausoleum structures to fail.




Understands your local cemetery regulations, which will impact your mausoleum design.
A few questions to ask a potential mausoleum professional
Do you design and fabricate in-house?
Do you quarry your own stone?
What quarry does your stone come from?
Will you deliver and set the mausoleum?
Do you offer a warranty on the stone and workmanship?
The more of these processes your builder controls, the better your experience will be.
What to expect in your first meeting with the CONSULTANT
A reputable mausoleum company will begin the design process with an unhurried conversation with one of their consultants to get to know you and your family's needs. One of the first questions your consultant will ask you is how many family members are you planning for. Come prepared with the number of people you want to include in the building. Your consultant will ask questions about your wishes for burial or cremation, your preferred site, and how you will use the building for reflection. He or she will show you pictures and plans of mausoleums to get you inspired.
If you work with a Rock of Ages consultant, ask to see pictures of the Vermont quarry where the granite originates, a stunning deep hole quarry filled with turquoise water. If you're up for a road trip you can even travel to see the quarry and tour the production facility there. On weekdays you can see the artisans at work on mausoleums and memorials.
Now it's time to get started on the details of design.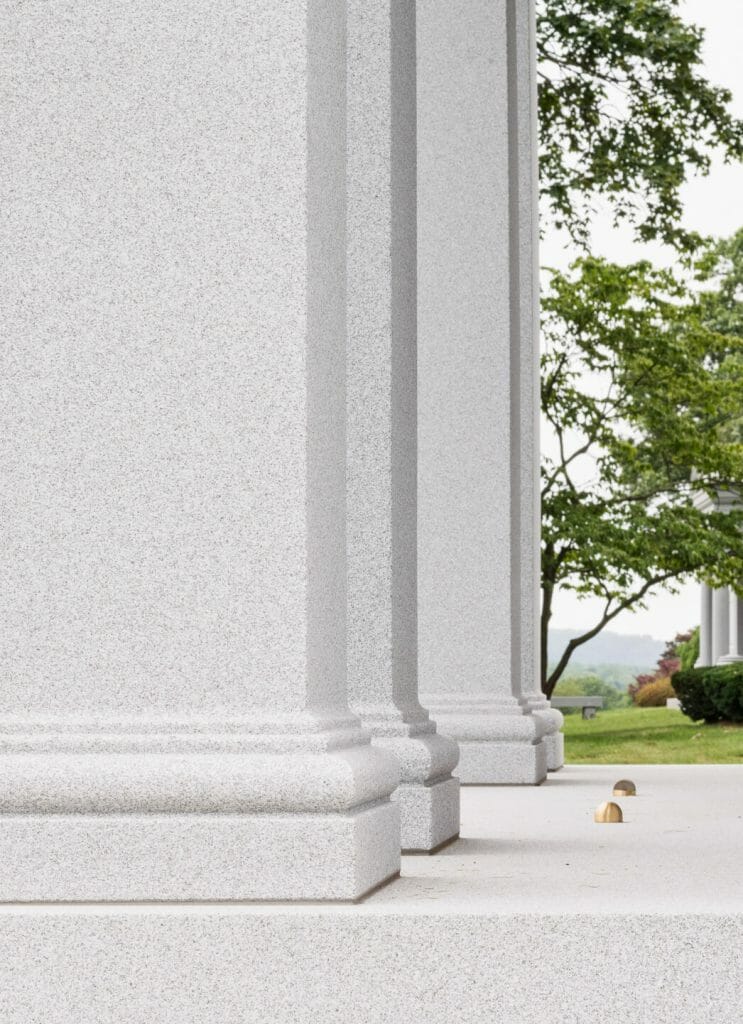 Connect your cemetery representative with your CONSULTANT
Lot size, cemetery regulations and surrounding structures will all influence the design and orientation of your building. If you work with Rock of Ages, the team will help you determine the lot size you need and work with your local cemetery to create and install your ideal mausoleum.
This walk-in style mausoleum built for Denigris Monuments in New York features many custom features like picture windows, a shingled roof, buttresses and a vestibule.
Determine the style
Like a house, a walk-in mausoleum has a working door and provides a private sanctuary for visiting family members. A simpler style is the push-in mausoleum where caskets are enclosed in an above ground vault.
A two crypt push-in style mausoleum produced for Camden Monument in Arkansas.
Decide on interior features and exterior design elements
If you've selected a walk-in style building, ask your mausoleum designer about interior features like benches, shelving for momentos and lighting.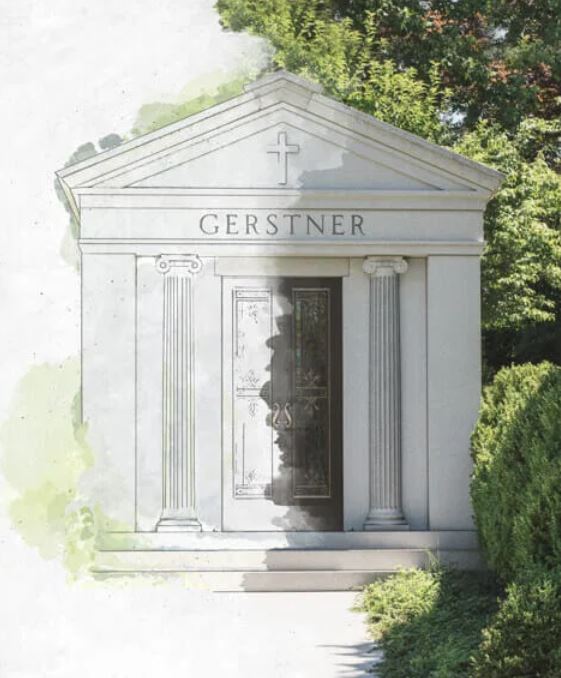 During the design process your designer will prepare renderings of your building for your review. This is a collaborative process where you can add personal details to make the mausoleum uniquely representative of your family.
Maybe you envision stately columns or elaborate carved elements like vines and flowers, or angels. If you've added windows to your building you may want to select stained glass as an additional artful element.
If you're just beginning your research on designing a mausoleum, you may not know the style of building you want or whether you'll include windows and columns. Not to worry. These are details your consultant will work out with you based on your budget, the number of people you want to memorialize, and your own personal taste.
You can get started creating your own family legacy today. Download the Mausoleum Design Inspiration Guide here.