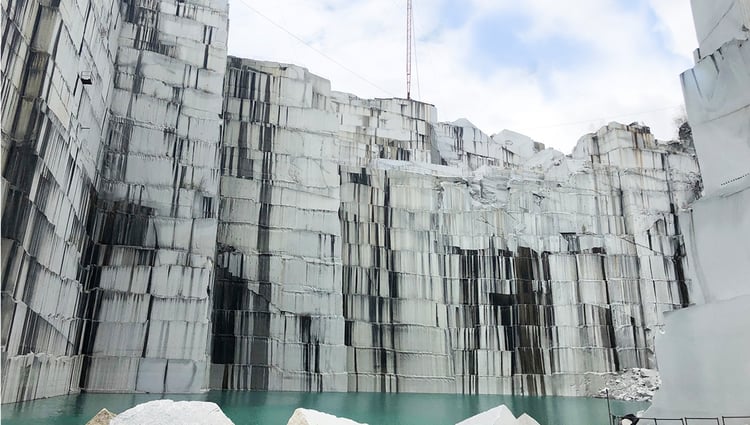 Last year, the world came to a grinding, and rather sudden, halt. This included tourism, which meant that the Rock of Ages Visitor Center, located in Graniteville, Vermont, closed its doors to tourists for 2020 and 2021 thus far. But after a year away, on June 1st, Rock of Ages will open its doors again and welcome back valued members of the community and guests from surrounding areas for tours of the historic E.L Smith quarry.
The quarry, named after Emery L. Smith, who was a native of Northfield, Vermont, has been a Vermont fixture for 136 years. Smith married the daughter of Eliphalet Hewitt, who was, in turn, the son-in-law of Robert Parker, the first commercial granite quarrier in Barre.
According to measurements made by researchers from MIT, the depth of the granite in the area is four miles long, about two miles wide, and ten miles thick. At current recovery rates, there's another 4,500 years of stone in the ground.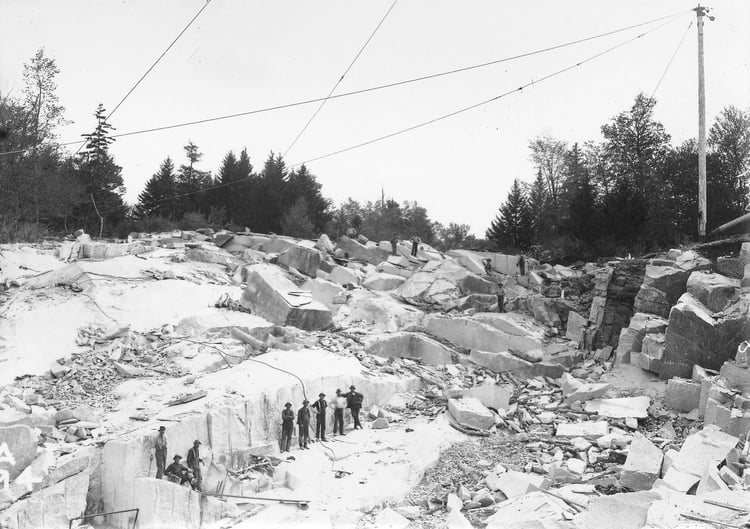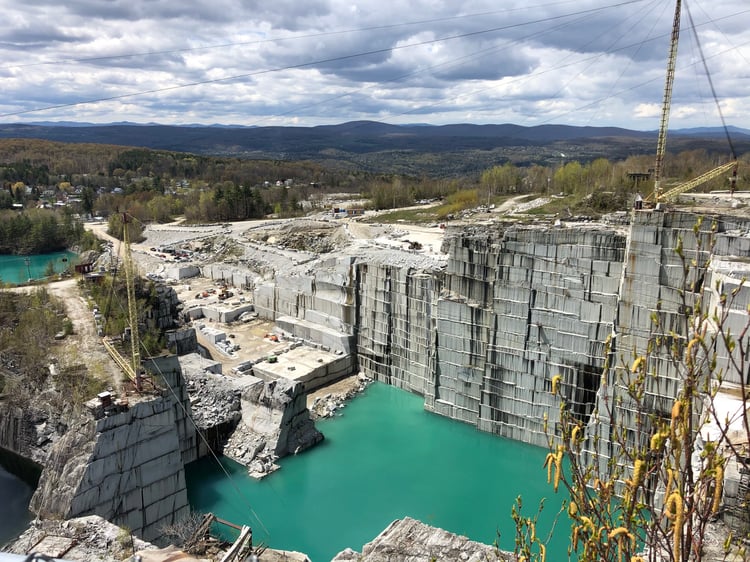 Ruthie Adams, Visitor Center Manager for Rock of Ages, who has been with the company since 2019, says there was a small silver lining to the change in routine during the pandemic. "I was able to immerse myself in the various phases of the Rock of Ages quarry and memorial fabrication process. I utilized those months to interact and learn from the stone artisans and craftsmen themselves, and they taught me about their unique skills, that knowledge and experience can then be conveyed to each guest that I meet at the Rock of Ages Visitor Center when we return."
"When you walk through the plant, there's never a still body — everyone is always touching stone," said Ruthie. "Every Wednesday, I visit one of our master carvers, Stanley Lutostanski, and watch as he brings a BLUE GRAY™ granite angel to life. It's truly amazing to watch the details take shape, right down to the fingertips. Watching the master carvers work is really like watching magic. The skill that they have is unparalleled. Even after a century, the standards of workmanship haven't changed."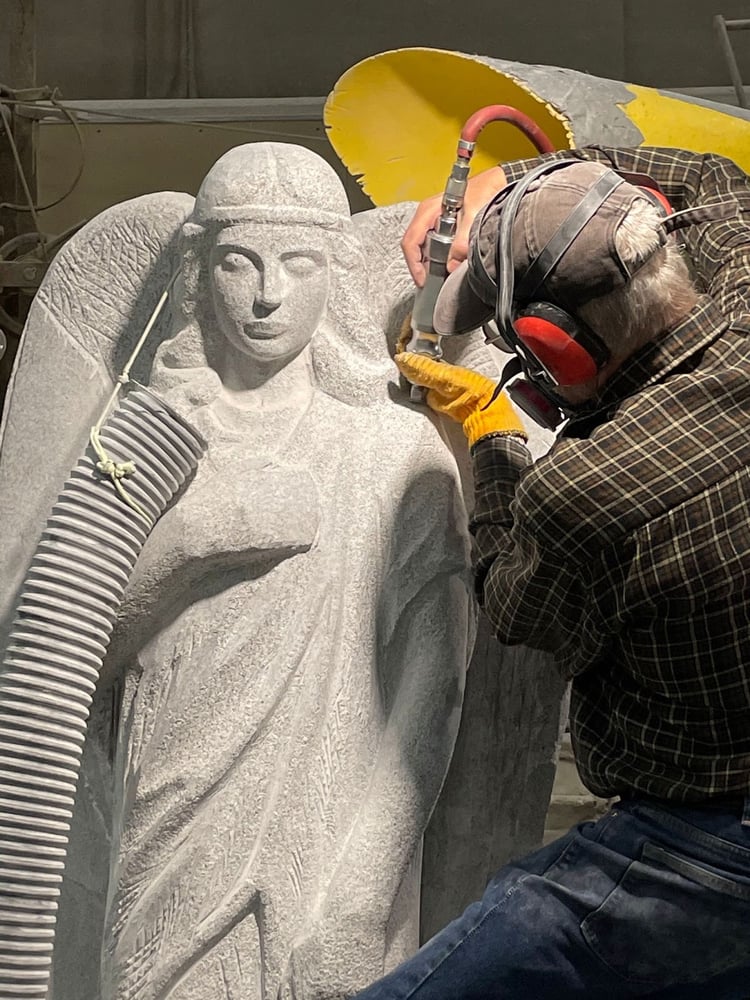 Although the self-guided factory tour through the plant is currently closed to visitors, those interested in seeing the progress of this project and others are encouraged to follow Rock of Ages on Facebook and Instagram.
This sense of craftsmanship, pride, and attention to detail is what has carried Rock of Ages through 136 years of unmatched reputation in the granite industry. "Even though Rock of Ages has evolved with new technology, the base of what our craftsmen do is by hand — it can't be replicated or replaced by a machine," Ruthie shared. "Vermont is the granite capital of the world, which is really something to celebrate and share with the community. We're so grateful that we can do that, and show visitors exactly what goes on here at the quarry and plant."
In this video, Robert Tucker uses air bags to push over the granite wall weighing roughly 750,000 lbs. You may see something similar happen on site during your quarry tour!
Though the tourism aspect of Rock of Ages has been around for years, some things have changed. In the past, visitors would be transported by a shuttle to the quarry observation platform to enjoy the tour, but now, guests will purchase their tour tickets at the Visitor Center gift shop, and then follow a Rock of Ages lead vehicle to the quarry, while riding behind safely in their own vehicle.
Upon arrival at the historic quarry, visitors will have the same wonderful opportunity to see the E.L Smith Quarry and those majestic panoramic views surrounding the quarry. On a clear day you can see for miles. During your tour you will not only learn about the history of Rock of Ages and how granite is extracted from the earth, but you will also learn cool facts, like how the quarry water achieves that beautiful teal blue hue, and why the granite blocks that line our hillsides are called grout.
The tour takes about 40 minutes and guests are strongly encouraged to come back to the Visitor Center to enjoy the gift shop and several exhibits; including a video inside the round Rock of Ages theater, clad in more interesting facts and notable projects! And no trip to Rock of Ages would be complete without trying your turn on the world's only outdoor granite bowling lane and not to mention grabbing your free granite souvenir before you leave!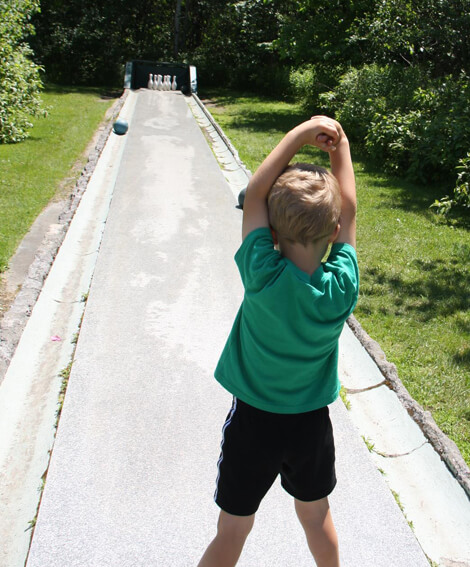 GET MORE INFORMATION ABOUT THE VISITORS CENTER AND TOURS
Another really special piece to make sure you stop and see? "The Living Monuments exhibit and outdoor granite podium," Ruthie said. "The Living Monuments honors the bravery and generosity of people who have dedicated their lives to serving America, while saluting their diversity and strength, and it happens to be one of the exhibits that I am most proud of."
READ MORE ABOUT THE LIVING MONUMENT HERE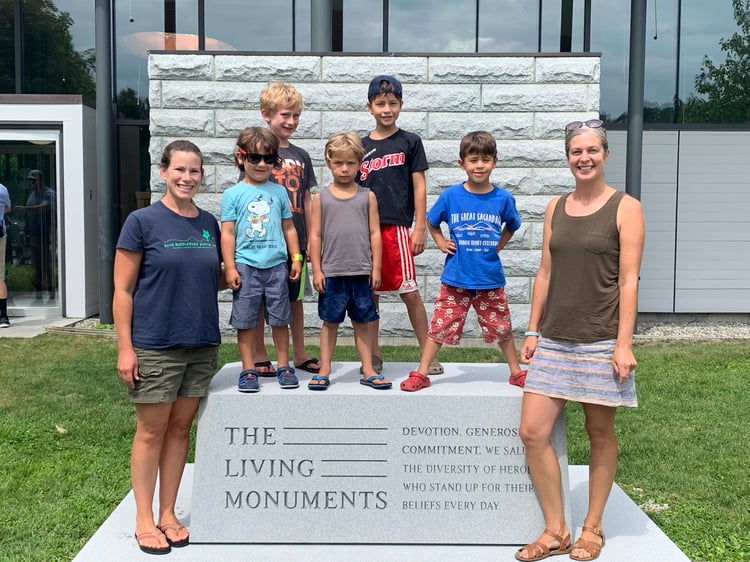 Families and school children often pose with the podium on their visits to the quarry. We welcome you to visit, snap a photo and post to social media with the hashtag #ROALivingMonument.
Rock of Ages has not only been around for more than a century, it has deep roots in the Vermont community, and with the families who work there. Generations of master carvers and quarrymen pass down their skills to family members with the same level of attention to detail and commitment to quality as those who came before them. Rock of Ages is proud to have provided employment to thousands of men and women over the years, and with enough granite left in the earth for the next 4,500, will continue to do so. With strict environmental standards, and a plan with Polycor Inc., their parent company, to be carbon neutral by 2025, Rock of Ages is leading the way and setting the standard with sustainable, naturally sourced, quality stone for years to come.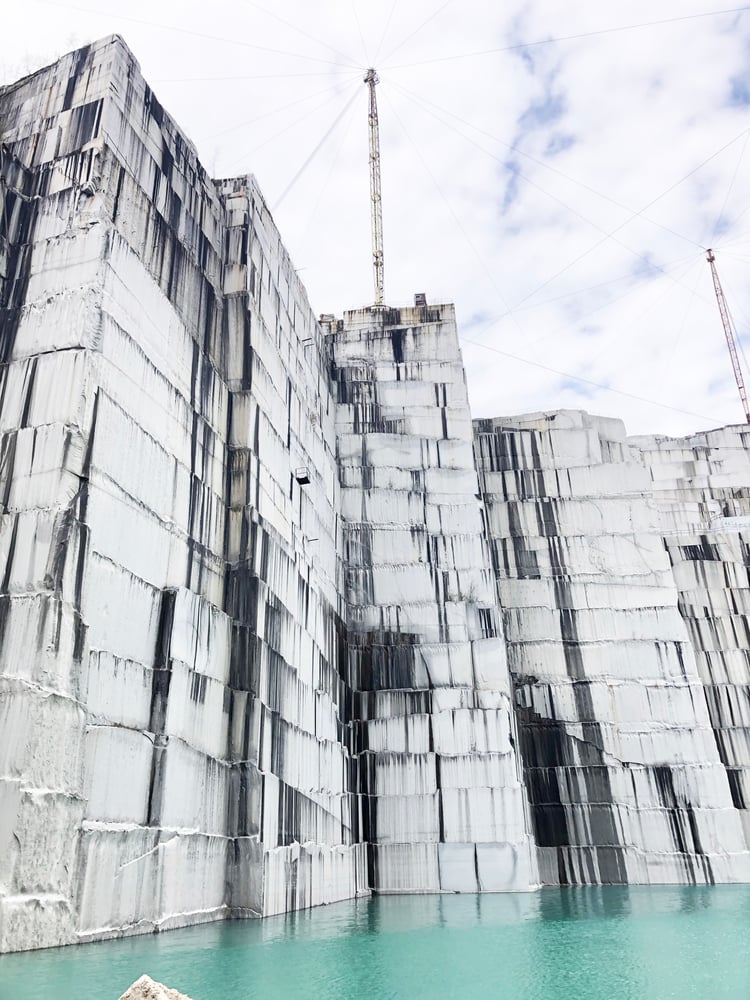 "We're so excited to welcome guests back to share this historic and inspired industry — and we have an incredible team leading these tours, many of whom have been with us for many years. Roger Larrabee was a quarryman for over 30 years and offers his guests his unique perspective of the quarry and quarrying method, and he has an infinite knowledge of all things Rock of Ages. Anita Ford has been a member of the Visitor Center team for 16 years, and Cynthia Vanetti grew up in the granite industry, with family operating a memorial stone shed. We're excited to have them back for another year, and we are equally excited to welcome back the public to the Visitor Center."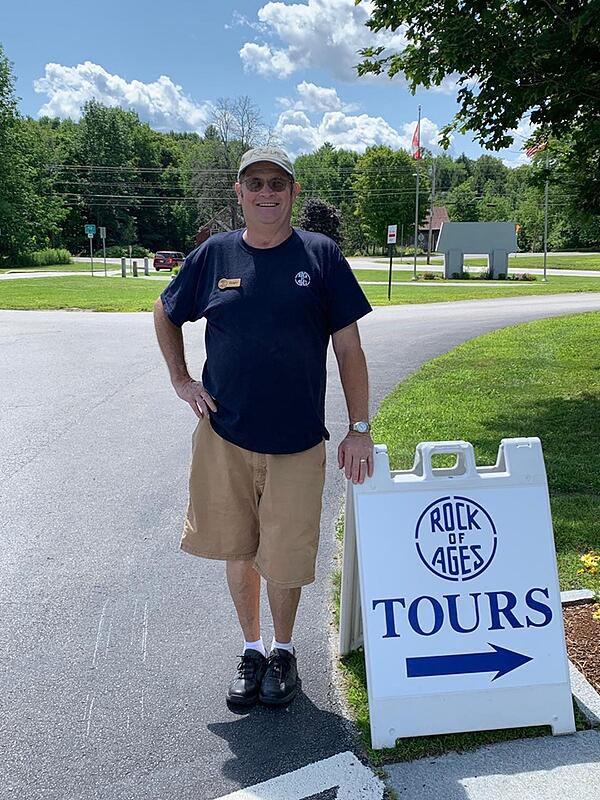 Join Roger Larrabee on a tour of the quarry!
Rock of Ages guided quarry tours offer an affordable outdoor activity that is safe and entertaining for families, seniors and children, and after a year indoors, it's time to get outside and enjoy some Vermont hospitality!
Tours run Monday through Friday from 10 a.m. to 4 p.m., with 4 tour times a day. These tours are first come first serve, so be sure to arrive in time to sign up. The tour guides at Rock of Ages are looking forward to seeing you this season!
Before you plan your trip, download the Barre, VT Getaway Guide for a peek into the region's designation as the "Granite Center of the World," informative listings on the visual and performing arts scene, diverse dining and lodging opportunities, and a coupon offering two adult guided tour tickets for the price of one.